How to Schedule and Prepare for an Appointment
Review our Policies and Locations pages to make sure you book the right appointment for you.

Visit uga.mywconline.com. If you have never booked an appointment before, please register to create an account.

Log into the appointment page. At the top, center of the page, you'll find a drop-down menu to change the locations offered. Please book an available appointment (a white block of time) and fill out the appointment questionnaire. If you woud like to make a 45-minute appointment, use the drop-down menu to change the appointment end time. Though WConline will now show your appointment as being an hour long, please know your consultant will need to end the appointment after 45 minutes. (Unable to find an appointment? Email us at WritingCenter@uga.edu. We can't promise we can make something work, but knowing about such issues can help us improve staffing and scheduling in the future!)

Show up a few minutes early so that we can begin the appointment on time.

Bring your notes or draft and a copy of the assignment sheet. If your draft is on a laptop, that is fine.

If you have specific questions or concerns about your work, write them down before your appointment.

Remember, consultants don't proofread entire papers—but they are very good at helping you learn to produce stronger writing.
Locations
The University of Georgia is proud to offer writing help through our main location and two satellite locations in addition to online feedback. Unless otherwise noted, we strongly suggest making an appointment in advance, as we are not usually able to accommodate walk-ins. Make an appointment at uga.mywconline.com. 
Park Hall, Room 66
This location is ideal for students who have any assignment not in the sciences and can book an appointment during normal business hours. 
Science Library, Room 201
This location is ideal for students who have assignments in the physical, life, and researched-based social sciences (select days and hours). Think lab reports, dissertations, and articles. However, any student may book an appointment here.  
Graduate Student Drop-In Help
The Graduate School provides funding for a consultant with Writing Center and WIP (Writing Intensive Program) training to assist any graduate student with writing in the GradsWrite Studio (Science Library, Room 402). Drop-in hours for the Spring 2020 semester are as follows:
Mondays: 8:00 am-12:00 pm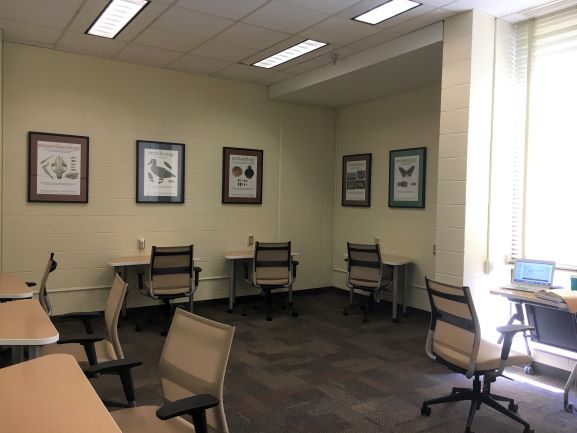 Tuesdays: 6:30 pm-8:00 pm
Wednesdays: 8:00 am-12:00 pm
Thursdays: 6:30 pm-8:00 pm
Fridays: 10:00 am-1:00 pm
The GradsWrite Studio is also available as a quiet space for graduate students to write during the following hours:
Mondays, Wednesdays, and Fridays 8:00 am-1:00 pm
Tuesdays and Thursdays 1:00 pm-8:00 pm
Online Feedback
If you make an appointment using this schedule, you will not actually meet with a consultant. Instead, you will need to attach a Word document containing your current draft (up to 5 pgs) when you make an appointment, and you can expect to receive feedback from your consultant via email by 8:00 pm on the day of your appointment. Appointments for Online Feedback must be made at least 48 hours in advance.