LeBria Casher (BA exp. 2020) interned with a local gem, Avid Bookshop. There she was able to attend events and meet authors such as Sabrina Orah Mark, Michael Ondaatje, Janisse Ray, Joshilyn Jackson, Mike Lowery, and Margaret Wilkerson Sexton. Over the past few years, she has pursued two undergraduate degrees: English and Comparative Literature and Intercultural Studies. She works for The Georgia Review, a quarterly literary journal, and serves as an ambassador for the newly-launched UGA Mentor Program. She is involved in a range of organizations on campus, including serving as secretary for the Undergraduate English Association (UEA) and volunteering as a member of Habitat for Humanity. After she graduates, she hopes to pursue a career in children's book publishing. 
Kristen Gragg delivered a paper, "'To kill a wife with kindness: Contextualizing Shakespeare's The Taming of the Shrew," at the 2019 Southeastern Renaissance Conference in Raleigh, NC., an academic conference that primarily presents the work of faculty members and graduate students.  
Julia Koslowsky (BA 2019) has published a revised version of a paper she wrote for Shakespeare and Film with Dr. Fran Teague. See: http://scalar.usc.edu/works/henry-v/on-your-imaginary-forces-work-julia-koslowsky. 
Two essays by undergraduate English major Chloe Varenhorst have been published in The Classic, the Writing Intensive Program's journal of undergraduate writing and research. "Introduction as a Tool for Theatricality: The Use of Red Curtain" essay discusses the directorial approach of Baz Luhrmann's 1996 adaptation of Shakespeare's Romeo + Juliet. Another essay, "The Power of the Narrator Throughout American Masterpieces: The Lethal Combination of Narrative and Cultural Incorporation," analyzes the lasting effects of unconventional narrative approaches used by early American novelists on the American social conscience. You can read the latest issue and find out more about The Classic online at  http://theclassicjournal.uga.edu/. 
Undergraduate Organization
Sigma Tau Delta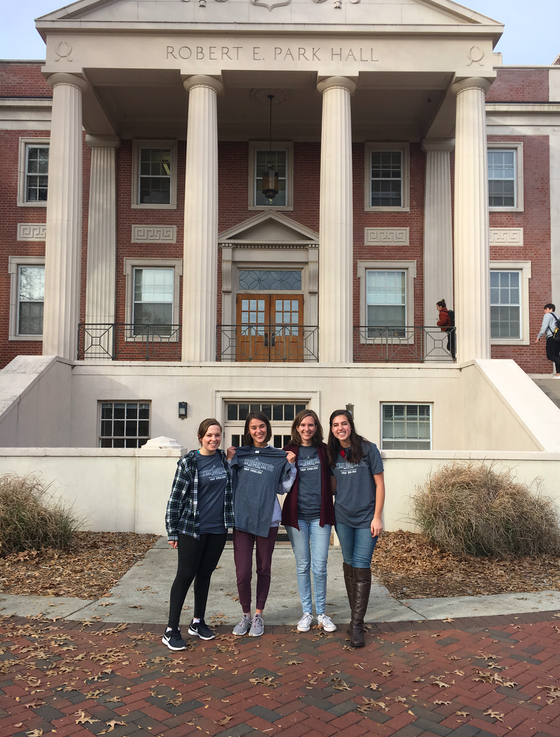 Sigma Tau Delta has been actively recruiting to expand their membership base for the coming year by giving classroom talks and advertising in and around Park Hall. The club also participated in First Book's "Banned Books" festival this year and has organized several events to promote literary community on campus. Sigma Tau Delta has expanded their social media outreach by utilizing Facebook, Instagram and Twitter and by attending the Presidential Social Media Summit to learn how to effectively reach more students across UGA's campus.  
Sigma Tau Delta has also developed T-shirts for the department, featuring our beloved Park Hall. Designed by the communications director, Johanna Hoover, the shirts will be sported by alumni, graduate students, professors, and English undergraduates alike. Sigma Tau Delta would also like to thank the department and staff of Park Hall, specifically Dr. Menke (chapter advisor), Dr. Kallerman, and Dr. Eberle, for their continuous support. Sigma Tau Delta looks forward to another semester and to hosting more events for UGA English Students, such as essay workshops, literary trivia nights and conferences.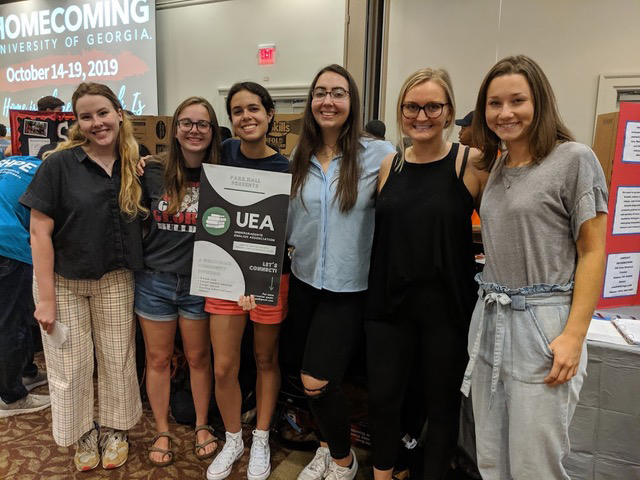 The UEA
The purpose of the Undergraduate English Association (UEA) is to foster a community for individuals interested in English that takes the interdisciplinary, open-minded, and welcoming environment cultivated within the classroom and expands it to outside Park Hall. The organization's mission revolves around the three C's: fostering a welcoming Community and safe space in which English majors create lasting connections with like-minded individuals, providing Career Counseling to English majors and information about the marketability of an English degree, and lastly, celebrating the Creativity of our English students through events focused on creative writing, poetry, literary appreciation, and more.
This past fall, UEA partnered with UGA Press and the Georgia Review for the fifth-annual Careers in Publishing Panel. The organization has also continued its book club with the help of Normal Books and it met for a discussion of Noah Hawley's Before the Fall, after Thanksgiving break, and Suzanne Rindall's The Other Typist, following Winter break. UEA also offers coffee hours on Wednesdays and Fridays at Walker's Coffee and Pub where you can meet with UEA exec members. To learn more about the club or to become an official member, email ueauga@gmail.com or reach out via the website, https://ueauga.wixsite.com/ueauganew.