Zack Anderson's poems appeared in Stillpoint, Echoverse Anthology, grama, New Delta Review, Dreginald, and Foothill Poetry Journal. His chapbook The Outlaw, The Red Ghost, Half-Lives, a Photogram Exposed by the Dirt is forthcoming from The Magnificent Field, a micropress based in Michigan. His book reviews and critical writings have recently been published in Kenyon Review, Harvard Review, Entropy, and the Action Books Blog. Zack recently received a Willson Center Graduate Shelter Scholarship to help acquire materials for his research on the Vienna Action Group. Monica Berlin selected his poem "Will the New Lawn be a Meadow" and Ashley Farmer selected his essay "Place Minus Motion" as finalists for the 2021 Agnes Scott Writers' Festival Contest in the categories of Poetry and Creative Nonfiction.
In April, Paul Cunningham joined Action Books as a Managing Editor. His debut full-length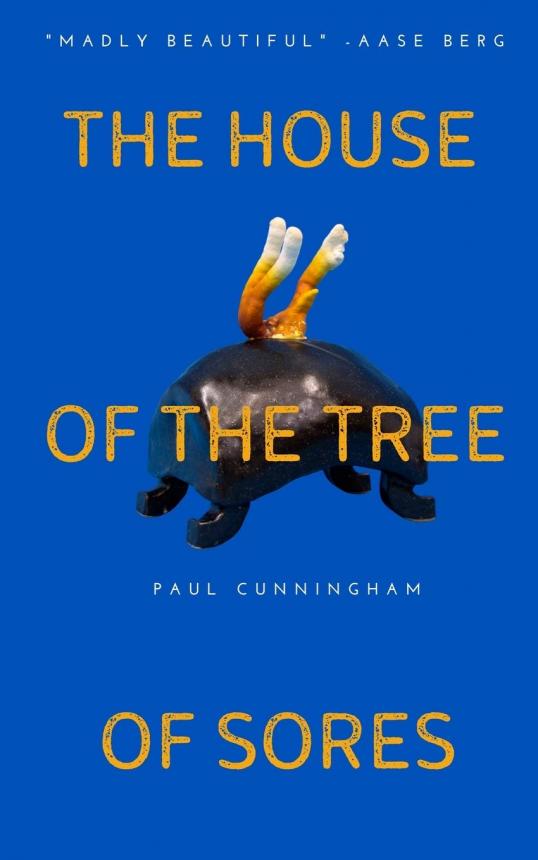 collection of poetry, The House of the Tree of Sores, was released from Schism2 Press in August and author Dennis Cooper called it one of his "favorite" books of the year. In September, his review of Yi Sang: Selected was featured in Kenyon Review. In October, he read with Jason Schneiderman for the SLAB release party and, with Helena Österlund, he read in ALTA's Alexis Levitin Bilingual Reading Series. He was also an invited contributor to Tarpaulin Sky's "What I'm Reading Now" feature. In December, Carrion Bloom Books distributed his second print chapbook, The Inmost (2020). Canadian novelist Derek McCormack describes The Inmost as "inventive, visceral: a revelation." In January, novelist Jen Beagin selected his short story "Nuisance" as a finalist for the Agnes Scott Writers' Festival Fiction Prize. He has new poems forthcoming in Denver Quarterly, The Fourth River, and his "New Decadence" manifesto will appear in the second volume of The Neo-Decadent Anthology (Snuggly Books, 2021).
Christina Wood Martinez's short story "Dreamers" appears in McSweeney's latest issue. In spring 2020, she received a Willson Center Shelter Projects micro-fellowship through UGA and Flagpole. The outcome of that fellowship, a short story, was published along with an interview in Flagpole Magazine. 
In the fall of 2020, Mike McClelland was a finalist for the Passages North Waasnode Fiction Prize, a finalist for the NYC Midnight Short Story Open, a finalist for Booth's Unexpected Literature Prize, a finalist for La Piccioletta Barca's #antimatter Contest, and a semifinalist for The Publishing Laboratory at the University of New Orleans's Book-Length Fiction Contest. His short story "Wild Gods" appeared in Booth, "The Cassowaries" appeared in The Baffler, "Witchbirth" appeared in La Piccioletta Barca, and "The Euphonium Diaries" appeared in ImageOutWrite Volume Nine. McClelland also published several essays, including "The best $40 I ever spent: A not-quite-tarot deck" and "Another Castle." His prose poem "When Lies Turn to Prophecies" was a The New York Times's Modern Love Tiny Love Story. He was also interviewed for The Future of StoryTelling and his work was profiled in Story366. 
"The last time I drank alcohol, I was found a full day later in the trunk of a car outside of a bar called Six Packs in rainy, rural northwestern Pennsylvania. We'd traveled to the region for my best friend's wedding and I'd relapsed the night before the ceremony, sneaking off in the middle of the night to find a beer to calm my anxiety over being back "home." One beer turned to many, and my last coherent memory of the spree was my decision to pop into a backcountry bar whose name gave me the drunken certainty that it contained hard-stomached male strippers (reader, I was mistaken)."
Recent PhD graduate Paula Rawlins has accepted an offer from Yale University to serve as Assistant Director at the writing center for the Poorvu Center for Teaching and Learning. 
Michelle-Taylor Sherwin has received the Graduate School's Jane Mulkey and Rufus King Green Fellowship. She also, along with Dr. Barbara McCaskill, published a blog for The Readers Report titled "Womanhood, Religion, and Slavery: Dialogues from the Readex African American Newspaper Series." Sherwin and McCaskill used Readex African American Newspapers, Series 1 & 2 databases to explore discussions of the anti-lynching movement, respectability politics, and attitudes towards women's education and suffrage.