Head's Note, June 2021
Dr. Michelle Ballif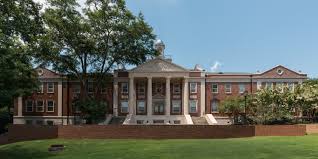 Although a shake of the Magic 8-Ball earlier this academic year might have predicted otherwise, we conclude the semester with much to celebrate!
We are proud to recognize our approximately 120 graduating A.B. students and 8 graduating M.A. and Ph.D. students, who succeeded in less-than-ideal circumstances. Likewise, we are proud to recognize all in our department who teach our students: graduate teaching assistants, instructors, and faculty, who dedicate time and invest care in creating the conditions of success for our students—as ever, but especially during this past difficult year, when pedagogical means and ends were necessarily re-envisioned. We also express our gratitude to members of our departmental staff, who spent hours preparing the building for pandemic conditions, whilst still assuming their normal responsibilities, such as handling budgetary matters and advising students.
Although the academic year may have ended, we are busy preparing for our Fall Semester. Returning students may note that Park Hall has received a fresh lick of paint on the walls and should surely appreciate several renovated bathrooms.
Fall Semester will also welcome new faculty members: Joshua Hussey and Emily Robinson, who have been hired as Lecturers to assist primarily with the First-year Writing Program. Dr. Hussey has previously worked in our First-year Writing Program as an Instructor, as well as taught as a Brittain Fellow at the Georgia Institute of Technology. Dr. Robinson recently received her PhD from Arizona State University in Writing, Rhetorics, and Literacies. We welcome them both and are confident they will continue our teaching mission with distinction.
The Department of English is committed to student success, as attested by our faculty's accomplishments. For example: Dr. Nancee Reeves received this year's Franklin College Excellence in Undergraduate Education Award; Dr. Roxanne Eberle, our Associate Head, received the Bedingfield Excellence in Teaching Award; Dr. Sujata Iyengar, in collaboration with national associations, worked to decolonize or re-indigenize the undergraduate curriculum; and Dr. Rebecca Hallman Martini received a Diversity Research and Scholarship Grant to support minority students in UGA's Writing Center.
Dr. Sara Steger—and her team in the First-year Writing Program—was awarded a Learning Technologies Grant for the on-going project to develop an online writing environment to support learning and writing instruction. Additionally, Dr. Lindsey Harding, Dr. Elizabeth Davis, and Dr. Holly Gallagher, with the support of multiple campus offices, including the Center for Teaching and Learning and the Division of Academic Enhancement, coordinated the programming of Write@UGA, which supports writing across the curriculum. This year, they focused on the theme of "Writing for a Better World," and hosted in-person or virtual speakers to address writing pedagogy
The Creative Writing Program also supported student writers by hosting a "2 Students + 2 Alumni: A Creative Writing Program Reading" event, as well as poetry readings by contributors to Stillpoint (the literary magazine featuring student writers and endowed by Emeritus University Professor and Senior Associate Dean Dr. Hugh Ruppersburg and Tricia Ruppersburg).
As well, the Department of English is committed to scholarship and research in our collective fields of inquiry. Our newsletter showcases a number of such accomplishments, as demonstrated by conference participation, publications, and awards. Two awards of note: Dr. Andrew Zawacki received the prestigious Distinguished Research Professorship, which acknowledges internationally recognized scholars for their creative and original impact in their fields, and Dr. Barbara McCaskill, with Dr. Nicholas Allen and Dr. Valerie Babb, received a million-dollar grant from the Andrew W. Mellon Foundation for the project: "Culture and Community at the Penn Center National Historic Landmark."
In the newsletter that follows, you'll also find much to celebrate in the accomplishments of current students, this year's graduates, and our alumni.
With every best wish,
Dr. Michelle Ballif
Head of the Department of English