Head's Note, May 2019
Dr. Michelle Ballif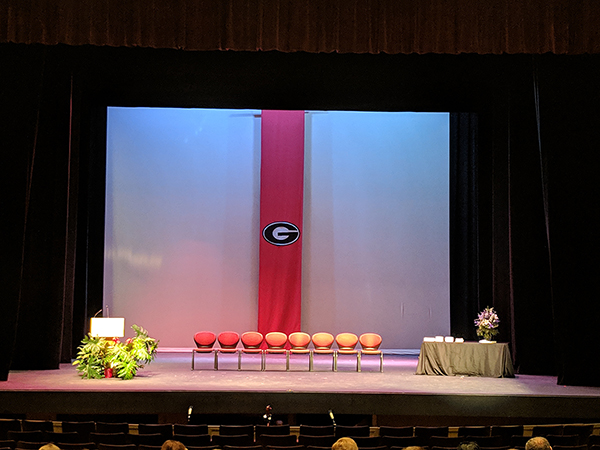 I routinely teach the undergraduate course, "Literary Theory," in which we study contemporary approaches to the interpretation of texts. As the course isn't focused on one genre of literature or one particular historical period, I encounter students from multiple backgrounds, and I relish the opportunity to engage the complex minds in my class as we explore complex ideas together.
At the risk of revealing my peculiar threshold of entertainment, when I was in graduate school a hundred years ago, my cohort of students used to host a simulacrum of academic conferences, and assign ourselves papers to deliver, using theoretical frames to critique popular TV shows, such as:  a feminist reading of Bonanza; a Marxist reading of Gilligan's Island; a deconstructive reading of Hawaii Five-O. (Clearly, I am dating myself; some who read this will also recognize when their references to popular culture receive blind stares.)  But I have incorporated this scholarly play into my classroom, to encourage a sense of adventure, to underscore how interpretive strategies can be employed variously, in order to provide rich readings of texts.  I call this exercise the "Lit Crit Blowout."  At least, I smile.
The point of this message is to highlight the intellect, curiosity, and ingenuity of our students.  One of these "Literary Theory" students, Astra Taylor, went on to write several books, including Examined Life and an accompanying DVD of the same title, which interviews key theorists and asks them—as the title suggests—how concerns of justice, truth, and meaning, for example, inflect our readings.
Of our graduates this year, I have had the pleasure of learning from the interpretive work of students including Keamber Farley, Alex Williams, Ellen Everitt, Lukas Woodyard, Rachel Dier, MK Manoylov, and Julia Koslowsky. But many more students have graced my rolls over the years. Each student has in his/her own way become a teacher—whether in the Lit Crit Blowouts, in papers, or in contributions to the department and world more generally. Our students regularly do such work, as our newsletter highlights.
We proudly send our students out into the world, and they do us proud, in return.
Sadly, we have to also witness the exit of our company from this world.  We acknowledge the death of former department head, Dr. Coburn Freer, who passed on February 26, 2019, and who is survived by his wife of 57 years Mona; daughters Meagan and Elinor and their husbands Dan and David; and five grandchildren. He is also survived by a brother and sister-in-law, Frank and Susan Freer, a half-sister Toni and nieces Mary Ellen and Diane. A memorial tribute is included in this newsletter.
But we have much to celebrate.  At our 2019 honors celebration in May, we recognized a number of students for their excellence, and inaugurated three new awards.  Nele Langhof was awarded the Prigge Family Scholarship, donated in the name of George William and Melissa Prigge's son, William, who graduated with both bachelor and master's degrees in English literature from UGA in 2014. 
We also recognized Paula Rawlins as recipient of the McAlexander Award in American Literature, gifted by Patricia McAlexander, who retired as a Professor from UGA's Division of Developmental Studies and Academic Enhancement, and Hubert McAlexander, a legendary Professor Emeritus of our department and a celebrated author, having received widespread praise for biographies of authors Peter Taylor and Sherwood Bonner.
And finally, Sarah Mayo was the recipient of the Christy Desmet Graduate Fellowship in British Literature to 1900, in memoriam of Professor Desmet's legacy in Renaissance scholarship, as well as her ground-breaking work in Shakespeare appropriation studies.  She was also a scholar of Rhetoric/Composition and Digital Humanities, and administered the department's award-winning First-Year Composition Program for twenty years.  The department is profoundly grateful for these gifts.
Dr. Esra Santesso received the 2019 Bedingfield Excellence in Teaching Award. Martha Munn Bedingfield was an educator who touched thousands of lives across the Vidalia community, and the award in her name recognizes a department faculty member who has made a distinct difference in the intellectual lives of students.  One of the multiple students who nominated Dr. Santesso for the award wrote:  "Dr. Santesso encourages her students to keep questioning, to join larger, interdisciplinary conversations, and to strive for excellence in and out of the classroom."
Even as Athens slows down to its summer pace, we'll be in Park Hall awaiting next year's students, who will bring with them their passion for learning, literature, and language.