By LeAnne Howe and Christine Lasek-White
In September of this year, Eidson Chair of American Literature LeAnne Howe (Choctaw), with Dr. Padraig Kirwan, Senior Lecturer in the Literature of the Americas at Goldsmiths University of London, edited a collection of essays titled Famine Pots: The Choctaw–Irish Gift Exchange, 1847–Present.  The collection is available from Michigan State University Press.  Famine Pots centers on the remarkable story of the money sent by the Choctaw to the Irish in 1847, in response to the Irish Potato Famine, an act which began a friendship between the two nations.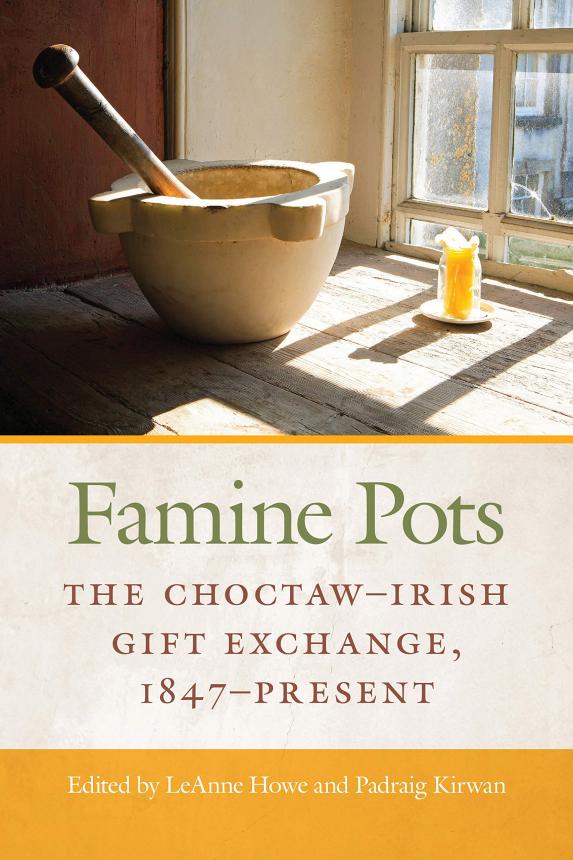 In 1847, just sixteen years after the Choctaw began their march on the Trail of Tears, a group of Choctaw leaders in Oklahoma raised $170 for "the relief of the starving poor in Ireland," the equivalent of several thousand dollars today.  It was an amazing gesture from the Choctaw, who had lost so much but still gave on behalf of people they didn't know but felt had greater need. 
Since that time, there has been a connection of friendship between the Choctaw and the Irish, which was brought to light earlier this year with the Covid pandemic.  The Navajo Nation and Hopi Reservation experienced record numbers of Covid cases and deaths, and in response, the Irish raised over $2 million in a GoFundMe campaign for relief efforts.  Read the full account here: https://www.cnn.com/2020/05/06/world/ireland-native-americans-choctaw-gift-trnd/index.html
Professor Howe has taken part in many virtual events celebrating the release of Famine Pots.  She is currently in talks with the Willson Center to host one or more events around St. Patrick's Day 2021.  Stay tuned to the English Department website for more information.
From the Michigan State University Press website: "Famine Pots honors that extraordinary gift and provides further context about and consideration of this powerful symbol of cross-cultural synergy through a collection of essays and poems that speak volumes of the empathy and connectivity between the two communities. As well as signaling patterns of movement and exchange, this study of the gift exchange invites reflection on processes of cultural formation within Choctaw and Irish society alike, and sheds light on longtime concerns surrounding spiritual and social identities."
Read more and purchase the collection here: https://msupress.org/9781611863697/famine-pots/
LeAnne Howe is the Eidson Distinguished Professor in American Literature at UGA.
Christine Lasek-White is Assistant Director of Creative Writing at UGA.