by Danielle Gilman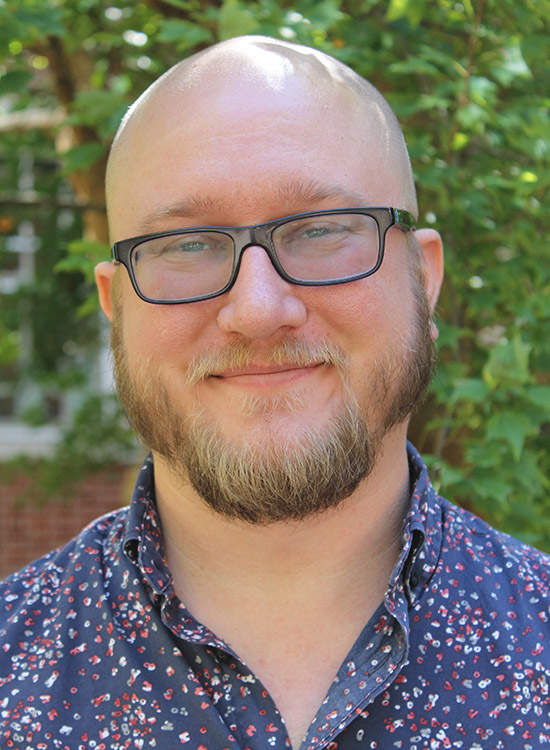 Where and when did your academic career begin?
My academic career started at UNC Chapel Hill studying Ben Jonson with Darryl Gless. I'd taken Dr. Gless's Shakespeare class and had that experience so many undergrads do when studying early modern drama for the first time: "Wait, I… get this? And it's hilarious?" I was actually an early modernist for years until, in Dr. Iyengar's words, I "turned to the dark side" of rhetoric and composition.
What is your approach to teaching? Do you have a favorite class to teach?
I love teaching 1101 and 1102, but I have a special fondness for Advanced Composition. As a junior level class, the students have more pronounced senses of their disciplines' writing conventions, and it's fun to mix up English majors, Poli-Sci folks, marketers, engineers, and math majors. Plus, they're generally more willing to go along with my strange, multimodal assignments.
I teach writing as a space for readers to have an experience. You can't give your reader an experience directly—we're not telepaths, as much as every writer, teacher, and game-designer would maybe like--but we craft our texts in such a way that we give our readers the best chance of having the experience we want them to. Which is why I teach game design! When students make games, they know instinctively the kind of experience they want their games to evoke. Then, when they watch someone play a draft of their game, they can immediately see whether the experience is happening or not and adjust the game accordingly in the next draft. When my students move from playtesting games to "playtesting" papers, they have a better sense of their text as an object that evokes an experience.
You are a teacher, researcher, and the associate director of the First-year Composition Program. How do you see these roles interacting? Are you instinctively incorporating each of these roles into the classroom?
It's been so long since I wasn't doing a mix of teaching, administration, and research that it's hard to imagine anything else! In a lot of ways, all three roles are pursuing the same goal at different levels: teaching folks to make communicative things and to think deeply about the communicative things that other folks make. Administration is the least direct way of accomplishing that, but by dealing with schedules and budgets and policies, I facilitate other people's teaching. When I write my own research, I hope that my readers will think deeply about the interesting texts I write about. And when I teach, well, that's the obvious one.
Who are some of your favorite writers? Are you reading anything interesting right now?
I'm afraid these answers are going to be Extremely On-Brand for me, but here we go. I just finished my every-few-years re-reading of Iain M. Banks's The Player of Games, a great far-future SF book about a game-player from a post-scarcity anarcho-utopia trying to understand an earth-adjacent civilization through the lens of its cultural game. I'm also playing through Top Ten Games You Can Play in Your Head All By Yourself, a kind of guided daydream slash meditation slash single-player role-playing game. And I've been waiting for the summer to read my review copy of How to Play Video Games, a big juicy collection of essays on video games and their sociocultural contexts. Books I'm reading unrelated to games, because I promise I'm almost a well-rounded person: Salt, Fat, Acid, Heat, the Trigun series of Japanese comics, and my bedtime reading, 100 Years of the Best American Short Stories.
How are you finding Athens so far?
When people ask where I'm from these days, I just say "Athens." I've lived here longer than I've lived anywhere else, and it feels like home. In fact, I love Athens so much that for the last two years of the Brittain Fellowship at Georgia Tech, I lived here and commuted to Atlanta. That's love.
What is one thing any student enrolling in your class should know about you?
That I worked for years as a professional writing tutor, and that I really miss it. So, when I exhort you (speaking to my hypothetical students now) to come by my office hours, it's because I genuinely love talking about your writing. There's a depth and familiarity that only really develops in a one-on-one conversation about writing, and I miss doing that regularly.