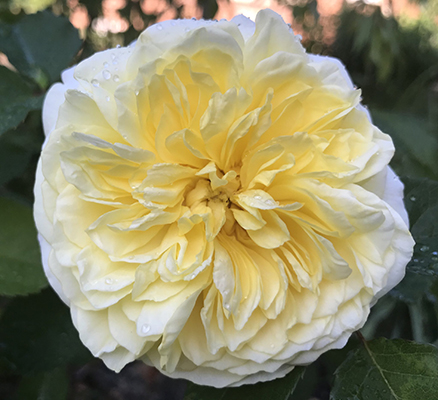 Virginia Woolf recorded in a 1922 diary entry that her days had lately consisted of "reading & writing & staying at home." Woolf's jotting likely sounds quite familiar to the members of the Park Hall community who have, over these last months, done much the same.
In an effort to record our own reading & writing & teaching at home amid this global pandemic, the Park Hall Monitor editorial staff have undertaken a new social media initiative: Park Hall at Home. In mid-April, the members of our community—our students, staff, faculty, and alumni—began offering us glimpses into their home offices, their libraries, and their backyards. We hope these posts have made you smile, have spotlighted some of the important work being done from home, and have served as a small reminder of the resiliency of our department.
We would like to conclude this edition of the Park Hall Monitor with an extended submission to our series from Dr. Nicholas Allen, Director of the Willson Center for Humanities and Arts and Abraham Baldwin Professor of English. Thank you to all who have participated in our initiative. We look forward to the day we can return our reading & writing to Park Hall.
We will continue to share our Park Hall at Home posts through the end of May. If you would like to contribute your own entry, you may email us at parkhallmonitor@uga.edu, or more directly at Danielle.Gilman@uga.edu.
Roses blooming in Athens.
Text and Photos by Nicholas Allen.
I have been sharing a poem each week since St Patrick's Day, which coincided near enough with the beginning of what has become this dreadful pandemic. I was conscious simply that isolation can be lonely, and that shelter is made bearable by the expression of community and fellow-feeling. I have been surprised at the reactions we have had to this simple gesture. Each week I received a series of messages, mostly from different people, about what the poem meant to them. Sometimes this is very personal and sometimes affecting in a broader sense. I have been touched by all and will continue to share the poems for a few weeks more before we all gather ourselves for some much-needed time to catch up, reflect and plan. I know many of the poets whose work I have shared and have tried on each occasion to give reasons as to why reading is one of the great human arts, a form of attentiveness that deepens our empathy and understanding, without which we are all diminished. We share these conversations with our students all the time, and it has been a gift amongst so much turmoil to find that these observations strike a general chord. Literature is an act of transformation that has changed the world many times, and will again. I am reminded recently of that Yeats poem, "Meditations in Time of Civil War," the poet in his old home, the world falling around him and the invitation still "to come build in the empty house of the stare," that west of Ireland word for a starling. 
Park Hall at Home

: see full posts on Twitter and Instagram.
Curated by Dr. Danielle Gilman (English Ph.D. and Editorial Assistant, Park Hall Monitor) and Nele Langhof (English Major and Social Media Intern)