Elizabeth (E.G.) Cunningham's full-length poetry collection, Ex Domestica, is forthcoming from C&R Press. In November 2016 she presented a paper on James Joyce at the 88th annual South Atlantic Modern Language Association (SAMLA) Conference on November 4-6th in Jacksonville, FL. Her essay "The Exedra" was recently awarded LUMINA's 2017 Creative Nonfiction Prize. Her poetry and prose have recently appeared in Litro, 3:AM, The Poetry Review, Hobart, and other journals.
In October, Paula Rawlins attended "The American Short Story: An Expansion of the Genre,"an American Literature Association Symposium sponsored by the Society for the Study of the American Short Story in Savannah, Georgia. There she presented a paper entitled "Maternal Morality and Mourning: Womanhood in Rebecca Harding Davis's Civil War Stories." In early November, she presented her paper "'Unmanly' Fathers in Lee Smith's The Devil's Dream: Performing American Fatherhood" at SAMLA.
In August of 2016, Joe Seale's review of Jeff Wood's The Glacier, entitled "Reconstructing the End," was published in Grist. In October, Joe received the 2016 Emerging Leader Award from the National Alumni Association at his alma mater, the University of West Alabama. Joe also recently attended SAMLA, where he presented his paper "When the Church Can't Save You: Spiritual Frameworks and Masculine Identity in Richard Wright's 'Big Boy Leaves Home.'"
Elizabeth Swails also attended SAMLA, where she was awarded the George Mills Harper Fund Graduate Student Travel Grant for her paper entitled "'Send a little flower': Emily Dickinson's Expression of Sympathy during the Civil War."
Gale Thompson has recently received fellowships from Vermont Studio Center and the Kimmel Harding Nelson Center for the Arts. In March 2016, she visited Yale University's Beinecke Library to view the H.D. archives under a Willson Center graduate research grant. Her manuscript, Expeditions to the Polar Seas, was a finalist in the 2016 Cleveland State University Open Book Contest, and her creative dissertation, Helen or My Hunger, was a finalist for the 2016 Ahsahta Press Sawtooth Poetry Award. Recent poems have been published in Gulf Coast, jubilat, TIMBER, Bone Bouquet, and others. She continues to be founding editor of the online poetry magazine Jellyfish Magazine (jellyfishmagazine.org), which has just published its 14th issue.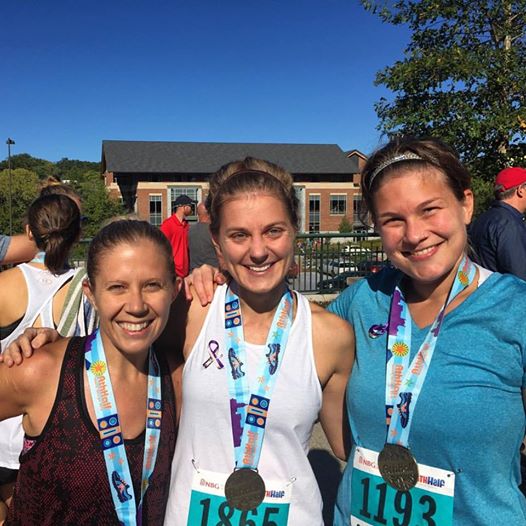 Our graduate students don't only present and publish, though; the English department was well represented at the AthHalf half-marathon this past October. Dorothy Todd, Kacie Hittel, Henna Messina, Anna Forrester, and Gale Thompson all ran in the race. As Dorothy Todd said, "we're still waiting on the English department to fund our running club!"