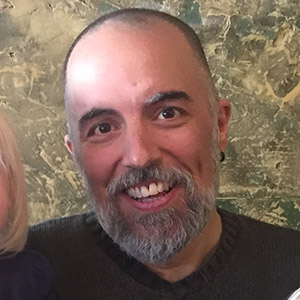 The English Department at the University of Georgia is deeply saddened to announce the death of one of its longtime members, Dr. Lance Wilder, Senior Lecturer in the department. Dr. Wilder was also an alumnus, having come to UGA to work on his doctorate after completing a bachelor's degree in English at Furman University (1992) and a master's at Baylor University (1995). He wrote his dissertation, "Dark Wanderers: Gypsies in Nineteenth-Century British Poetry," under the joint direction of Dr. Tricia Lootens and Dr. Anne Williams at UGA, receiving his Ph.D. in 2004. The project reflects both his deep love of Romantic and Victorian poetry and his fascination with the figure of the exoticized, extranational "other" in nineteenth-century British culture; it later became the starting point for Dr. Wilder's publications on these subjects. Dr. Wilder's work on the dissertation took shape in part during his own, more systematic wanderings both to Italy and to Oxford, England, where he began his involvement with the UGA at Oxford program.
After a year as a Robert E. Park postdoctoral teaching fellow and several more as an instructor, Dr. Wilder was hired by the department as a full-time lecturer, teaching classes on Victorian literature (fiction, poetry, prose) and nineteenth-century culture, as well as composition classes and the core required course for the new British and Irish Studies certificate. Students noted Dr. Wilder's ease in the classroom and his dry wit, but they also knew him as a rigorous grader of their prose. He often stayed in touch with former students, even years later, as teaching and mentoring passed into friendship. Many of his classes reflected his commitment to understanding literature in relation not only to culture and history, but also to the other arts, especially the visual arts and music, a form of expression particularly close to his heart. At UGA, Dr. Wilder served as the associate director of the British and Irish Studies program and was promoted to Senior Lecturer in 2015.
Beyond the arches, Dr. Wilder maintained a number of commitments outside the classroom to local non-profits and causes. Perhaps his most enduring involvement was with the Cottage Sexual Assault Center and Children's Advocacy Center in Athens.
Friends and colleagues will remember Dr. Wilder's humor, his sweetly self-deprecating curmudgeonliness, and his reflective late-night postings on social media.
Dr. Wilder passed away on Wednesday, May 17, 2017. Funeral services were held on Monday, May 22, at 2 PM at the First Presbyterian Church of Athens; interment followed at Athens Memory Gardens.
Donations in Dr. Wilder's memory can be made to The Cottage Sexual Assault Center and Children's Advocacy Center.
If you wish to submit memories of Dr. Wilder, please send them to parkhallmonitor@uga.edu. We will run a memorial section in the Winter 2018 newsletter, and we will ensure that his wife and son receive them.