Head's Welcome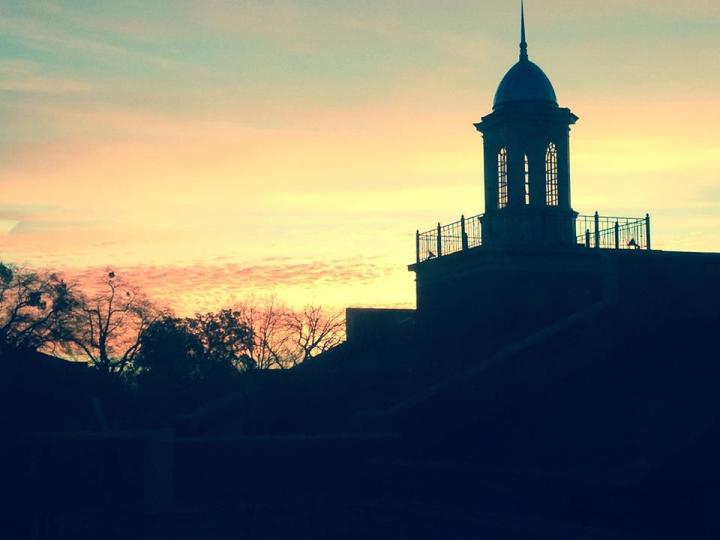 The annual commencement and awards ceremony of the Department of English is always an exhilarating experience. The happy faces of family members in attendance, along with the gratified countenances of the graduates and the award recipients, just seem to make everything glow.  Not to mention the weather, perfect as usual in early May in Athens.  Also perfect was our keynote speaker.  The English department's class of 2016 was honored by the presence of alumnus Jack Bauerle, whose memories of Park Hall as an English major forty-some years ago were a vivid reminder of just how hallowed a place it is. Those in attendance were thrilled to share the memorable occasion with Coach Bauerle, who was head coach of the women's swim team at the 2008 Olympics and whose stewardship of the UGA swim team has netted many national and SEC championships, (As I write this he is at the swim trials in Omaha in preparation for the Olympics in Rio di Janeiro.) Thank you, Coach Bauerle, for inspiring our graduating class this year!
This year we have much to celebrate.  For the second year in a row, an English professor was recipient of the Michael F. Adams Early-Career Scholarship Award. This year it was Cody Marrs. Ed Pavlic was recognized with the Christ-Janer Creative Research Award, the fourth time this has been granted to a faculty member from our department (out of fifteen total). Ed also entered the ranks of Distinguished Research Professor, one of the highest distinctions at the University of Georgia; he is its first recipient from our department in the long history of this award, which began in 1983. Dr. Pavlic has had a banner year. His poetry collection, Let's Let That Are Not Yet: Inferno was published as a winner of the National Poetry Series and on the scholarly front, his book Who Can Afford to Improvise? James Baldwin, Black Music, and the Listeners came out almost at the same time. As returning director of the Creative Writing Program, Ed's bifocal and multilateral interests and accomplishments are indicative of the ingredients that make our doctoral program in Creative Writing one of the top in the nation. Adding kudos to Creative Writing faculty, Magdalena Zurawski's book Companion Animal was recently awarded the Norman Farber First Book Award from the Poetry Society of America.
Another highlight of the commencement ceremony was the generosity of English alumnus Mary Hutcherson, whose H. Grady Hutcherson Memorial Scholarship Fund provided awards to four deserving undergraduates. With the decline of state funding for public universities in Georgia and across the country, the role played by the munificence of benefactors is more urgent—and appreciated—than ever.  The Department of English thrives with the support of its various endowed professorships and other endowments. This year, for example, the British Women Writers Conference received support from the Lanier, the Sterling-Goodman, and the Eidson chairs.  
On a concluding note, I want to salute another benefactor whose generosity will bring significant opportunities for students, faculty, and programs, both now and in the future. Mary Anne Hale has created the Paul Douglas (Doug) Hale Learning Enhancement Fund in memory of her husband. In recognition of this endowment, Park 265, the large lecture hall, will be named in commemoration of Doug Hale, who earned both a BA and MA in English and taught English literature in several colleges and universities before embarking on a stellar career in television and film. A loyal and consistent donor, Doug stayed in touch with his alma mater. A decade ago Doug returned to Park Hall on one of his annual trips here (he was a native Athenian) and gave a memorable talk in that very room, one soon to be named the Hale Lecture Hall. He was a raconteur who would have made Mark Twain proud, and he possessed an outsized curiosity about everything under the sun. It is always a pleasure to meet veterans of Park Hall, but Doug was one of a kind. Those of us who knew him will miss his wit, his appetite for life, and his booming voice, but thanks to Mary Anne Hale's generous memorial gift, he will continue to have a positive impact on the Department of English.
Jed Rasula
Department Head
Photo Credit: Dr. Sara Steger