Image: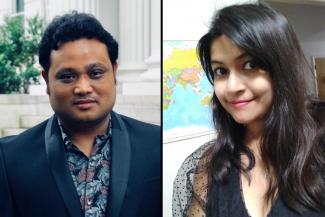 English Department Professor Aruni Kashyap and English Ph.D. student Sayantika Mandal are among the first recipients of the brand new Arts Lab Fellowship.  A total of two faculty fellowships and two graduate student fellowships were awarded this round.
The Arts Lab Fellowship program is a multi-year initiative designed to enhance research, practice, and community engagement in the arts.
"I am very grateful to the Wilson Centre for granting me this fellowship and supporting my project that seeks to understand the nightmare that is going on in the world's largest democracy, which is also an indispensable ally of the U.S.," said Professor Kashyap of the award.
The Arts Lab Fellowship Program was spearheaded by the University of Georgia Arts Council and funded by the Office of the Provost, the Office of Research, Graduate School, Franklin College of Arts and Sciences, and the Willson Center for Humanities and Arts.  See here for more information about this initiative.