by Nele Langhof, UGA English Department Social Media Intern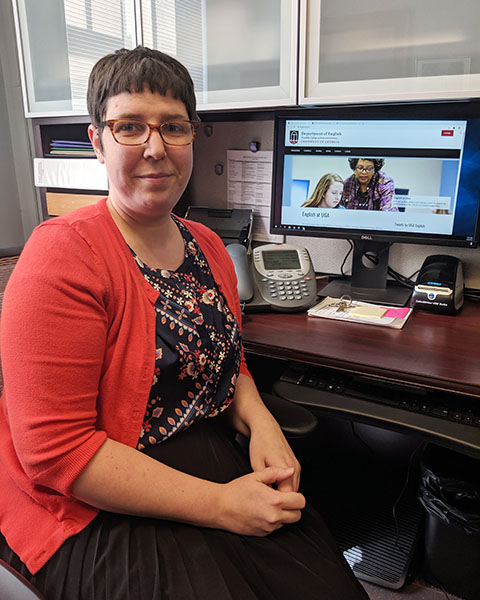 The UGA English Department loves welcoming new members to our staff, and our newest addition is Ms. Mary Herman, who will be operating as the Administrative Specialist to the Department Head. Ms. Herman knew since high school that she wanted to study English, and though she looked at several other schools, she knew that she wanted to stay in her hometown of Athens. Ms. Herman earned her bachelor's degree in English from the University of Georgia in 2011 and has been working in administration ever since. "I think English trains you with a lot of the skills that you use in administration—seeing a massive amount of information, processing it very quickly, realizing the ramifications of it, and then turning around in a better form," Ms. Herman explains. After graduating, she spent three years working at David's Bridal Corporate and another three years working in the University of Georgia's School of Veterinary Medicine. "I love putting together the puzzle pieces. I love learning as much as I can and then seeing how to connect funding and resources and different departmental projects," she says when describing what she is most looking forward to in working with the department. 
In her free time, Ms. Herman is an amateur trapeze artist. She is also learning to play the banjo, taking inspiration from the environment of learning that is the Classic City. One of her favorite things about Athens is that its citizens aren't necessarily defined by their nine-to-five jobs. "It's a very accessible town for creating and learning how to make art in all forms. Athens is just an infrastructure of learning," she comments. 
When she's not in Park Hall, Ms. Herman can be found indulging in the vast variety of things there are to do in and around Athens. "There's just all of these places already built here for art to inhabit," she says when discussing her appreciation of the public theatre, lectures, labs, classes, and other opportunities for learning within the city. "I think learning has a foundational presence in Athens," she says. 
Going forward in her new position, Ms. Herman will be working as a liaison between the English Department and the general public, creating content to maintain communication between the English Department, alumni, and the City of Athens.