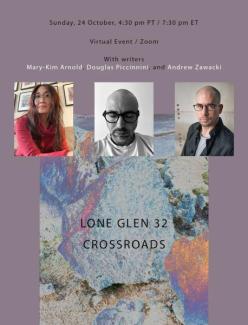 ZOOM
Lone Glen is hosting a reading with Dr. Andrew Zawacki, along with poets Mary-Kim Arnold and Douglas Piccinnini, on Zoom.  More info here.
About the writers:
Andrew Zawacki is the author of the poetry books Unsun : f/11 (Coach House), Videotape (Counterpath), Petals of Zero Petals of One (Talisman House), Anabranch (Wesleyan), and By Reason of Breakings (Georgia). His work has appeared in Poems for Political Disaster, Legitimate Dangers: American Poets of the New Century, The Iowa Anthology of New American Poetries, Great American Prose Poems, The Eloquent Poem, and other anthologies, as well as The New Yorker, The Nation, and The New Republic. He has published four books in France. Zawacki's translation of Sébastien Smirou, My Lorenzo (Burning Deck), received a French Voices Grant, and his translation of Smirou's See About (La Presse/Fence) earned an NEA Translation Fellowship and a fellowship from the Centre National du Livre. A former fellow of the Slovenian Writers' Association, Zawacki edited Afterwards: Slovenian Writing 1945-1995 (White Pine) and edited and co-translated Aleš Debeljak's Without Anesthesia: New and Selected Poems (Persea). He coedited Gustaf Sobin's collected poems and serves as co-executor of Sobin's literary estate. A 2016 Howard Foundation Fellow in Poetry, Zawacki is Distinguished Research Professor of English at the University of Georgia.
Mary-Kim Arnold is the author of the poetry collection The Fish & The Dove (Noemi Press, 2020) and Litany for the Long Moment (Essay Press, 2018), an experimental memoir of her adoption from Korea. Other writing has appeared in such publications as Conjunctions, Hyperallergic, Poem-a-Day, The Georgia Review, The Denver Quarterly, and The Rumpus, among others. She teaches in the Nonfiction Writing Program at Brown University.
Douglas Piccinnini is most recently the author of the chapbooks The Grave Itself (Ethel, 2021), A Western Sky (Greying Ghost, 2021) and of Story Book: a novella (The Cultural Society, 2015) and a full-length collection of poems, Blood Oboe (Omnidawn, 2015). New work has appeared or is forthcoming with Adjacent Pineapple, Afternoon Visitor, Blazing Stadium, BODY, Denver Quarterly, Ethel, Lana Turner, NOMATERIALSM and Prelude.