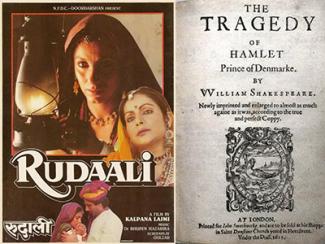 Park Hall 144
The UGA Department of English and the Franklin College Office of Diversity and Inclusion are pleased to present a lecture, Mourner-Confessors: The Masala Intercommunity of Women in Rudaali and Hamlet," given by our 2020 Visiting Scholar Dr. Tripthi Pillai of Coastal Carolina University.
Seating is restricted, so if you are not a student registered for ENGL 4332 or ENGL 6332, please mail Dr. Iyengar (iyengar@uga.edu) to find out whether there is still room for you to attend.
Professor Tripthi Pillai is Associate Professor of English at Coastal Carolina University, a regional public institution in South Carolina with a strong focus on undergraduate teaching, and Arts and Humanities Global Experience Project (AHGEP) Director. While her primary area of disciplinary expertise is in early modern drama and critical theory, she teaches as many courses in the University's Core each year as in English or Women and Gender Studies, using her core and major classes to embed intersectional dialogues and pedagogies that focus on nuances of identity and experience. As an emerging scholar in early modern literary and cultural studies, Dr. Pillai explores intersections of race, regionality and location, class, gender, and sexuality to consider the experiences and narratives of liminalized if hyper-marked bodies and subjects in early modern literature (particularly drama).
This conversation with Dr. Sujata Iyengar's ENGL 4332/6332 (Shakespeare and Media) class celebrates and offers a close reading of the resistant confessional modes adopted by female mourners in Shakespeare's Hamlet and Kalpana Lajmi's Rudaali, the Bollywood adaptation of Mahashweta Devi's story about women designated to mourn the deaths of upper caste men of their community. 
This lecture will be accompanied by two additional campus events presented by Dr. Tripthi Pillai:
Monday, Feb. 10, 2020 @ 12:25pm, Park Hall 265: Lecture "Shakespeare and Academic Redlining," Dr. Tripthi Pillai (Coastal Carolina University)
Wednesday, Feb. 12, 2020 @ 10:00am, Park Hall Library 261: Discussion "Communally Threaded Civic Engagement Activities to Enhance Diversity, Equity, and Inclusion for all": A QEP Proposal at Coastal Carolina University