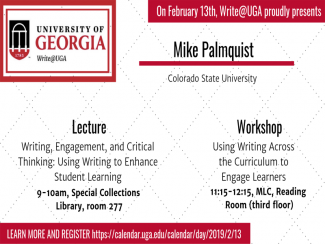 Special Collections Library, Room 277
Mike Palmquist is Write@UGA February Featured Speaker. In this talk, he discusses the connections among writing, critical thinking, and student learning, with a focus on strategies that emerge from the writing-across-the-curriculum (WAC) movement. At a time when critical thinking and communication skills seem as though they have never been more important, this talk will consider the connections between the critical thinking skills we hope to foster through our teaching and the strategies we might use to develop and strengthen those skills. In addition to exploring the connections between critical thinking and writing, this talk will also consider how other activities — presentation assignments, research projects, and design projects — might be used productively in courses to engage students more deeply in course content and approaches.
Mike Palmquist is Associate Provost for Instructional Innovation, Professor of English, and University Distinguished Teaching Scholar at Colorado State University, where he supports university-wide efforts to enhance learning and teaching across the disciplines. His scholarly interests include writing across the curriculum, the effects of computer and network technologies on writing instruction, and new approaches to scholarly publishing. His work has appeared in journals including College English, College Composition and Communication, ADE Bulletin, Computers and Composition, Written Communication, Writing Program Administration, Marketing Education Review, IEEE Transactions on Professional Communication, Kairos, and Social Forces, as well as in edited collections. Since 1992, he has coordinated the development of Writing@CSU (http://writing.colostate.edu) and its Web-based learning environment, the Writing Studio. Since 1997, he has served as founding editor of the WAC Clearinghouse (http://wac.colostate.edu).
This talk is sponsored by Write@UGA 2019, the English Department, the FYC Office, Franklin College, and the offices of the OVPR, OVPI, and CTL.