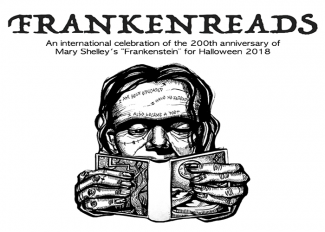 UGA Main Library and Cine
On October 31st UGA will take part in Frankenreads: an international celebration of the 200th anniversary of Mary Shelley's Frankenstein organized by the Keats-Shelley Association of America and the NEH.  The Colloquium in Eighteenth- and Nineteenth-Century Literary is sponsoring a nearly-complete reading of the novel in collaboration with the Main Library, The Willson Center for Humanities and Arts, the Theatre and Film Studies Department, and the Undergraduate English Association.
Our nearly complete reading of the novel will begin at 8:00am in the newly renovated cafe on the bottom floor of UGA's Main Library and continue until 6pm. In the spirit of the novel's multiple voices, readers will be drawn from across the campus and the larger Athens community. Our reading will be accompanied by a slideshow of images drawn from popular culture and curated by Dr. Christopher Pizzino. The final 30 minutes of this epic readathon will take place at Ciné, just prior to a free screening of The Bride of Frankenstein (1935).
In addition to this epic "read-a-thon," the library will host a movie marathon throughout the day, as well as a Monster Parts Scavenger Hunt. During the entire month of October, the Main Library will present curated exhibits of Frankenstein texts and related curricular materials. Participants and sponsors from the library include Emily McGinn (Digital Humanities Coordinator, UGA Willson Center Digital Humanities Lab), Diane Trap (Reference Librarian and Graphic Specialist, UGA Main Library), and Amy Watts (Reference and Instruction Librarian, UGA Main Library).
If you are interested in signing up for a 10-minute reading opportunity, please contact Dr. Roxanne Eberle (eberle@uga.edu) or Dr. Casie LeGette (legette@uga.edu).