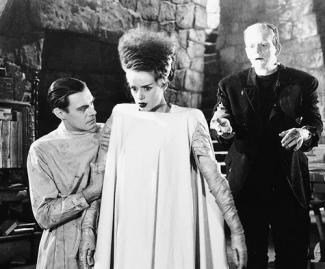 Cine, 234 W Hancock Ave, Downtown Athens
On October 31st UGA will take part in Frankenreads: an international celebration of the 200th anniversary of Mary Shelley's Frankenstein organized by the Keats-Shelley Association of America and the NEH.  The Colloquium in Eighteenth- and Nineteenth-Century Literary is sponsoring a nearly-complete reading of the novel in collaboration with the Main Library, The Willson Center for Humanities and Arts, the Theatre and Film Studies Department, and the Undergraduate English Association.
Our nearly complete reading of the novel will conclude at Ciné, just prior to a free screening of The Bride of Frankenstein (1935). A reception with Halloween food and fun will begin around 6:00pm.