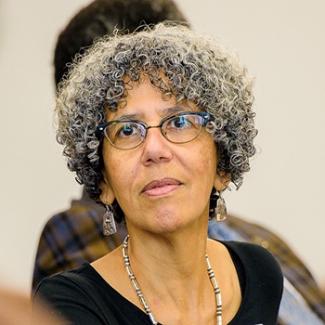 Park Hall 265
Please mark your calendars for this year's Barbara Lester Methvin Lecture, which will be given by Professor Rafia Zafar of Washington University in St. Louis.  Her topic is "Civil Rights and Commensality: Meals and Meaning in Anne Moody, Alice Walker, and Ernest Gaines." Professor Zafar received her B.A. from City College of New York; her M.A. from Columbia University; and her Ph.D. from Harvard University. 
A specialist in early African American literature and the Harlem Renaissance, she is the author of We Wear the Mask: African American Write American Literature, 1760-1870 (Columbia University Press (1997);  editor of two Library of America volumes on the novels of the Harlem Renaissance; co-editor of New Essays on Harriet Jacobs and Incidents in the Life of a Slave Girl; and co-editor of God Made Man, Man Made the Slave: The Autobiography of George Teamoh. She has been the National Endowment for the Humanities Fellow at the Schomburg Center for Research in Black Culture at the New York Public Library, and has held several other grants and fellowships, including those from the Ford Foundation and the Charles Warren Center of Harvard University. She is a fellow of the American Antiquarian Society.
Her talk is drawn from her book, Recipes for Respect: Meals and Meaning in African American Literature (University of Georgia Press, forthcoming in October 2018). 
A Reception will follow in Park 261.