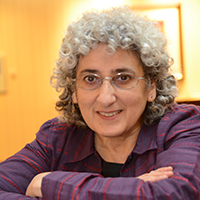 The summer of 2019 saw the retirement of Professor Elissa R. Henken, who joined the UGA English department in 1989 after earning an A.B. in Folklore & Mythology from Radcliffe College-Harvard University, an M.A. in Welsh Language and Literature from the University of Wales, Aberystwyth, and a Ph.D. in Folklore from the Folklore Institute, Indiana University.  Professor Henken is a widely esteemed folklorist and Celticist.  She has served as an officer of major international scholarly societies: the Celtic Studies Association of North America, and the International Society for Contemporary Legend Research.  Her work has been recognized with a Creative Research Medal from the University of Georgia and her election as a Fellow of the American Folklore Society.
Professor Henken has published books on folklore about the Welsh saints, about Owain Glyndŵr who led the last armed rebellion of the Welsh against the English and is seen as a redeemer-hero (the hero who never died and will return to restore the nation), and about human sexuality.  She works mainly on legendry and has studied such topics as General Sherman's "march to the sea" with all the local legends of towns he did not burn, explanations for architectural anomalies on university campuses, and views of Frank Lloyd Wright.  She explores the development of legendry over time through changing socio-political contexts and changing mores.  Currently she is investigating the use of legends versus jokes as responses to events in the news and legendry about the dangers of video games as told by both gamers and non-gamers.
While providing a wide range of courses on folklore and Celtic languages and literatures, Professor Henken also served UGA by bringing together faculty with an interest in folklore and by bringing to campus leading scholars in both folklore and Celtic studies.  The archive of her students' fieldwork projects will be housed at UGA, available for scholarly research.