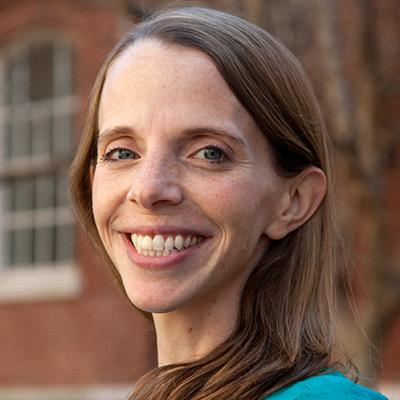 Director of the Writing Intensive Program
Contact
Lindsey Harding is the Director of the Writing Intensive Program at the University of Georgia. She serves as the faculty advisor and editor for The Classic, the Writing Intensive Program's journal of undergraduate writing and research. She is also the lead developer and designer for Mandala Journal, a publication of the Institute for African American Studies at UGA. In the English Department, she teaches Advanced Composition (in face-to-face and online environments), Writing for the Web, and Honors Introduction to Creative Writing.
Education:
In May 2015, Lindsey graduated from the University of Georgia with her Ph.D. in English. Her dissertation "Motherhood Collection: A Critical-Creative Study of Domestic Photography in the Digital Age" involves investigations into domestic photography and motherhood. In May 2011, she graduated from Sewanee University's School of Letters with her M.F.A. in creative writing. In 2004, she graduated from Columbia University with her B.A. in English.
Of note:
2016, Pushcart Prize and Best of the Net Nominations for "Lard List Label," apt
2016, Graduate Student Excellence-in-Research Award, University of Georgia
2015, Alice C. Langdale Award (exceptional English graduate student), English Department, University of Georgia
2015, Excellence in Teaching Award, The Graduate School, University of Georgia
2015, Outstanding Teaching Assistant Award, Office of the Senior Vice President for Academic Affairs and Provost, University of Georgia
Grants:
2015 – Present, Grant Project Team Member, Adaptive Learning and First-year Composition, Personalized Learning Consortium, Association of Public and Land-Grant Universities
2017 – Present, Project Coordinator, Writing Retreats, Parents Leadership Council Grant, University of Georgia
Selected Publications:
Refereed Articles and Proceedings
2016, Harding, L. "Motherhood Reimag(in)ed: A Study of Domestic Photography in the Digital Age," Photographies, Vol. 9, No. 1, Taylor and Francis
2015, Harding, L., "Re-imag(in)ing the Digital Domestic Sphere: A Critical-Creative Study of Domestic Photography and Motherhood in the 21st Century," SIGDOC2015: Proceedings of the 33rd Annual International Conference on the Design of Communication, Association for Computing Machinery, Inc.
2014, Harding, L., "Super Mom in a Box," Harlot: A Revealing Look at the Arts of Persuasion, October 15. Retrieved from http://harlotofthearts.org/index.php/harlot/article/view/197/155
2014, Harding, L., "Writing beyond the Page: Reflective Essay as Box Composition," Teaching English in the Two-Year College, Vol. 41, No. 3, March
Book Chapters
2016, Harding, L. and L. Studer, (forthcoming) "MetaFeedback: A Model for Teaching Instructor Response to Student Writing in the Sciences," in Scientific Communication: Principles, Practices, and Methods, eds. Han Yu and Kathy Northcut
Creative Publications
2016, Harding, L., "Lard, List, Label," apt, online publication, January 11
2014, Harding, L., "At After," Spry Literary Journal, Issue 5
2014, Harding, L., "The Other Cuff," Prick of the Spindle, Vol. 8.2
2014, Harding, L., "Swirling with Grounds," Soundings Review, Spring
2013, Harding, L., "HD Immortality," The Boiler Journal