Head's Note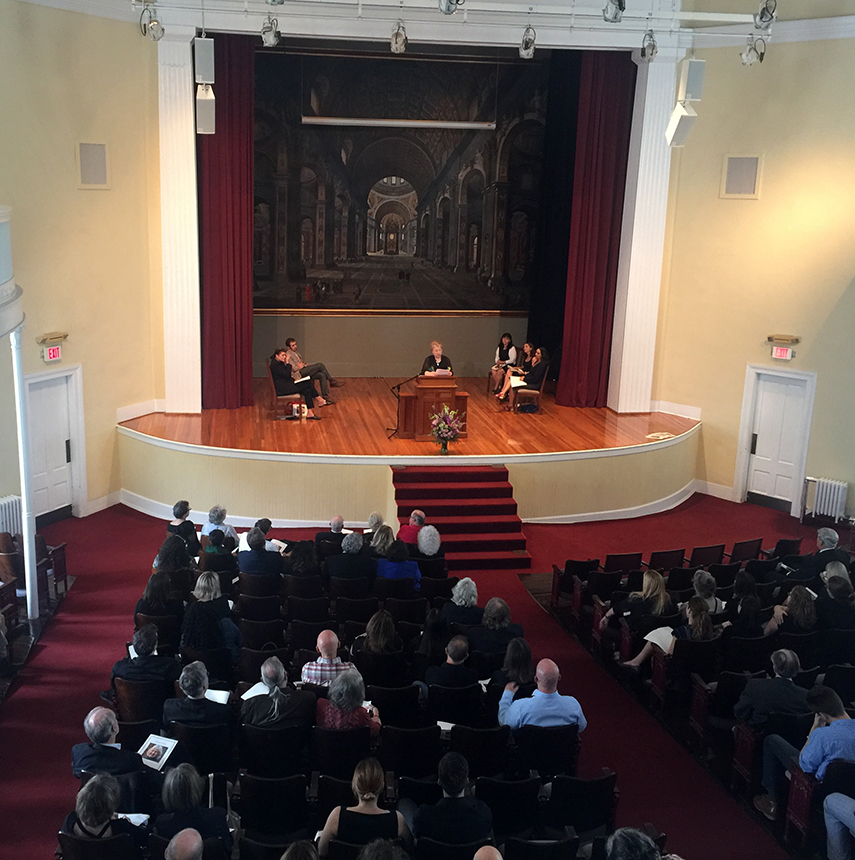 T.S. Eliot famously named April the "cruellest month" in his poem The Waste Land (1922), although certainly any month that marks the loss of a friend and colleague is the cruellest of all.  This past summer, the Department of English experienced such a loss when Professor Christy Desmet died July 25, 2018, rendering that month a very cruel month, indeed. 
A scholar of both Early Modern literatures and rhetoric and composition, Christy Desmet joined the English department faculty in 1984, and in addition to her teaching, research, and editorial contributions, she served for approximately two decades as Director of our award-winning First-year Composition Program.
Possessing an intractable will, she was often stubborn, yet easily moved to laughter.  Fundamentally, Professor Desmet was fiercely protective of those under her care—and she cared for legions, including her beloved husband, David Schiller, and all of her family, friends, colleagues, and students—her graduate students and every student in a first-year writing class.
In addition to her many accomplishments, under her leadership, the First-year Composition Program was awarded the University System of Georgia Regents Teaching Excellence Award for Departments and Programs (2012).  Dr. Desmet's prowess as a writing instructor was most recently recognized this past spring at the annual Conference on College Composition and Communication, where she, Robby Nadler (then Assistant Director of UGA's Writing Center), and Kristen Miller (Director of Biological Sciences) received the Council on Basic Writing Innovation Award for UGA's Science Writing Project, a collaboration between the First-year Composition Program, UGA's Writing Center, the division of Biological Sciences, and the Writing Intensive Program.  The Department of English prides itself on its contribution to writing instruction at the University of Georgia, and Professor Desmet consistently did us proud.
This newsletter is dedicated to her memory.
The Christy Desmet Memorial Fund has been established to support graduate students working in British Literature prior to 1900.  To support this fund, please visit:  gail.uga.edu/christydesmet  or send a check payable to the "Christy Desmet Memorial Fund" to The Franklin College of Arts and Sciences, Attn. Kate Arnold, 124 Old College, UGA, Athens, GA 30602.
As we ponder this loss, we simultaneously celebrate the achievements of all our faculty and students, who work tirelessly to accomplish much—as noted in this newsletter.  We also welcome to the department the very capable Shaina Patel, as the Administrative Specialist in the Head's Office, and Professor Jason Payton, as a recent faculty hire in early American Literature (both featured in this newsletter).  In a future newsletter, we will also introduce and formally welcome two, additional recent hires:  Joshua Kuyrkendall (Facilities Coordinator) and Dr. Joshua King (Lecturer), serving as Interim Associate Direct of First-year Composition.  Additionally, we publicly thank Dr. Deborah Miller for assuming the position of Interim Director of the First-year Composition Program, while we conduct a current national search.
We also celebrate the generous gifts of our donors, including Professor Emeritus Hugh Ruppersburg and Tricia Ruppersburg for their endowment to the undergraduate literary magazine, Stillpoint, as well as announce a new scholarship for an exceptional graduate student in American Literature, named for Professor Emeritus Hubert McAlexander and retired professor Pat McAlexander.  This scholarship will be awarded for the first time at our spring Graduation Ceremony in May.  We also memorialized our large classroom, Park 254, as the Doug Hale Lecture Hall in recognition of the gift of his widow, Mary Anne Hale.
Sending best wishes for a restorative holiday break, and for a regenerative new year—where hope may spring, eternally.
Michelle Ballif
Professor and Head