English PhD students and Writing Center consultants Emma Perry and Paula Rawlins presented at the International Writing Centers Association (IWCA) Conference in Columbus, Ohio in October. Perry and Rawlins brought together Writing Center administrators from across the southeast for a panel on best practices for Writing Center social media usage. Their own paper provided an overview of their ongoing research project: "Social (Justice) Media and Writing Centers."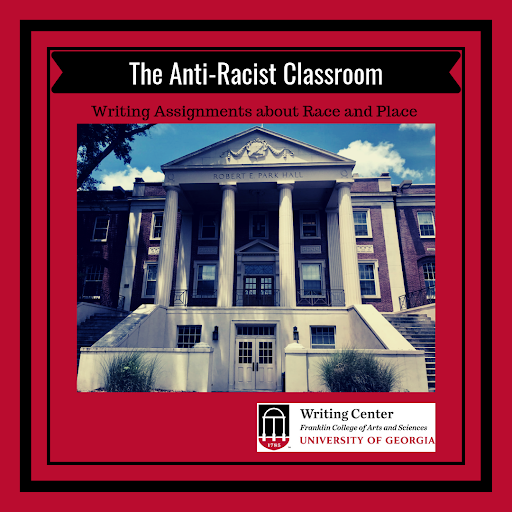 Beginning in the spring of 2019, Perry and Rawlins became interested in how UGA's Writing Center could better support writing instruction at the University. The two were also inspired by ongoing conversations about equity on UGA's campus. "We really began to question how our work in the Writing Center evidenced our dedication to inclusivity," Perry said. The pair's course of action became clearer when initial survey results of UGA's FYC instructors indicated 75% responded affirmatively when asked whether they want "more institutional support and encouragement for anti-racist pedagogy." Because much of their work in the Writing Center involves students from various linguistic backgrounds, Perry and Rawlins felt well-situated to address the dearth of resources survey respondents described. Accordingly, this summer they began researching, writing, and graphic-designing a fifteen-part series of digital resources encouraging instructors' adoption of antiracist and translingual pedagogy. This fall, they post a new resource each Wednesday to the Writing Center's Instagram and Facebook accounts.  
Perry and Rawlins's posts invite instructors to examine linguistic diversity and White language supremacy through a series of scaffolded lessons and assignments. Resources offer suggestions for course assignments, in-class activities, and assessment strategies. While anyone can view the UGA Writing Center's posts at the links shared below, Perry and Rawlins are currently working to revise their posts for publication on the UGA Writing Center's website. The two are also at work on an invited chapter to be included in an edited collection entitled Building a More Linguistically Just Campus: Theory, Pedagogy, and Advocacy.  
Visit the Writing Center on Facebook and Instagram:
https://www.facebook.com/UGAwriting/ 
https://www.instagram.com/ugawritingcenter/