Paul Cunningham, PhD candidate and Managing Editor of Action Books and Content Manager of the Action Blog interviews UGA alumni and author Bradley Bazzle about his new book, Fathers of Cambodian Time-Travel.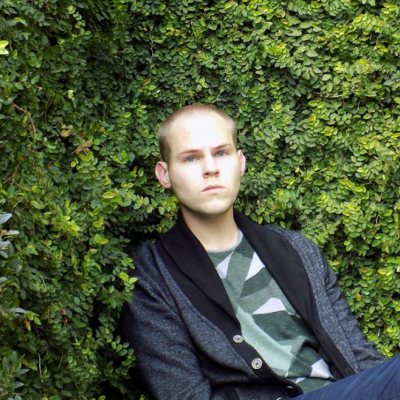 Paul Cunningham:  Winner of the C&R Press Fiction Award, Fathers of Cambodian Time-Travel Science is your first collection of stories. What was the motivation behind this collection? 
Bradley Bazzle:  This is not an interesting answer, but after I published enough short stories to make a book, I put them together in a book that I started sending to contests. That was many years ago. Since then, I split the collection in two.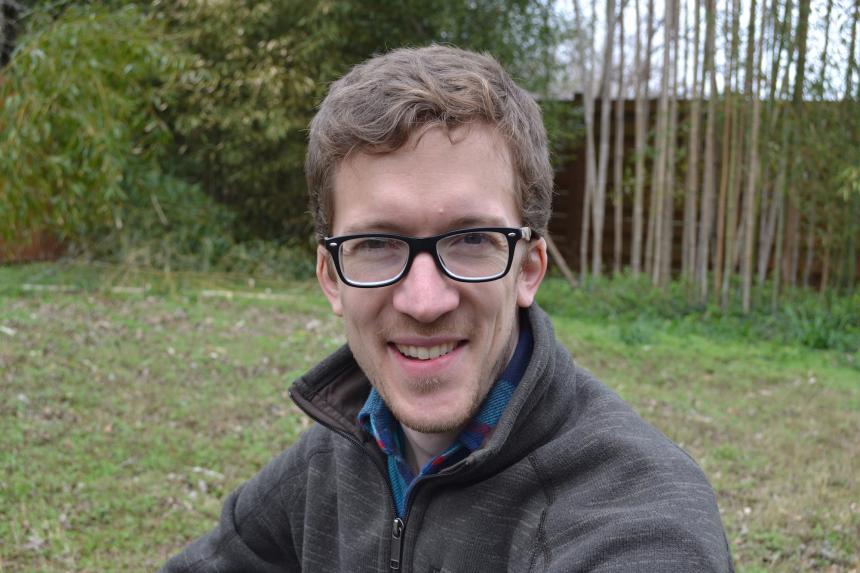 Fathers of Cambodian Time-Travel Science is what I think of as the "weird/funny/sf" collection, as opposed to the "less weird/kind of serious" collection, which is as yet unpublished. The collection took its current form when I finished the title story, which is actually a novella that, I hope, brings together some of the various strands in the other stories: time travel, child actors, losers (or rather people who consider themselves to be losers).  
PC:  Is it true one of the stories—"The Franklin Thesis"—was staged as a play? What was that experience like?  
BB:  The name of the story is actually "Legendary Americans On Wheels," and the Ben Franklin character is based loosely on a one-act play I wrote in college that was produced at a couple festivals Off-Off-Broadway, years ago. That play was called "The Franklin Thesis." More specifically, the Franklin character is based on a bracing performance given by an actor in the title role. But in the story, unlike the play, Franklin is actually a dilapidated simulacrum, like something from a more advanced (and more yucky) Hall of Presidents. 
PC:  Now, having published both a story collection and a novel (Trash Mountain), would you say you find one genre more challenging than the other?  
BB:  Writing a novel is definitely more challenging, though people are more interested in reading novels than short stories, so maybe it's easier to find an audience when you write novels? Maybe it's easier to get novels published? That said, it's pleasurable to return to the world of the novel day after day. You can lose yourselves in them more easily, which makes it easier to keep at them, I think. 
PC:  Do you feel UGA's Creative Writing program prepared you for success?  
BB:  I don't know if I would call myself successful, but I do know that some of my peers and teachers had a strong influence on me. My reading with Elissa Henken on folktales and legendry (it was one of my exam lists) led my work in new directions. And a class with Andrew Zawacki about incorporating photography into creative writing exposed me to W.G. Sebald and led me to write a weird story that may have been a turning point in my work, though I went on to remove all the photos. Actually, the germ of that story came from a class I took with James Nagel. The class, "American Realism, Naturalism and Local Color," exposed me to several writers, like Mary Wilkins Freeman, whose work I admire. And I was very impressed by Dr. Nagel's breadth of knowledge and commitment to his craft. But what struck me most, and what remains most vivid in my mind, are Dr. Nagel's colorful stories about what I think of as the business of academia: conferences, advisement, networking, soliciting articles for anthologies, etc. Several of his stories featured a man named Gary Scharnhorst, who seemed to be a figure of mischief. I still can't get the name, or the stories, out of my head. And Dr. Nagel's voice. That was Gary Scharnhorst for you! 
I worked closely with Judith Ortiz Cofer, both as a student and as a research assistant helping her prepare for classes and update her fifty-page CV. Working with Judith exposed me to a very different style of writing life than my own: she was always reaching out to other people to get their thoughts on her work, or just to touch base, encourage them, ask about this or that manuscript. She was outwardly directed in a way that I found baffling but that was obviously very productive for her (and for the Department, I imagine). It made a strong impression on me, though it didn't change my own style, which is the opposite.  
I also grew a great deal as a teacher, I think, through practice, and because Dr. Desmet and Dr. Miller gave me the freedom to try different things until I figured out what worked best for me and my students. During my MFA, at a different but comparable university, I struggled with rigid guidelines and the feeling that I was making extra, unproductive work for everyone involved. But in the FYW program, the hardest work was wrapped up in the drafting process, which came naturally to me, and all that drafting and workshopping was always clarifying. (Or at least I thought so. I hope my former students agree!) 
PC:  Do you have any advice for current PhD students?  
BB:  They seem like an accomplished bunch, so I doubt they need advice from the likes of me! 
PC:  Can you tell us about any new literary projects on the horizon? 
BB:  In recent years I've been toggling back and forth between novel drafts and clusters of story drafts. The manuscript I have that's closest to being ready for publication, I think, is another collection of stories. Most take place in the present and don't involve time travel or simulacra.