Zack Anderson's poem "Dissonance Orchard" appeared in Denver Quarterly in June. He published "Shock of the Open: A Politics of Verticality," a short lyric essay on skateboarding, Futurism, and the military-industrial complex, in 3:AM Magazine. Anderson also reviewed Mayra Santos-Febres' collection Boat People (tr. Vanessa Pérez-Rosario) for Harvard Review. He recently presented his paper "Kitsch, Parasitism, and the Noise of Mass Culture in Dracula" at the Victorians Institute Conference in Charlotte, North Carolina. 
In July 2021, Emily Beckwith participated in the National Humanities Center's Graduate Student Summer Residency, funded by UGA's Willson Center. The Residency's theme was "Meaningful Teaching and Learning in the Humanities Classroom." 
Paul Cunningham's second full-length poetry collection, Fall Garment, is forthcoming from Schism Press in January, 2022. In August, his review of Tommy Pico's Feed appeared in Transmotion: An Online Journal of Indigenous Studies. In October, he was invited to give a reading for Pace University's Poetry Festival. His short film The New Quarantine (featuring text by Johannes Göransson and Sara Tuss Efrik) premiered in the Prague Microfestival. He was also interviewed by Ben Niespodsiany. In November his short film adaptation of Ursula Andkjær Olsen's Outgoing Vessel premiered in Sophia Kalkau's "Ung Som Bly" installation at Rønnebæksholm (Denmark). His translation of Sara Tuss Efrik's short story, "A Woman's World Behind the Lace Curtain," was published by the Center for the Art of Translation. 
This fall, Philip Gilreath published an article titled "Props and Prostheses: Lavinia the 'speechless complainer'" with the journal Arrêt sur Scène/Scene Focus. He also recently presented at SAMLA 93, and will attend, with support from the Willson Center, a seminar on Podcasting the Humanities put on by the National Humanities Center.
This December, Alexander Hoefer's essay "Reading Modern Physics in Paul Celan's "Engführung"" appears in The Classic, the Writing Intensive Program's journal of undergraduate writing and research. Here, Hoefer interprets Poet Paul Celan's "Engführung" in a scientific way, by tracing scientific methods and themes throughout the body of work. 
Kathleen Hurlock contributed two entries, "Matrix of Intelligibility" and "Psychoanalytic theory" to the Encyclopedia of Queer Studies in Education (Brill, 2021). 
This fall Savannah Jensen presented at two international conferences, the British Graduate Shakespeare Conference and the Ghost Scenes Conference hosted by the University of Montpellier. Additionally, her first article, "'Twas I that Murdered Thee': Heartbreak, Murder, and Justice in Haunted Lovers' Ballads" was published in Renaissance Papers. In 2022 she will be taking part in UGA's Center for Teaching and Learning's Future Faculty Fellowship.
Mike McClelland's sestina "Gobliny-Ass Yaffingales," a queer(er) adaptation of Christina Rossetti's "Goblin Market," was recently published by Hobart After Dark. His essays "An Escape to Paul Cadmus and H.D.'s Beautiful Queer Beach," "The search for the elusive queer parent in gaming," and "You Can Go Home, and This Time Be the Hero" were respectively published by Observer, TechRadar, and WIRED, while his essay "Gay Rapunzel" was reprinted in Superchamp Books' Dating & Sex: The Theory of Mutual Self-Destruction. His short stories "Devil's Island," "The Secrets of the Last Greenland Shark," and "Trillium" respectively appeared in PANK's Environmental Futures Folio, the anthology Imagine2200: Climate Fiction for Future Ancestors, and Monkeybicycle. "The Secrets of the Last Greenland Shark" was a finalist in Salamander's annual fiction contest and was a winning story in the inaugural contest from Grist's Climate Solutions Lab, Fix. He finished 7th in NYC Midnight's 100-word Microfiction Challenge and his fiction collection Wild Gods was a Semifinalist for Ohio State University's Non/Fiction Collection Prize.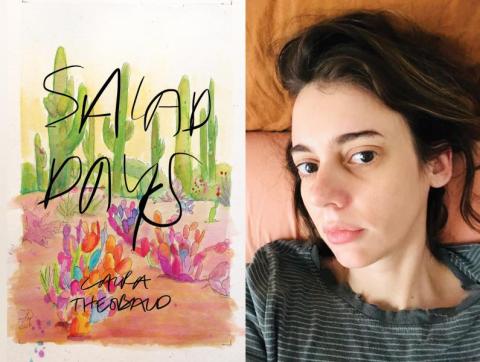 Laura Theobald has published a new book of poetry, Salad Days, which is now available for purchase from Maudlin House. From the publisher's website: "A portrait of the artist at the brink of self-actualization, Salad Days is a vulnerable and evocative study of identity. Its seven sections of thirteen poems each—"Waves of Confusion," "Moon Unit," "Art for the Afterlife," "Future Moods," "Double Fantasy," "Infinite Sadness," and "Sour Times"— describe its melodic and mood-based movements. This is a book that pops—that celebrates weirdness and leans into fantasy."
In October, Kaitlin Thurlow presented a paper at The American Conference for Irish Studies Regional Meeting at Sacred Heart University in Fairfield, CT. The theme of the conference was "Awakenings: Discovery, Activisms, and Change in the Irish Past and Present." The paper was a selection from a book chapter on transatlantic exchanges between the U.S. and Ireland, "Sean Scully at the Edge: Visual Awakenings on the Horizon." The anthology collection is due to be published in the Spring of 2022.
An article by Mikaela Warner will appear in the forthcoming issue of Sidney Journal titled "Unresolvable Zelmane: Queer Inwardness in Sidney's New Arcadia."
In 2021, Hannah V Warren's poems have appeared in Crazyhorse, Gulf Coast, The Pinch, Southeast Review, Cream City Review, Fairy Tale Review, Sugar House Review, THRUSH, Sonora Review, the minnesota review, and Strange Horizons. Carrion Bloom Books will publish Hannah's new chapbook, Southern Gothic Corpse Machine, in spring 2022, and she has poems forthcoming in Pleiades, Copper Nickel, and Southern Indiana Review. This year, Hannah presented her research at Trans/Inter/Cross: A Symposium on the Fantastic Between Genres Media, and Cultures; the New Orleans Poetry Festival; and the International Conference of the Fantastic in the Arts. 
This December, Paris Whitney's essay "An Analysis of Crime and Punishment" appears in The Classic, the Writing Intensive Program's journal of undergraduate writing and research. Here, Whitney analyzes Crime and Punishment by Fyodor Dostoevsky.
Christina Wood won Franklin College's 2021-2022 Jane Mulkey and Rufus King Green Graduate Fellowship and received a Shelter Grant micro-fellowship from the Willson Center.