by Dr. Sujata Iyengar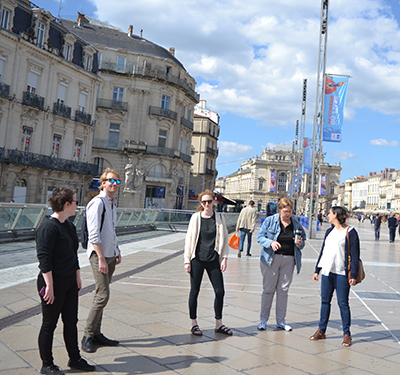 In 2016 Professors Nathalie Vienne-Guerrin of the Université Paul-Valéry Montpellier 3 (UPVM3) in Southern France and Sujata Iyengar of the University of Georgia (UGA) won a multi-year, cost-sharing international award from the Partner University Fund and the French-American Cultural Exchange Foundation (PUF/FACE), administered by the Cultural Services arm of the French Embassy in the United States. The award, "Scene-Stealing/Ravir la Scène," permitted teams of faculty, PhD candidates, and post-doctoral researchers to visit each other's institutions to collaborate both face-to-face and remotely on research, teaching, or public service projects investigating dramatic scenes on particular topics in 16th-18th-century English and French theatre, including historical and contemporary adaptations of such scenes.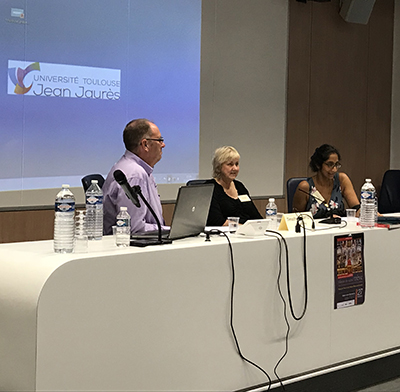 We began our collaboration with a joint conference-festival in Montpellier in Fall 2016 on the topic of "Balcony Scenes," especially the archetypal encounter between Shakespeare's lovers Romeo and Juliet on stage and in screen (selected papers, and recordings of commissioned performances, here). In April 2017 a French team visited UGA for a conference-festival on "Bedchamber Scenes," which included posters by undergraduate students as well as papers delivered by early-career and established international researchers, and Team UGA returned to Montpellier in November for a work session to plan an online, multimedia, Open Educational Resource (OER) on Shakespeare's Henry V. We also traveled to the Université Toulouse Jean-Jaurès for an international conference on "Scenes of Truce." 
Southern France and the Southern United States share distinct, fascinating minority language communities (Occitan-speakers in France and Gullah-Geechee speakers in Georgia/South Carolina, for example). We therefore planned a year-long collaboration on the topic of language variations, especially how communications among different kinds of speech or language can be presented in stage or screen versions of early modern and Enlightenment French and English texts. Academic Year 2018 featured two visits from our French team, one in the spring that included visits to Sapelo Island and Savannah State University to learn about African American language variation and Shakespeare at a Historically Black University, and another in November, for the international conference "Scenes in the Other's Language." We also continued to learn about multimedia digital publication platforms and to plan our OER.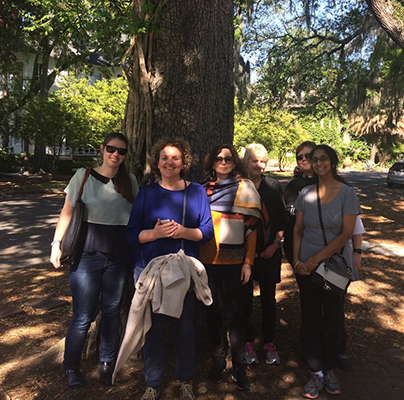 Our November encounter was tinged with sadness because of the unexpected death of key UGA team faculty member Christy Desmet – but nonetheless the UGA and UPVM teams continued our planned public service projects, including a visit to Hilsman Middle School by the French team and Dr. Iyengar's "Shakespeare in the Classroom" class to talk about Shakespeare in France and Shakespeare's role in developing notions of citizenship and civil discourse, and an afternoon symposium on Gloria Naylor's beloved novel Mama Day and its transformation of Shakespeare's The Tempest at the Athens-Clarke County Library. We brought back our student colleagues from Savannah State to talk to a larger audience about "Shakespeare While Black" (the title of our roundtable) and colleagues from the Sorbonne and Rutgers to discuss Naylor, events that were featured in the Athens Banner-Herald. We also received positive media coverage for the innovative, immersive, multimedia, multilingual theatrical installation, "The Rosetta Theatre Project," directed by David Saltz (Theatre), which featured live actors, voice actors, and digital avatars simultaneously performing a scene from Molière and one from Shakespeare, in modern English, Shakespearean English, Molière's French, and modern French.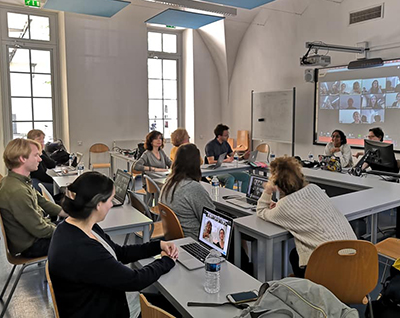 2019 has been particularly intense because we are finishing up over 3 years of work: three journal issues and a multimedia OER and associated audiobook. The grant by now has encompassed teams that involve almost three dozen people across four countries (not even including over a hundred schoolchildren on two different continents). UGA PhD student Mikaela LaFave and Sujata Iyengar organized and managed a live and digitally mediated meeting of three transatlantic teams, in two languages, in two countries, which finally brought French authors in Montpellier, undergraduate digital editors at UGA, and UGA PhD students and faculty, in direct communication.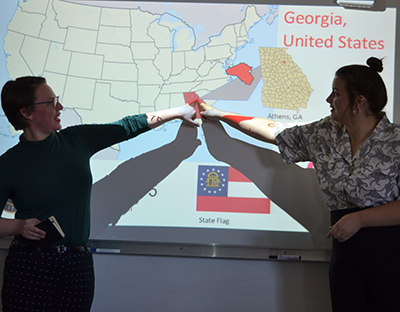 Our PhD students were also delighted to visit a Montpellier middle school (Collège Croix d'Argent), to tell the students about the United States and the University of Georgia, and to watch their work-in-progress - a wonderful adaptation of Othello with Iago played by multiple voices. These young French actors come from all over the world; English is a third or even a fourth language for some of them, and yet they have learned dozens of lines of Shakespeare by heart. In just over a month the French students will perform this piece in front of hundreds of people at the Printemps des Collegiens (student festival) at the famous Festival Printemps des Comédiens (Spring Theatre Festival) in Montpellier.  
We ended this last award-funded visit, as has become our custom, with a day in Paris for students to practice their French independently. In addition to our formal study days at the University of Georgia; Savannah State University; Sapelo Island, Georgia; Théâtre la Vignette - Université Paul-Valéry Montpellier 3; Site Saint Charles Université Montpellier and Université de Toulouse Jean Jaurès, the French team made informal study trips to the National Center for Civil and Human Rights and the US team to the Musée de Cluny. Although the grant has finished, three UGA PhD students and a faculty member travel again to Montpellier in September for a conference on "Shakespeare on the Digital Screen," and we plan to maintain the links we forged among our students and faculty over the past three years. 
We present a selection of photographs below. Please contact Dr. Iyengar (iyengar@uga.edu) if you'd like to learn more about the PUF award and our now ongoing relationship with UPVM3. 
This collaboration was funded by the Partner University Fund and the French-American Cultural Exchange Foundation (PUF/FACE). Additional support came from L'Institut de Recherche sur la Renaissance, l'Age Classique et les Lumières / Institute for Research on the Renaissance, the Neo-classical Age and the Enlightenment (IRCL), a joint unit (UMR 5186) of Le Centre National de la Recherche Scientifique/ National Center for Scientific Research (CNRS) located at the St. Charles campus of the Université Paul Valéry Montpellier 3; the Franklin College of Arts and Sciences at the University of Georgia; the Willson Center for Humanities and Arts; and the Departments of English, Romance Languages, and Theatre and Film Studies. Activities at the Athens-Clarke County Library in 2018 were supported by the UGA Office of Institutional Diversity and by Georgia Humanities.