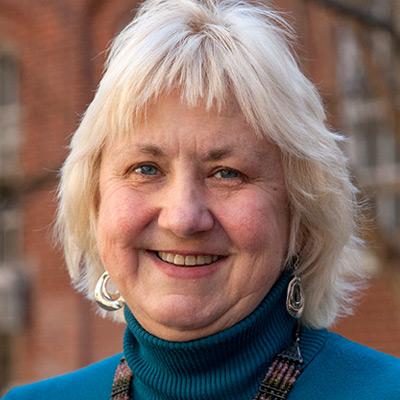 Colleagues, friends, and family gathered on Friday, September 28th to celebrate the life of Christy Desmet (August 30, 1954-July 25, 2018). Dr. Desmet's memorial service was held in the University of Georgia Chapel, and a reception followed on the patio of Park Hall.
The service began with words of welcome from Dr. Michelle Ballif, Head of the English Department, and it was followed by remembrances offered by Clark Desmet, Anne Williams, Tricia Lootens, Sujata Iyengar, Lisa Starks, Darlena Ciraulo, and Robby Nadler. Dr. Desmet's husband, David Schiller, selected music from a set of lute songs entitled Funeral Teares for the Death of the Right Honorable the Earle of Devonshire (1606), and Dr. Miriam Jacobson (UGA English) read from the first section of Astrophil and Stella by Sir Philip Sidney.
Christy's friends and family are establishing The Christy Desmet Memorial Fund to support graduate students working in British Literature prior to 1900. In lieu of flowers or other gifts, you may make a tax-deductible gift to this new fund by going on-line to gail.uga.edu/christydesmet or by sending checks made payable to: The Christy Desmet Memorial Fund, Att. Kate Arnold, The Franklin College of Arts and Sciences, 124 Old College, University of Georgia, Athens, GA 30602.
Links to Memorial Program and Remembrances 
Clark Desmet (Christy's Brother)
Anne Williams (Friend and Colleague; UGA Professor of English, Emerita)
Tricia Lootens (Friend and Colleague; UGA Professor of English)
Sujata Iyengar (Friend and Colleague; UGA Professor of English; Co-Editor and Co-Founder of Borrowers & Lenders
Lisa Starks (Colleague; Department Chair Verbal and Visual Arts, University of South Florida, St. Petersburg)
Darlena Ciraulo (Graduate Student; Professor of English at University of Central Missouri)
Robby Nadler (Graduate Student; Graduate Writing Specialist, UC Santa Barbara)
"Christy Desmet: The formative years," as written and read by Clark Desmet 
Good afternoon. Thank you all for coming. We are here to celebrate the life and work of Christy Desmet.  All of us here—whether already accomplished in your various fields of academia or business or just starting to make strides in your journey of life—we all share something in common. Our early days are filled with both life experiences and people who influenced us early and helped formulate who it is we become. It is these formative years of Christy that I would like touch upon now.
Christy was literally born into a Tempest (during Hurricane Carol) in Southside Hospital in Bay Shore, New York on August 30, 1954, surely an omen of things to come. She was the first child born to Jim and Rosemary Desmet. Our father Jim was of German and Belgian descent raised in Astoria, Queens NY. Our mother Rosemary's family was largely a mix of English, Scottish and other western European ancestry and were among the early settlers in the US. Rosemary was raised in Oklahoma during the Great Depression and was a college educated woman rare in that day. She attended Oklahoma College for Women in Chicasa, Oklahoma where she studied to be an artist. Jim met Rosemary while serving in the Army in Oklahoma during WWII and they moved to Long Island, New York prior to Christy's birth.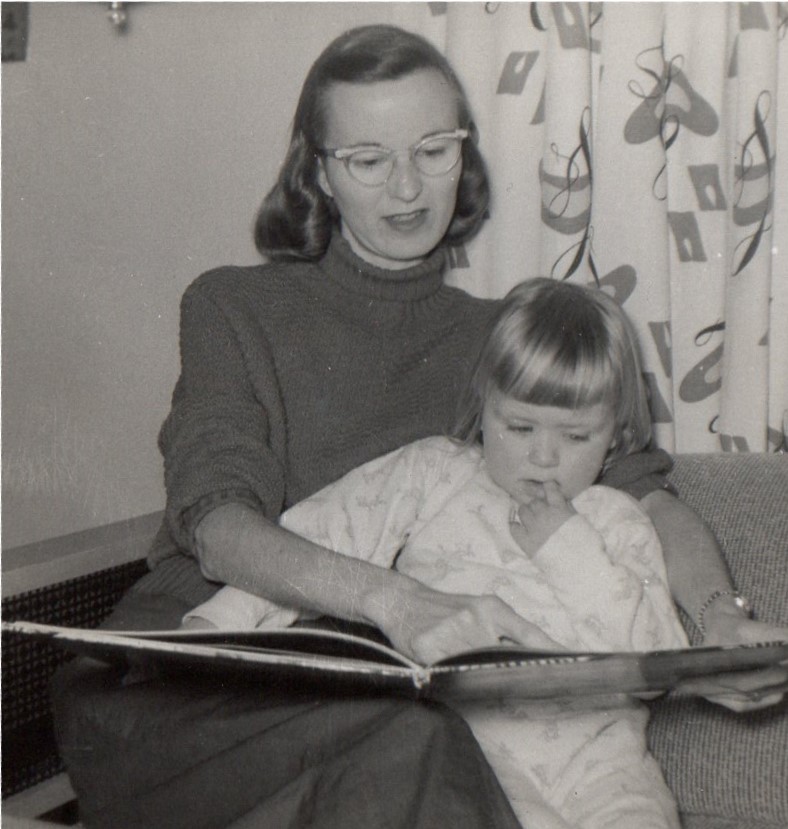 It was our mother that influenced Christy to lean towards the arts and humanities. During our early years there was no TV in the house so we were either read to or read to ourselves for entertainment. Our house was full of the classics like Robinson Crusoe, Tales of King Arthur and the Round Table, and the complete collection of Winnie The Pooh by AA Milne. I can recall a particular family illness (might have been flu, measles, or the sort) where my mother was thrilled that we would all be home and we could sit in our PJs and she could read to us all. Books and reading were a part of Christy's DNA from the get go.
One of Christy's early literary influences was Richard Scarry, the author and illustrator of Naughty Bunny. Each night we would choose a bedtime book to be read to us prior to lights out. Much to my father's chagrin I would invariably ask for the story of Naughty Bunny night after night. Christy would pitch in and take over for my beleaguered father and dutifully turn the pages when appropriate as she recited the text word for word from memory. The book begins: "The little bunny didn't mean to be naughty. But he didn't try very hard to be good." It gets more riveting from there. Christy always made time to read to me when we were young.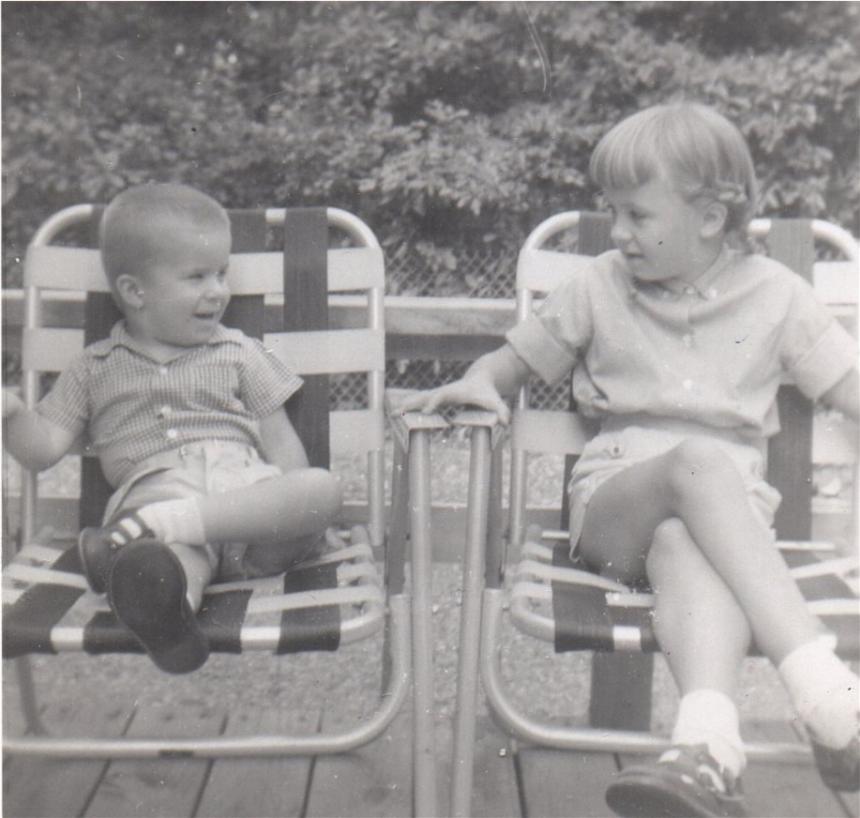 While scouring for old photos I came across Christy's earliest original written works: a series of Christmas stories intended to occupy a certain overly anxious younger brother awaiting the arrival of Christmas. I believe it was a library of six stories each released and read daily. "Santa meets the Martians" chronicles the adventures of young Martians Marty and Klank and their encounter with Santa. It looks to be self-published with yarn binding.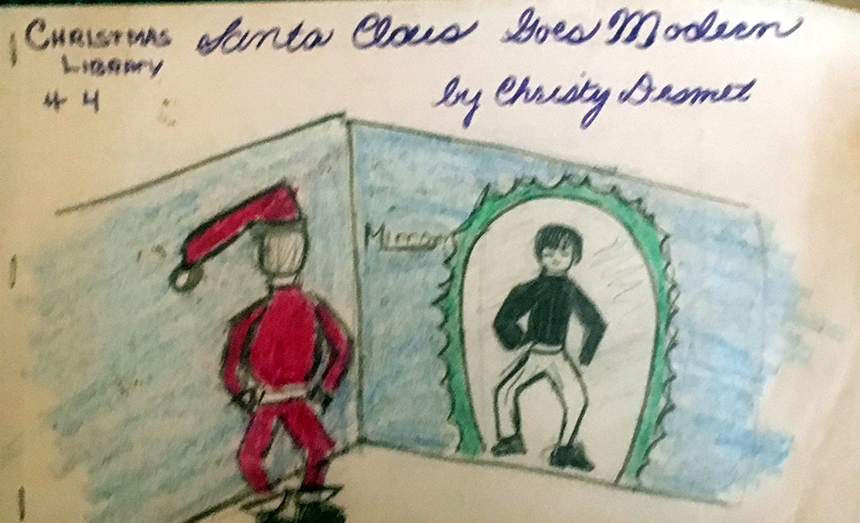 Christy always excelled in school; always at the top of her class and named the valedictorian of East Islip's graduating class of 1972. She studied and worked hard always and was so self-driven. While my parents were supportive I don't recall them ever pushing her. She did that all by herself from day one. If you believe in genetics it is my contention that she was just hard wired that way. Trust me: it made my life easier. Mom and Dad already had their achieving daughter and I got to back off and coast a bit. She read the classics while I read Superman and Archie comics. Our bookcases were quite a bit different.
That drive to succeed that you all know wasn't just limited to academics but spilled over to music as well. She started playing the violin in fourth grade and was typically a first chair soloist. Not being satisfied with being the best in her school she also qualified to be included in the New York State School Music Association county wide orchestra. This was torturous to a younger brother forced to sit through hours of classical string performances but I was placated by the fact we usually stopped for ice cream afterwards.
Christy had a strong work ethic that was supported by both parents but influenced in a large part by our dad's old-fashioned German work ethic. If you felt sick and maybe didn't want to go to school, you would be told that maybe you should get dressed anyway and then see how you felt. You should maybe go on to school and if you still didn't feel right in class you could go see the school nurse and be sent home. Christy and I had just recently recounted a tale I thought I may have been over embellishing over the years but she confirmed quite vigorously. Yes indeed, at a very young age we walked the five or six blocks to elementary school in the midst of a raging nor'easter only to find school closed and the doors chained and padlocked shut. The family mantra being: you go to work, you go to school, you work hard.
Some of you may have been mentored by Christy as students. Another skill that was natural to her. I was probably student number one. She would help me with my homework and generally keep an eye out on me.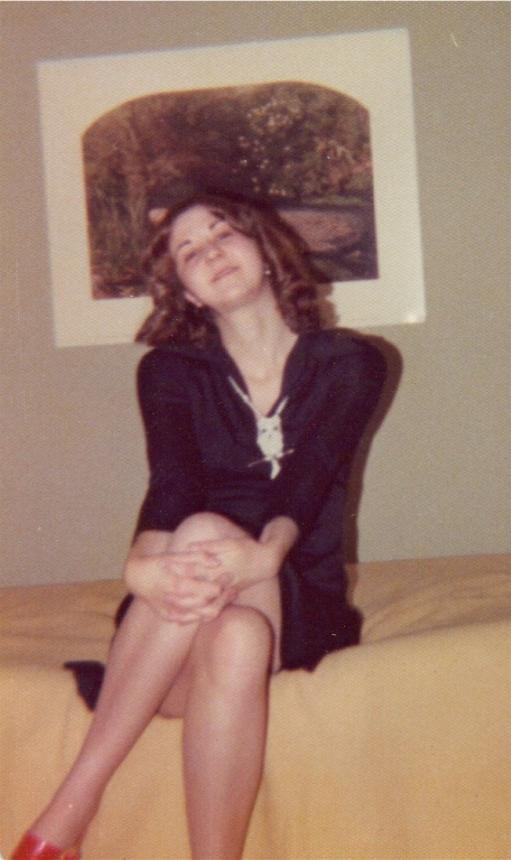 Of course, Christy's early life wasn't without a sense of normalcy same as any other teen growing up in the 70's. There were dinner discussions over topics like the length of her skirts worn to school and her wearing of a black arm band in school to protest the Vietnam war. Then there was the time she drove the family VW bug to her friend Denise's house when she wasn't supposed to while our parents were out shopping. Having neglected to take off the emergency brake, I remember the car returning to the garage, brakes glowing red and smoke billowing out of the wheel wells. Together we remedied it somehow and got away with it.
Separated by three and a half years, Christy and I never conflicted much with common school teachers or friends and just as I began high school, she went off to college. Christy spent four years as an undergraduate at the University of Virginia and then completed her Masters there, helping to support her education through a hostess job at the local Howard Johnson's. She applied to and was accepted to UCLA to pursue her doctorate in 1978. It was there that she met and fell in love with David Schiller. They married on May 29, 1981 in a small private ceremony in California. Unable to attend the wedding in California, the Desmet family hosted David and the Schiller clan to a post wedding garage party on Long Island and welcomed them into the family. Christy interviewed at UGA in February of 1984 and she and David moved to Athens that August.
Life threw Christy a big challenge with not one but two bouts of cancer at a young age. The first was Hodgkin's Lymphona in 1992 and a trickier fight with non-Hodgkin's Lymphoma in 2000 that required treatment at the University of Nebraska, and included stem cell transplant. Husband David single handedly supported and helped her succeed and she beat the cancer both times.  Our family is forever grateful for David's love and devotion. Christy pragmatically attacked each instance with the same drive and attitude she applied to her studies and work. After her second bout I remember being asked – "Do you think she'll slow down and take it easier?" My response was "No, I don't think so." And she didn't, living her life to the fullest.
From a guy whose basic appreciation of Shakespeare is that it's an affordable brand of fishing reel available at your local Wal Mart.  I close with this: before she was Dr. Desmet, Dr. D or Professor Desmet, first and foremost she was simply Christy Desmet — my sister.
Written and read by Anne Williams
One of my favorite stories about Christy is her tale of how she met David Schiller, who became her husband of nearly four decades. They were both in Los Angeles, standing in line to see a double feature of Lina Wertmüller's Seven Beauties and Swept Away. Learning that Christy was a graduate student in English at UCLA, David told her that he had been an English major at Harvard. So she immediately gave him a pop quiz. "What is the poetic form," she asked, "of the first conversation between Shakespeare's Romeo and Juliet?" He knew the answer: "It's a Shakespearean sonnet." This was so like Christy:  quick-witted and playful, but also scholarly and deeply serious. But for these few minutes I'm not going to speak about Christy's spectacular scholarly career. I want to describe our unforgettable friendship.
The full title of Wertmüller's film is Swept Away by an Unusual Destiny in the Blue Sea of August. Having finished graduate school, Christy was brought by her unusual destiny to the University of Georgia. I met her in June 1985, at Fran Teague's annual reading of A Midsummer Night's Dream, which as you remember takes place in a wood not far from Athens. Fran and Judy Shaw and I had just been tenured, and now Christy was the only tenure-track woman in a  department of around 45 people.  During the first year or so, we often chatted very early in the morning, because we had early classes and were always eager to secure one of the prime parking spaces in the lot that once existed between Park Hall and the business school. We mostly talked about how to negotiate the rules and practices of the department and the University and the difficulties posed by our quarter system's five-classes-a-week schedule.
But we began to discover that we had much more in common. My husband John, also an English professor, was teaching in Massachusetts and his avocation was classical music.  While he was briefly visiting in January, I invited Christy and David for a drink. David was studying for a degree in musicology.  I remember a lively disagreement about Benjamin Britten's War Requiem. But more significant, that afternoon David and Christy were arguing about whether to adopt a bedraggled stray mutt that appeared to be mostly Cairn terrier. Christy won that argument, and named the little dog Perdita, after the heroine of The Winter's Tale. Though preferring dogs, Christy sympathized with my love of cats. Indeed, my calico Persian Pandora and Dita proved to be soulmates. When Dita came to visit, they would share the sofa. Furthermore, Christy discerned that Pandora had an unexpected talent. Once while I was out of town, Christy came over to feed her and keep her company. They read Julia Kristeva together, and always afterward Christy declared that Pandora was an astute literary theorist. There was one unfortunate incident when Dita, arriving on my back deck for a barbeque, chased my black Persian Morgan le Fay out of the yard. But Morgan returned after a few hours and Dita sent a lovely card of apology with an appropriate quotation from Keats's "Ode on a Grecian Urn." Indeed, she and David enabled my addiction to cats, giving me a Persian kitten as a retirement present and years later presenting me with a starving kitten afflicted with maggots, a kitten that the vet clearly thought would not survive the necessary surgery. But she did, and grew into a handsome snowshoe Siamese, like Dita evoking the romance archetype of the highborn heroine in disguise.
Through the several seasons of David Lynch's Twin Peaks we exasperated John and David with our endless narratological analyses of that show's maddening and unresolvable ambiguities, and when The X Files debuted, almost every Friday night we got together for pizza and the next episode of Muller and Scully's investigations into the gamut of paranoid supernatural fantasies ranging from alien abduction to monsters haunting the sewers of New York.
When John was diagnosed with early-onset Alzheimer's I retired, but during the years of his gradual disappearance that this horrible disease imposes, Christy and David, who well understood the stress that serious illness imposes, remained a steadfast support, always upbeat and cheerful, willing to come over and eat the culinary experiments that occupied my time in those years. Christy presided at his memorial service, which was primarily a recital of various pieces of music that John and I had treasured. I don't know how I could have coped without their help.
But after John's death, the most carefree stage of our friendship began. I started accompanying Christy to Shakespeare and Renaissance conferences, which seem always to meet in the most glamorous places. We became regulars at the annual meeting of the Societé Française Shakespeare, which happens to meet in Paris each January. We also attended gatherings in New Orleans and Chicago, Ferrara and Bologna. The four hundredth anniversary of Shakespeare's death occasioned a couple of other spring conferences. After one of these in Paris we rented a car and drove to Berry. The imperious voice of the GPS we called "Madame," generally gave us good advice, though on one occasion she demanded that we turn into an unpaved lane, which I refused to do. And she did get us hopelessly confused as we returned to Paris at rush hour. But we made our way to Nohant, the country estate of George Sand, where Chopin spent so many summers. In her dining room, places were set for her distinguished friends, including Balzac, Flaubert, and the great soprano Pauline Viardot. 
Of course, Christy paid the heavier price for attending these conferences, for she had to submit and deliver a paper. My contribution was to research restaurants, make the reservations, figure out which exhibitions we should visit, and buy tickets. So despite attending so many scholarly sessions that I began to feel that I was something of a Shakespearean myself, we had some memorable dinners and evenings. I shall never forget Thomas Joly's performance (in French) of Richard III, where, after Richard persuades the common people to accept him as king, he gives a Mick Jagger performance of a rock song in English in which he proclaims, "I'm a dog, I'm a toad, I'm a hedgehog, I'm a monster."  We heard Handel's Julius Caesar at the Palais Garnier and Ponchielli's La Giaconda at the Opera Bastille, in which the often parodied "Dance of the Hours" was performed by a topless ballerina. (It's available on YouTube.) Christy also accompanied me—no conferences this time—to the premieres of the two operas based on Stephen King's novels:  Tobias Picker's Dolores Claiborne in San Francisco and Paul Morevec's The Shining at the Minnesota Opera.        
Last Thanksgiving I hosted a small dinner. After David and Christy left, my last remaining guest asked me, "Why is Christy so happy? She looks about 40 years old!" I replied:  "Well, she has survived two life-threatening bouts of lymphoma, she has a sensationally successful career that she loves, and a long and happy marriage." I forgot to mention Plum, the Norwich terrier. 
There's an ancient literary tradition that works of mourning conclude by imagining the lost beloved person enshrined as a star in the sky, as in Monteverdi's opera L'Orfeo or Shelley's Adonais. But Christy was already a star here on earth to her students, her colleagues, her friends.   One of my favorite Victorian poems concludes with a more mundane idea: "There is no friend like a sister." My parents failed to provide me with a biological sister, but my decades knowing Christy have taught me that the reverse of that line is also true: "There is no sister like a friend."
Written and read by Tricia Lootens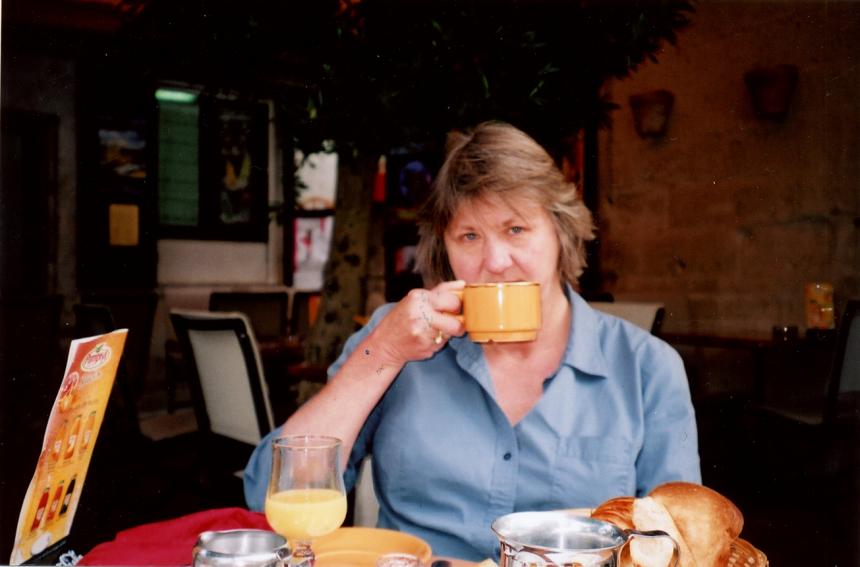 For thirty years, I walked into Park Hall bent on luring Christy to lunch—waiting for her tongue-in-cheek, exuberant "Andiamo!" Let's Go!
As we all know, Christy loved to work. She loved to get things done-- to list how much she'd just done, and how much she was just about to do. But she didn't live to work. This was a woman who knew how to play.  The moment JoEllen hit Athens, again thirty years ago, Christy invited us to join her, David, and the late, great Dita in a rowdy stroll at Lake Herrick. Half-way through, I thought: Athens could be home. Since then, generations of our dogs and Anne's cats, of friends, colleagues, and students, have flowed in and out of Athens, in and out of our lives. We've cherished and mourned Anne's husband John; Fran's husband Ben; Christy's parents Jim and Rosemary; David's father Irv; my parents; Judy Cofer, and others. We've celebrated so many things—not least the births of people I see here today. We've kicked back with Christy—and we've watched her on the move. You all know the books: LET'S GO, PARIS! For Christy, it was "Let's go—Paris! Seoul! Australia! The Ukraine! Ocala! Stratford! The Folger! The Florida Game! Anne's! On your mark—get set—"
Imagine creating a slide show of all the students, colleagues, and co-workers whose lives Christy's changed. We'd know where to begin: look around. Still, where would we end?  She knew so many people, in so many places, who never knew each other; she made so many of those people's lives not only richer, but in some sense possible. After she died, person after person stepped up to say, "She had my back." She had mine. She made the macro for my first book; she raised the toast at Anne's for my second. When Hurricane Ivan smashed an oak into our house, we called C&D for refuge. (Firefighter: "Leave! NOW!" JoEllen: "NO"! Christy, on the phone: "On your way over, can you pick up some milk?" We did; and our three dogs lived with C&D for months.) Christy was visiting in 2005 when a UC Davis medical center representative called to say they'd found a malignant mass in my heart. Her immediate old-dog joke: "it's probably just a fatty tumor." She was right. If she hadn't been, though, she'd have still had my back—and she'd have made me laugh. There's a big, gifted first-responder and medical community that made our time with Christy possible; you can bet she and David made them laugh, too. (A UGA story Christy loved to tell: with her tenure deadline looming, she discovers the press has rejected her first book. She turns to David to say "The jig is up!"—and only then bursts into sobs.) It's Christy's tough comic sense—intractable, skeptical, unsentimental—simultaneously detached, and supremely humane—that I'm trying hardest now to honor, if not dream of channeling.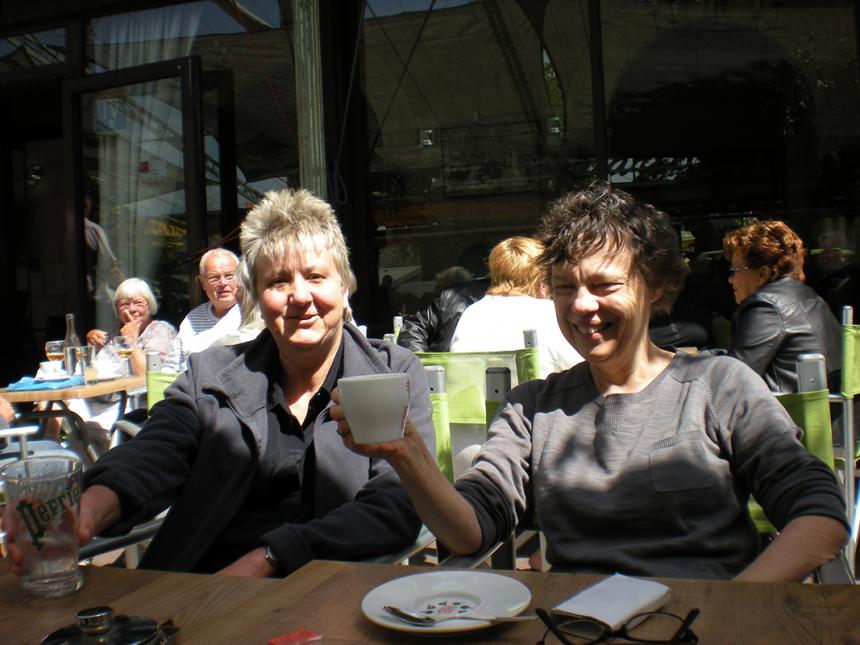 With our tense, gifted Arkansas and Oklahoma mothers; our mellow, skeptical Belgian fathers; and our quirky, adored brothers, Christy and I used to joke that we were born to be friends. There was something else, though. In our extraordinarily different ways—and we were very different, in temperament, politics, and academic style— we'd both grown up as certified overachievers. "What did that mean?" we'd worried as kids. "Underachievers": they earned reproach by doing less than they could. So—were we achieving more than we could? How could we do that? By loving our work too much, we came to understand: by blundering over limits of decorum—and, of course, not incidentally, of privilege-- in the process. Christy had no patience with would-be enforcers of those limits—and no patience, either, with "I'm only . . ." excuses.  (If Christy had your back, you knew you'd better keep moving).
In closing, let me say that when I think of Christy, I think, above all, of grit. (Abrasive? Christy? Oh, no!) Put grit under pressure, and what do you get? More grit. Sure: Squeaky wheels get the grease— and Christy knew how to squeak up. She also knew how to shape the administrative equivalent of a well-oiled machine. Still, real systems that work—including human systems—develop and move and change in part through friction. Without grit— without the calculated, ingenious, principled, relentless application of abrasion-- there's no edge, no polish; ultimately, nothing moves. A lot of what Christy did for all of us-- this university, this profession, this community, this world, she did behind the scenes, grinding away-- like the dust that polishes stone, steel—and diamonds—or that edges firefighters' rescue tools. What Christy gave us—and it was a gift, in every sense, was grit-- diamond grit: tough; real; irreducible; and precious, beyond measure. 
Written and read by Sujata Iyengar 
When people ask me how I ended up co-founding and co-editing a journal with Christy Desmet, I usually tell them that it was because I couldn't keep my mouth shut, and now I owed her my my first-born. Let me back up a little. In 1999, Christy and her PhD student Robert Sawyer published the ground-breaking volume Shakespeare and Appropriation, which defined and legitimized a new field in Shakespeare studies – the study of adaptations, appropriations, off-shoots, riffs, remixes, mash-ups, remediations – readers', writers', performers', actors' and other creators' liberties with Shakespeare's plays, poems, characters, words, and biography. Shax and App — Christy's nickname for the book, and for the field — argued that such adaptations could be worthy objects of scholarly study and that these objects could themselves transform the ways in which we read and performed Shakespeare, notably by drawing attention to historically under-appreciated aspects of Shakespearean performance, rhetoric, characterization, and plot.

At that time I was a new Assistant Professor at the University of Georgia, and Christy was my senior colleague. I popped into her office to ask her something and she proudly showed me the proofs of Shax and App on her desk. (She was always thrilled with a new set of proofs, which -presciently anticipating the literacy and neurological research that proves she was right to do so – she always printed out on paper for manual correction.) "That's all very well," said I, cheekily, "but you should really found a journal – there's so much more to say."
A couple of years later I delivered my first child three weeks early – in the very thicket of the semester – because of a sudden and what would become a life-threatening sickness. Many colleagues offered support, but Christy was the one who took over both my classes, pacified all my students, and graded all my final papers. She also (as she did for many others) commiserated and understood the thousand minor and major indignities that flesh is heir to over a hospital stay, the intrusive flashbacks that can follow an acute illness, the depression that can accompany a long recovery, the sudden impulses to quit it all and carpe diem that surface at inopportune times, most usually in committee meetings.
When I was back at work, Christy said, "I've been thinking, and you are right – we SHOULD found a journal, and it should be online, and we should include multimedia, and we should build it with <emma>" (Emma was another "first" on which Christy collaborated – the English Department's electronic markup and management application, an immersive online writing environment that allows students and instructors to create, mark up, review, and archive streamlined and elegant online writing portfolios).
"How can I refuse you anything now?" I asked, somewhat rhetorically. "I owe you for the next decade, at least." So we realized her vision – we founded the first online scholarly humanities periodical to integrate rich multimedia including image, video, and sound, printable dynamic pdfs, and deep electronic "markup" or tagging to allow future indexing and classification. As co-editors and co-authors, she and I went on to present papers together at the Modern Language Association and the Renaissance Society of America, to publish scholarly articles together, and at the time of her passing were contracted to co-author a monograph. We won the "Best New Journal" award from the Council of Editors of Learned Journals in 2007, and Christy has been nominated posthumously this year for the society's Distinguished Editor prize.
But David asked me tell you something about her that you might not already know. In addition to being a transformative senior colleague and outstanding collaborator, Christy was one of three women in the department whom I had asked to serve as "secular godmothers" to my daughter. Like all good fairy godmothers, they modeled for my child gifts that were intangible: righteous anger against injustices; the love of music and beauty; tenacity and resilience; and (I'm about to make a terrible joke) the love of Dog that passeth all understanding, or at least passed mine. Christy would regularly tease me by returning from a weekend away with David and the dog by greeting me, "Not that you care, but this weekend we made friends with" -(and it would be some list of breeds I'd never heard of!)- "a Borzoi, a Chinook, and a Norwegian Lundehund." And yes, my daughter is crazy about dogs – reads about breeds in her spare time, dog-sits for every willing neighbor, and when I teased her about wanting to be a kennel-maid, perked up and said, "Is that a real job?"
So I'm selfishly angry, and sorrowful, that Christy won't get to see my children as first-year college students, the way she saw so many generations of first-years. I was looking forward to having her lecture me about not being a helicopter parent.
Writing this was difficult, because it also reminded me of the ONE TIME I ever knew Christy to have had writer's block – coming up with her speech like this for the memorial service for the late Judith Ortiz Cofer. In this, then, as in so many other things, Christy showed me the way. Thank you.
Written and read by Lisa Starks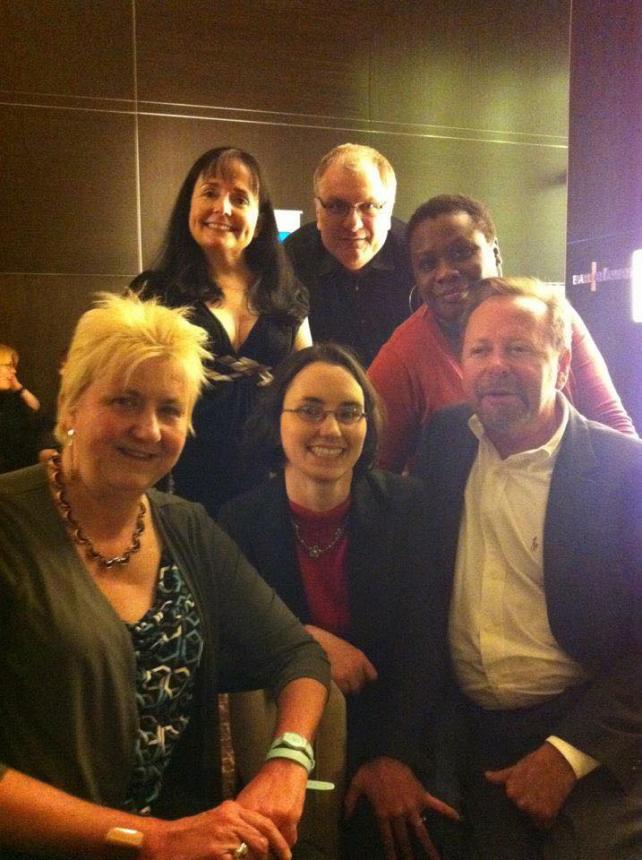 I've been wracking my brain about how to express my love for Christy. When my mom died a few years ago (tonight is her yahrzeit, actually), I came up with the perfect moment, the perfect anecdote to serve as a metaphor for our relationship.
For Christy, though, I've come up with…nothing. Last night, sitting in my luxurious room at the Microtel by Wyndham Athens (which I've just learned is called the "Microhell Hotel"—with good reason!), I fretted about it more. (By the way, David told me today that Christy said she wanted heroics when she died. I think my stay at the Microhell qualifies as heroic!) Anyway, I mean, Christy was a wonderful, inspirational colleague and mentor—one who encouraged, allowed, and enabled me to develop my own voice as a scholar. When I first met her, I had just graduated from a state university and had just started my first tenure-track university position in a little town in Northeast Texas. None of that mattered to her. She valued what I had to say. In fact, she accepted work from me that was written from critical perspectives that others weren't accepting at the time. I was honored to be a contributor in the Shakespeare and Appropriation collection that she co-edited with Robert Sawyer. I will always be grateful to her for that support.
But, that's not why I loved Christy so much. There's more. In scanning my memory, though, I find only lots and lots of seemingly insignificant moments:
Talking about the fluffiness of hotel bath robes in Cincinnati at the Ohio Shakespeare Conference (1994? 1996?)

Chatting between ourselves at large dinners or the bus to SAA receptions

Having Chinese food with her and David in Atlanta at SAMLA

Visiting the Atlanta Shakespeare Tavern (twice)

Having after-dinner—afternoon, pre-dinner, dinner, after-dinner—drinks at SAA
More importantly, though, I remember several little heart-to-heart talks I had with Christy about my ever turbulent love life, our mutual love for doggies, my Jewish education, and so on.
And there were a couple of times, when in groups, that she saw someone had said something that had hurt my feelings. No one else could tell; only she detected that the remark had hurt me. I could tell from the look that we shared—only a micro-second, a quick look. She would then make a kind comment that smoothed it over. It's hard to share these kinds of small, micro-moments, to chronicle all of them that have accumulated since the 90s, all so seemingly small and insignificant.
They were nothing, really—but they were everything. They were what made us more than just colleagues, but real, true friends. I love you, Christy, and I will miss you dearly.
Written and read by Darlena Ciraulo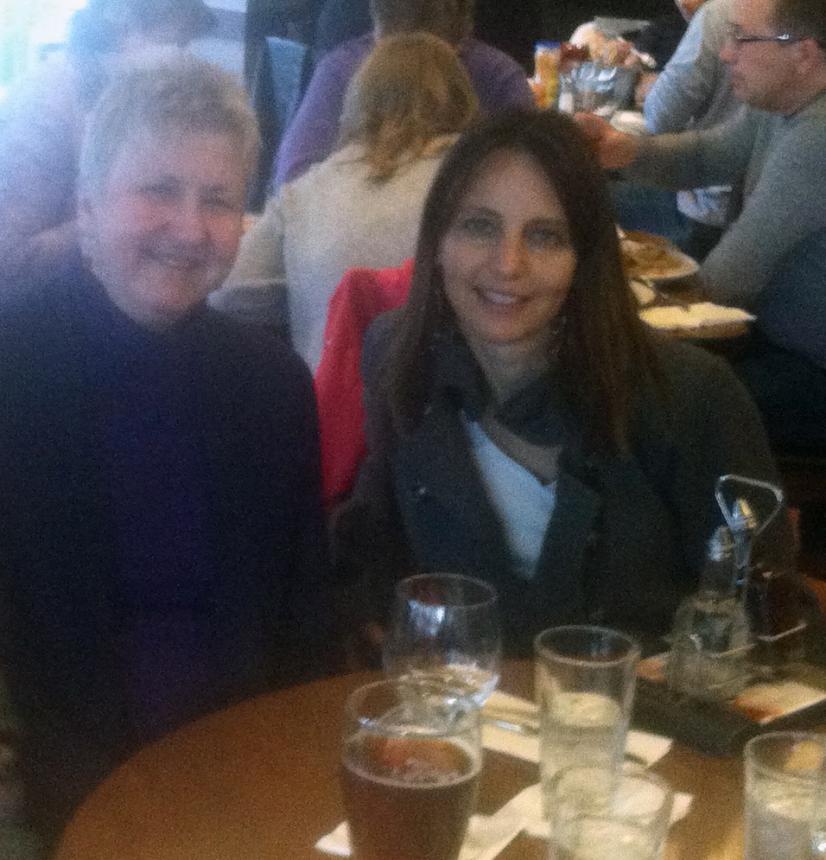 Like so many of you here today, I first knew Christy professionally as Dr. Desmet, or affectionately Dr. "D." While I fondly cherish my own memories of being a graduate and doctoral student of Christy, I'm aware that my words today, ones that celebrate her dedication to student learning and success, coincide with, if not mirror, the lovely and profound memories and experiences that many of you share.
My first memory of Dr. Desmet takes me all the way back to, not surprisingly, a Shakespeare course here at UGA in Park Hall.  The class was a split level one, and I recall vividly how Dr. Desmet was able to identify a passage, scene, or line from the play under consideration with complete ease and familiarity, as she held the huge book of the Complete Works of Shakespeare (I think it was at the time the Riverside edition) in one hand, while rapidly and dexterously flipping through the text and finding just the right passage in question. I WAS IMPRESSED. HOW DOES SHE DO THAT???  This recollection of Christy's expertise in Shakespeare stuck indelibly in my mind--conjuring up an image of the virtuoso of Prospero with his magic book. Well, that was just the beginning of me being impressed by Christy's magic.
Dr. Desmet's dedication to student research went over and beyond the call of duty as many of her students, both past and present, can attest to. I know that many of you share in the memory of Dr. Desmet's painstakingly intense reading and re-reading of papers; she selflessly underwent the Herculean task of editorial revisions by providing extensive suggestions and critique for each project. This level of attention and care with student work has left a lasting impression, and it remains an aspiration of mine to achieve such a standard of excellence with my own student grading and feedback.
Like so many of you here today, Dr. Desmet contributed greatly to my professionalism as a doctoral candidate. She encouraged many of her graduate students to participate in regional and national conferences. I think many of us kicked and screamed the first time we participated in one, but we now realize wholeheartedly it was one of the best experiences of our academic careers. I recall the first time I attended the Shakespeare Association of America conference (Washington D.C.,1997). Dr. Desmet led a seminar on As You Like It, and I contributed to the seminar by submitting an annotated bibliography of the play. It was an experience that both terrified and thrilled me. Not only did this exercise sharpen my research skills, but the conference exposed me to the unique experience of interacting with Shakespearean scholars from around the globe– the rock stars of the Shakespeare world, if you will, to which Christy belonged. Dr. Desmet's enthusiasm for supporting and supervising research led to many "firsts": first TA ship, first conference, first publication, first editorial work, and the first person to greet me as "Dr." She was the first person I contacted when I was offered a tenure-track position at the University of Central Missouri. I know that many of you have your own private and valued "firsts."
As I moved on in my career, my relationship with Dr. Desmet evolved as well. I recall the first time that she insisted I call her "Christy." At first, I could barely say her first name; it felt awkward and strange like an undiscovered country that was alien to inhabit. But as time wore on, "Christy," or "Cristabel" (a later endearment) became a friend, over and beyond a former dissertation director and mentor. England, Canada, Italy were all places where I conferenced with Christy, together with her former student, co-editor, and friend Robert Sawyer. Yes, we got our academic work done, but we had way too much fun traveling together. Whether we got lost in London, sought out a good restaurant near Florence, or just enjoyed the scenery in a park in Vancouver, we balanced scholarship with merriment and exploration. Christy was, all in all, a great person to travel and hang out with: funny, upbeat, and lovable. (On the plane, by the way, she always managed to find the movie with a dog in it).
There's no possible way to sum up my experience with Christy: teacher, scholar, mentor, and friend. Nor is there an easy way to describe the tragic loss of a person who has had such a deep impact on so many. And I imagine that many of you feel the same. So, perhaps poetry can help to express the simple yet profound nature of Christy's untimely death. I conclude thus with a line from a play that I'm certain Christy loved, Hamlet: "All that live must die, / Passing through nature to eternity."
Written and read by Robby Nadler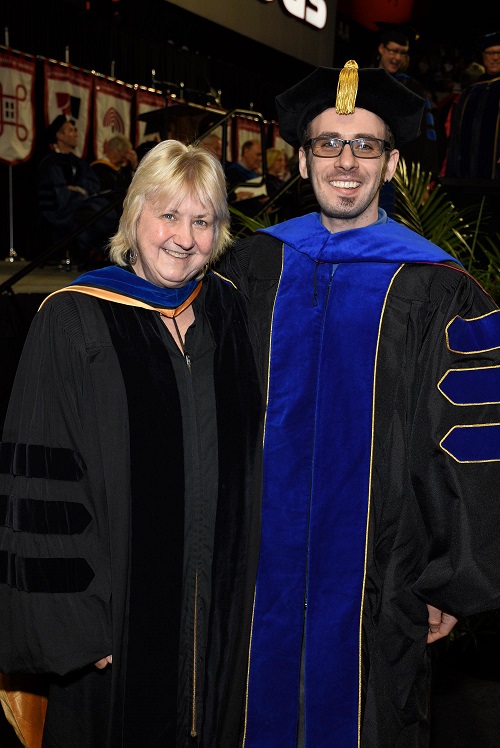 When I nominated Christy for the UGA Outstanding Professor Award, I wrote in my application that she was the most important campus educator, to all students, in spite of their largely not knowing it: that no figure influenced their education and career trajectories as much. This is because in serving almost 4,000 students annually, the FYC program under her direction shook students from their reliance on the five-paragraph model as the epitome of writing and exposed them to the cold wilderness that is the rhetorical situation. That ENGL 1101 and 1102, often conceived as requirements one must "get through," was the backbone for the academic endeavors of every department. Simply put, if you cannot engage text, you cannot learn. Thus, belying the docile title of introduction to college writing was a behemoth that not only represented the largest course system on campus but also the most integral to the university's mission.
Now who would want that amount of work, that amount of responsibility, that amount of pushback from everyone (never in composition studies by the way) wanting to take FYC in another direction? Not Christy, but she did it anyway because she had a heart of a compositionist. Unlike other academic disciplines, which demand one master material for discipline-specific advancement, students do not take composition classes to become composition scholars. They do not come to composition classes to become master writing or even learn how to use a semicolon properly—much to the chagrin of faculty and administrators who feel that must be our apologia. No, in composition studies, writing is not an equation to be learned and plugged in but a skill that is honed over time. We deal with better, not perfect, in effort to empower students to do as they please, not what we like. We invest in futures.
Today's award-winning program serves as a national model, the result of a long journey spearheaded by our intrepid captain. From written themes to in-class finals to digital portfolios, Christy updated and overhauled the program to reflect the best and newest pedagogical practices. And when working with so many students, so many faculty, so many administrators, even the tiniest maneuver required immense preparation like how battleships execute a simple turn miles in advance. Couldn't we just make exceptions to the absence policy? Couldn't we just raise class limits by a seat or two? No matter the number of people or their university status, Christy could summon her inner Georgia bulldog in the face of such objections because, like most things in this life, she knew better than you and was not going to let you muck things up. But even this ferociousness came from a metacognitively-sound place. Whether it was to her colleagues, her staff, her students, or the tens of thousands of futures entrusted to her, she was committed to helping you even when you did not understand that she was. More so, she never asked or cared if you noticed—only that you got out of the way if you were going cause problems.
When I was fifteen, I was summoned from my sophomore English class on metaphysical poetry to the school's guidance counselor. My mother had suffered a severe cardiac arrest episode, and I would be rushed to the hospital. Though she would eventually pull through, as a result of being oxygen deprived for several minutes, the woman who was my mother died when she awoke from a coma with no memory of me. Now some-fifteen-plus years later, I find myself saying goodbye to a parent again. Someone whom I corralled into every family photo at my graduation because, as anyone who was worked closely with Christy can attest to, there comes a point where her investment in ensuring your success transcends professional obligation into a devotion that only a word like "family" encompasses. 
Unlike the last time when I found myself alone in a hospital corridor wondering if I could make it through this world, I now stand aside a loving partner with a dream job that allows me to buy a house on the beach in wine country. I have a future so grand that when I stare at the ocean from my office window, I think someone will wake me any moment because these things do not happen to people graduated with an English Ph.D. in this job market. But that was the power of Christy. Her mentoring, her guidance, her love. And the wonderful thing about living for others, as Christy did, is that the success of others becomes an extension of your gifts. The family that I am now beginning, the future to come for them . . . our ability to enjoy this life has and will always be dependent on her. And I am but one of the tens of thousands of lives her efforts enabled such a future for. I can think of no greater legacy that I would want—that she would be prouder of—than one where people reach the fullness of their lives because of you. Though there is no we way we could have ever said it enough, let it be known we are all so, so, so infinitely grateful.