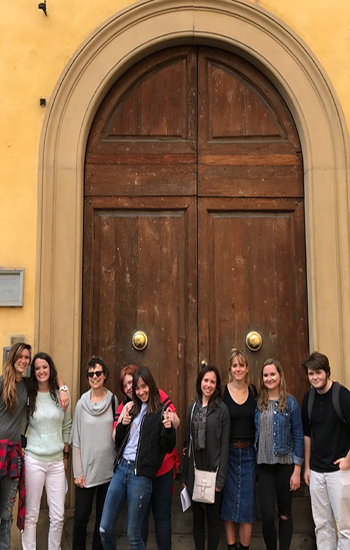 The UGA Cortona Program
One of the great perks of studying at UGA is the opportunity to learn – and teach! – in one of UGA's Study Abroad programs. While English students and faculty have been taking good advantage of the UGA at Oxford program for decades, only in recent years have we also been heading to Cortona, Italy. The UGA Cortona program, inaugurated in 1968 by the Lamar Dodd School of Art, boasts its own facilities on a hilltop in Cortona. While taking courses from UGA faculty, students also go on amazing excursions to places like Pompeii or the Uffizi in Florence.
In Spring 2017, Dr. Tricia Lootens and PhD candidate Shamala Gallagher taught courses in Victorian literature and creative writing to a group of English majors, while the entire Cortona cohort enjoyed weekend excursions, led by art faculty, to towns like Siena, Florence, and Arezzo.