A conversation with Kristen Iskandrian, author of Motherest: A Novel (Twelve, 2017).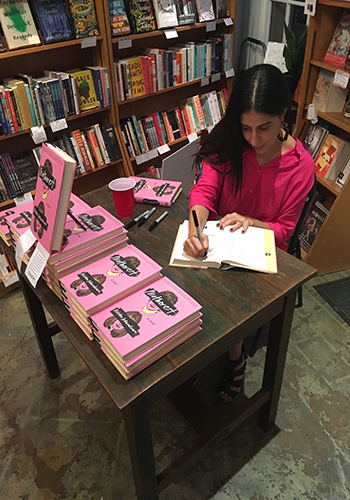 Motherest has been named one of the Best Books of 2017 by Publishers Weekly and declared a "moving debut" by The New York Times.
Interview by Danielle Gilman  
In a sense, Motherest situates readers in a dead letter office that only receives Agnes's correspondence. Of all the intricate relationships present in the narrative, how would you describe the relationship between Agnes and readers of the novel?
The readers get to be a sort of echo. First person narrative foists its intimacy upon the reader; the reader experiences Agnes's unfiltered projections of the world with no mitigating or mediating influences. It can be uncomfortable, unsettling, to be that close.
You've talked a bit about the role of correspondence in the novel and the function of epistolary narrative. Were you inspired by particular writers who also experiment with form? Did you always plan to include the letters in the book?
I am always interested in form, the relationship between form and content. I'm excited by how formal genres appear to be breaking down, somewhat, in the mainstream publishing world, lagging way behind what experimental and indie presses have been championing for a long time—the thrilling, liminal space between poetry and prose, fiction and nonfiction, real and surreal. I love the work of many so-called experimental writers: Renata Adler, Lydia Davis, Clarice Lispector, Toni Morrison, Harryette Mullen, Maggie Nelson, Jenny Offill, Fernando Pessoa, Claudia Rankine, just to name a handful. I introduced letters into the book because I love writing letters and because I wanted to see if I could make them essential. It was a dare to myself, creatively: is this justifiable, narratively speaking? Does the book demand them? As I waded further into Agnes and her world, I believed, yes, it does.
Agnes is described as a very literary character: she writes constantly and often mentions her reading habits as a sort of compulsive consumption. She writes in one letter to her mother that she's spent weeks in bed, mostly reading. What sorts of books do you imagine Agnes would have been reading?
I picture her reading Jackie Collins, Tom Robbins, possibly some Stephen King. Also Go Ask Alice, The Bell Jar, Flowers for Algernon. I could also imagine her being jazzed about some of the light New Age Taoism/Zen stuff that had a resurgence in the 90s: Zen and the Art of Motorcycle Maintenance and The Tao of Pooh. Maybe getting on The Celestine Prophecy bandwagon? 
You completed your MA and PhD at UGA. Are there any work or writing habits you established as a graduate student that you still find helpful now? Do you see substantive changes in the work you did as a graduate student and the sort of writing you do now?
Graduate school definitely taught me how to write seriously, by which I mean in a disciplined, focused manner. It furthered my ability to communicate with texts—to read as a writer and to write as a reader. I began to understand the book as a kind of living thing, a transactional vessel, co-created by the reader. This expanded and deepened my love for reading and it also made me want to write the best, most worthy sentences I could. I developed more of a faculty to be self-critical without being self-loathing, which has made me, I think, a better editor. I'd like to believe my work has matured, that I've grown as a writer and a person. I definitely think I'm less precious about certain things: I will admit that during my grad school years it was important for me that my writing sounded "smart," even "important." These days, the only jury is me, and I trust myself more than I used to.
Can you talk about the process of publishing the book? What did the timeline look like from completing the manuscript to actually seeing it in print?
I finished a complete draft of Motherest, originally titled Mother, Motherer, Motherest, around December 2014. My agent and I spent a few months batting it back and forth, making some revisions, tweaking certain parts. We sold it to Twelve in July 2015. I know some books get published faster, but it often takes 18-24 months, the first year of which flew by. There are publisher elements that really have little to do with you as the author; they have to consider their yearly catalog and where each book best fits in—in other words, marketing concerns that ultimately determine the exact timetable. During that period, I worked with my editor on several rounds of revisions, and we did a fair amount of trimming, along with some reshaping. We also brainstormed cover art, which was a fun and exciting part of the process, and other stylistic factors like chapter breaks and headings. In between these milestones I threw myself into new writing, short stories and the start of a novel, because I knew once the book actually came out, I'd be busy promoting it. Soon after we signed off on the final edits, the copyediting process began—this was both nerve-wracking and fascinating, and I remain in awe of copyeditors for their fastidiousness, that up-close work that you don't think about as much when you're trying to ensure that the big picture is coming together. As my publication date drew nearer, I lost more than a few nights' sleep, wondering if some comma or apostrophe or proper noun was out of place. The last three or so months of waiting was the hardest part—it felt like an eternity as it was happening, but now looking back, even though it wasn't that long ago, it seems like a blur.

To learn more about Kristen Iskandrian and her writing, visit her website at:

 https://www.kristeniskandrian.com/