Retirements: Doug Anderson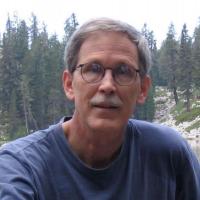 I remember well the day I first met Doug Anderson. I said, "I'm Elizabeth Kraft. I'm in the eighteenth century." He said, "You don't look that old." That made me laugh — a common response through the years to Doug's quips and ripostes. But I also remember reading his CV before he joined our faculty. We needed a specialist in Early American Literature, and Doug's work in that field was already acclaimed. But I was most impressed that he had published on Shakespeare, Spenser, and Milton as well as in his own field. My idea of the literary scholar is one who engages with the tradition in the broadest sense. I knew we had found a scholar to fill not only our immediate need, but also what I conceptualized as our highest aims. Little did I realize that we were getting so much more.
Doug Anderson's legacy to the Department of English at the University of Georgia is multifaceted. He produced an astounding body of scholarship while on our faculty — books on Benjamin Franklin, Mark Twain, Edgar Allan Poe, William Bradford. He was a tough adviser and interlocutor on exams for graduate students and a demanding, challenging, and inspiring teacher for our undergraduates. As Department Head (a duty he took on reluctantly, but one he executed valiantly), he was an especially supportive mentor for young faculty whose careers he helped shape.
In all his various roles, Doug has been a stalwart advocate for the power of literature at the most basic level — the level of aesthetic and emotional engagement. He wrote the inspiring words that now nobly grace our website, that define our major and our discipline. There, he notes our core commitment to "preserving, transmitting, and extending the rich cultural legacy of the English language."
Every time we read these words, we will think of Doug and his commitment to the study of English as a discipline and to our department. I, along with all my colleagues and his students and former students, wish him and Paula well as they venture into life in Portland, Oregon. We hope they don't forget us, for, surely, we will always remember them.
- Elizabeth Kraft
Retirements: Simon Gattrell
As General Editor of the Oxford World's Classics series of Hardy's collected novels, and as the editor of individual works such as Tess of the d'Urbevilles and The Return of the Native, Simon has played a crucial role in establishing authoritative texts for one of the major figures in nineteenth- and twentieth-century British literature. Simon's reputation as a leading Hardy scholar was already firmly in place when he joined the UGA English department in 1985. His subsequent work on Hardy, resulting in four books as well as numerous scholarly articles and essays, has provided inspiration to the several generations of students who have passed through the doors of Park Hall during the last three decades. Simon's work has also had a significant and lasting impact on our graduate students, several of whom have written doctoral dissertations under Simon's supervision. But Simon has been far more to the English department than a Hardy expert. As well as teaching a wide array of courses in English literature, he has helped to expand the department's curriculum to encompass the literatures of Ireland and South Africa – both countries in which he taught before coming to Athens. He has also taught science fiction. Even in his last semesters at UGA, he added another course that reaches out to students who might not typically consider taking an upper-division English class: Harry Potter and His Contexts. This undying enthusiasm for literary study, understood in its widest sense, and an unflagging commitment to creating fresh lines of approach have been hallmarks of Simon Gatrell's contribution to the life of Park Hall. Even as we try to emulate his example, it will be hard not to feel that he is, simply, irreplaceable.
- Adam Parkes
Colm Tóibín, "Staying Home, Leaving Home: Ireland and America"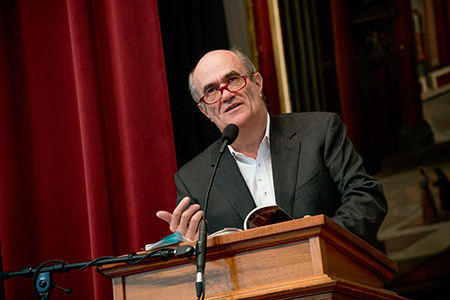 From March 15-17, the University of Georgia hosted Irish writer Colm Tóibín as the second annual Delta Visiting Chair for Global Understanding. After being introduced by Nicholas Allen, Director of the Willson Center, and Kristen Hackney, Founder and President of the Undergraduate English Association at UGA, Tóibín enlivened his talk at the UGA Chapel with anecdotes from his childhood spent in Enniscorthy, County Wexford, and described the process of writing his award-winning novels, Brooklyn (2009) and Nora Webster (2014). Very often, Tóibín explained, his primary consideration while writing the novels was tracing the aftermath of homesickness and using those sentiments to construct a broader narrative. Tóibín's talk, "Staying Home, Leaving Home: Ireland and America," also touched on Tóibín's own experiences of leaving Ireland and learning to navigate his status as an outsider — a notion that clearly resonated with the rapt audience of students, faculty, and community members.
During his time in Athens, Tóibín participated in several other events in the community. Tóibín toured a local high school and spoke with students; he gave a reading and signed books at Avid Bookshop; and he also participated in a public conversation at the Seney-Stovall Chapel. This last event took place on St. Patrick's Day. Tóibín was joined by Irish writer and editor Fintan O'Toole for an informal conversation on stage, and then the audience was treated to a performance by singer Iarla Ó Lionáird. Ó Lionáird's moving a cappella rendition of "Casadh an tSúgáin" ("Twisting the Rope") also appeared in the film version of Tóibín's novel Brooklyn.
At the end of his talk in the chapel, Tóibín aptly noted, "a great deal has to be left to your imagination." Tóibín's visit to the University of Georgia left us all with much to imagine. His work not only inspires questions and conversations about the relationship between Ireland and America, but also reminds us of the importance of home, community, and the connections we make.
- Danielle Gilman