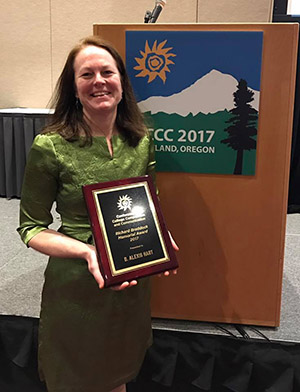 Alexis Hart (PhD 2003) is an Associate Professor of English and the Director of Writing at Allegheny College in Meadville, PA. Along with her co-author, Dr. Roger Thompson of Stony Brook University, Hart was named the recipient of the 2017 Richard Braddock Award for the article "Veterans in the Writing Classroom: Three Programmatic Approaches to Facilitate the Transition from the Military to Higher Education," which appeared in the December 2016 volume of College Composition and Communication. The Richard Braddock Award is presented to the author(s) of the outstanding article on writing or the teaching of writing in the Conference on College Composition and Communication (CCCC) journal, College Composition and Communication (CCC) during the year before the annual CCCC Convention. You can read the article and listen to a podcast of Hart and Thompson discussing their work with CCC editor Jonathan Alexander at the CCC website.
Thomas H. Hubert (Ph.D. 1975) received notification that his article "The Two-Fold Witness of St. Ignatius of Antioch" — one witness of blood and one of words — has been accepted for publication in Chicago Studies for 2018. He also anticipates the birth of a second granddaughter in May of 2017 and is campaigning for her to be named "Allezchiennes" (French for "Go Dawgs") or, failing that, perhaps "Georgia" or even "Athena."
Zachary Basinger (BA 2013) has recently joined the staff at Farcountry Press as the Marketing and Publicity Manager. It is a newly formed position, and he looks forward to building the department and expanding Farcountry's digital footprint. Farcountry Press is celebrating more than 35 years in business; the press specializes in softcover and hardcover color photography books that showcase the nation's cities, states, national parks, and wildlife. Farcountry also publishes several popular children's series, guidebooks, cookbooks, and regional history titles nationally (including Georgia Unforgettable); they also distribute books for several publishers, including Northern Rockies Publishing, Quick Reference Publishing, and Sweetgrass Books.