By Nele Aline Langhof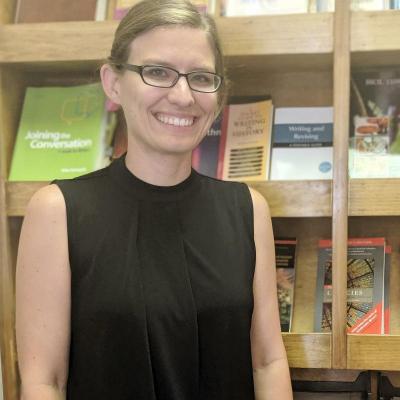 Dr. Rebecca Hallman Martini, the inaugural director of the Writing Center earned her bachelor's degree in English from Transylvania University in Lexington, Kentucky. She went on to earn her master's in English (Rhetoric and Composition) from the University of Louisville and her PhD in English (Rhetoric, Composition, and Pedagogy) from the University of Houston. After graduating, she directed the Writing Center at Salem State University for three years. Seeking to be a part of a larger university where her research, as well as her administration and teaching, would receive recognition, Dr. Hallman Martini decided to take her talents to the University of Georgia. As the director of UGA's Writing Center, Dr. Hallman Martini enjoys working with students across all disciplines. "Here, I get to work with writing across an entire university, which I think is really exciting. I love talking to people who are writing dissertations in biochemistry and English alike," she commented. On top of directing the Writing Center, she is also working as an assistant professor of English, teaching writing classes focusing on the rhetoric of health and medicine as well as digital storytelling. 
Dr. Hallman Martini ran two marathons while she was getting her PhD and estimates that she has finished between fifteen and twenty half-marathons. "Running is really connected to my academic life. Any time I'm blocked with writing, it clears my mind. I really do a lot of brainstorming and generating ideas while I'm running," Dr. Hallman Martini explained. One of her favorite things about being at UGA is the pride that the entire city has in Bulldawg culture and the fluidity with which the university flows into the rest of Athens. She looks forward to truly immersing herself into the Classic City, and she's always looking for new restaurant recommendations. Her office can be found within the writing center (Park 66), and she can be contacted by email at rebecca.hallmanmartini@uga.edu.
Nele Aline Langof is an English major and journalism double major and the social media intern for the UGA English department.