by Nele Langhof, UGA English Department Social Media Intern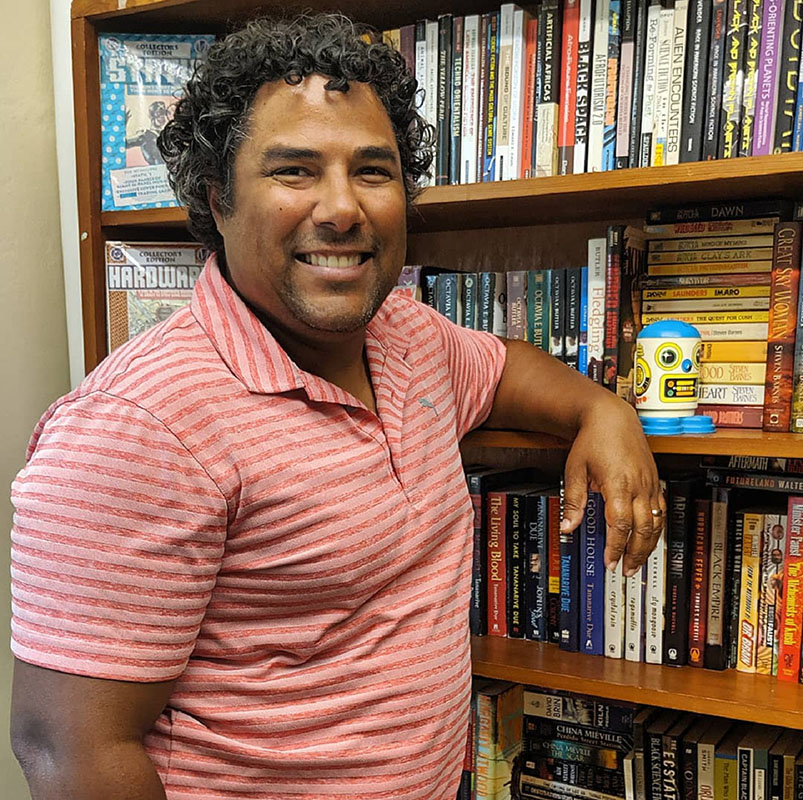 Dr. Isiah Lavender III is the newest Sterling Goodman Professor of English at the University of Georgia. "Never in my wildest imagination did I dream of being an endowed chair. It's pretty amazing," he says, smiling against the mid-August backdrop of an office, still half-unpacked. 
Dr. Lavender earned his bachelor's degree in English from Southern University and A&M College where he graduated with honors. He went on to receive his master's in English from Louisiana State University, and his PhD in English from the University of Iowa. He spent the next fifteen years at the University of Central Arkansas and Louisiana State University working as first an Assistant Professor and then as an Associate Professor of English, specializing in African-American literature, race, and ethnicity in science fiction. "I've been happily surprised by the interest in the idea of Afro-futurism. I've found my niche, and it's gotten me here," he says. Dr. Lavender has three books currently in print, including Race in American Science Fiction (Indiana University Press, 2011), Black and Brown Planets: The Politics of Race in Science Fiction (University Press of Mississippi, 2014), and Dis-Orienting Planets: Racial Representations of Asia in Science Fiction (University Press of Mississippi, 2017). A fourth book, Afrofuturism Rising: The Literary Prehistory of a Movement, has just appeared from Ohio State University Press (2019). Dr. Lavender is also currently co-editing two additional books on alternative futurisms with colleagues at Georgia Tech and Portland State University. 
After being racially targeted by a group of older students at his elementary school, his "avid-reader" parents gave him a copy of The Martian Chronicles by Ray Bradbury, a science-fiction novel about a primarily African-American exodus of a racially-devastated earth. "As a child, I always thought about why my parents gave that book to me," he says. This experience, combined with his first memory of seeing Star Wars in the summer of 1977, sparked within him a love of science fiction, as well as a fascination with the workings of race within the genre. "I just have a series of memories and affinities with science fiction and fantasy-speculative works all throughout my life and career. I think it's kind of fascinating the way that it's come together," Dr. Lavender says. 
Today, Dr. Lavender's favorite work within his specialty is Parable of the Sower by Octavia E. Butler. He is also an avid soccer fan—a fan of "real football," as he makes sure to clarify—as well as an active soccer parent. His favorite Athens' restaurants are Automatic Pizza and Agua Linda Taqueria, and he loves the college town feel that radiates throughout Athens.