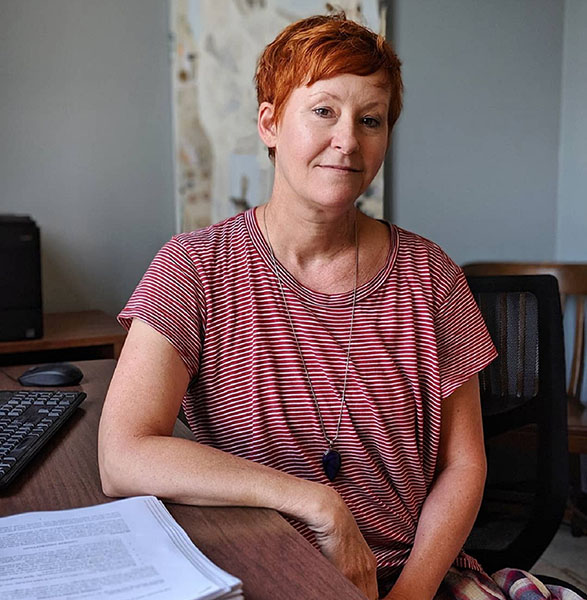 by Nele Langhof, UGA English Department Social Media Intern
Dr. Caroline Young is the English Department's newest lecturer. Dr. Young earned her bachelor's degree in art history from Boston University and spent the next sixteen years working in television, specifically TV broadcast promotion. Not truly feeling like she had found her niche, she went back to school to earn her MFA in poetry from Queens University. "Getting my MFA was the first thing I ever truly did on purpose," she explains. Dr. Young was accepted into the graduate program in the Department of English at UGA, earning her PhD in 20th- and 21st-century American literature with an emphasis in experimental female poetry. Dr. Young then spent three years as a Brittain Postdoctoral Fellow in Georgia Tech's Literature and Communication department, and after that, two years working as a lecturer at Clemson University where she truly fell in love with the philosophies and practices of teaching. "Teaching is what lights me up," she says, bright-eyed and smiling. During her time at Clemson, she also worked as a part-time instructor at UGA and realized just how much she had been longing to be in Athens again. A few months later, she found herself back in the Classic City. 
One of Dr. Young's favorite authors is Gertrude Stein. "I can enter her work in the most blissed-out way. I see the world in vivid colors, and Gertrude Stein's work generates kinetic color with words," Dr. Young explains. Dr. Young favorite restaurant in Athens is The Grit, and she remembers specifically that it "got her through" her comprehensive exams. One of her favorite things about UGA's culture is the way that people interact in very fluid and friendly ways. "This place has got soft curves, energetically, around everybody. It's very easy here," Dr. Young comments. When she's not lecturing here at UGA, Dr. Young teaches at Whitworth Women's Facility in Hartwell, Georgia, where she works with female inmates to find their voices and identities through poetry and literary expression.