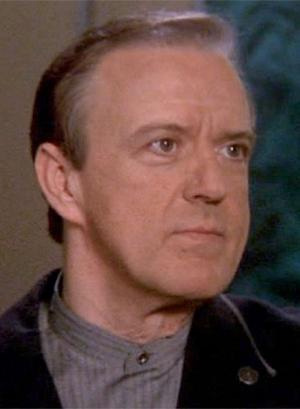 The Park Hall community gathered in Park 265 on Monday, October 1st, to participate in a naming ceremony honoring Paul Douglas Hale. Dr. Michelle Ballif (Department Head, English), Dr. Jed Rasula (Helen S. Lanier Distinguished Professor of English), and Suzi Wong (Director of Principal Gifts, Franklin College of Arts and Sciences) shared accounts of Doug Hale and his generosity to the department prior to a presentation by Dr. Chloe Wigston Smith (Senior Lecturer in the Department of English and Related Literature and the Centre for Eighteenth-Century Studies, The University of York, UK). Dr. Wigston Smith delivered a lecture in honor of the tenth anniversary of the Georgia Colloquium in Eighteenth and Nineteenth-Century British Literature. A reception followed in the Robert West Library, Park 261. 
Paul Douglas (Doug) Hale, a native Athenian, went west to success as an actor and voice-over artist in Hollywood, but he never forgot his beloved Park Hall. Among his final wishes, Doug wanted to "give back" to his alma mater. His wife Mary Anne Hale directed a gift to name the very place where Doug returned to speak as distinguished alumnus and mentor. Multi-talented, Hale began studying the cornet/trumpet when he was 5 and began his acting career at age 8 in a play at UGA. At age 12 he began playing the trumpet professionally with the UGA Dance Band. He spent two summers in Las Vegas playing with the Glenn Miller Orchestra.
Hale attended UC Berkeley but returned to UGA, receiving a BA in English in 1963 and an MA in 1966 specializing in Medieval Literature and Linguistics. He taught English at UGA followed by teaching at UNC-Chapel Hill. At Columbus College (now CSU), he was instrumental in setting up the graduate program in English. He retired from teaching to pursue a full-time acting career. In the fall of 1965 he joined the United States Air Force Reserves and was a cargo pilot in the Vietnam War. He was honorably discharged as captain in March 1978.
Hale appeared in films including the Muhammad Ali biopic, Star Trek: The Motion Picture, and The Cable Guy. Hale appeared on a number of TV series, recurring on Hart to Hart and guesting on Kojak, The Bionic Woman, Seinfeld, The West Wing, and Mad Men. You can find a full filmography, as well as a clips reel on Internet Movie Database.
He began onstage by studying at the Neighborhood Playhouse with Stanford Meisner, at the HB Studio with Herbert Berghoff and Uta Hagen, at the Pasadena Playhouse, and with the theatre department at UGA. He performed in New York City and elsewhere in plays including A View From the Bridge, King Lear, As You Like It, Richard II, Who's Afraid of Virginia Woolf, Cat on a Hot Tin Roof, and Arsenic and Old Lace.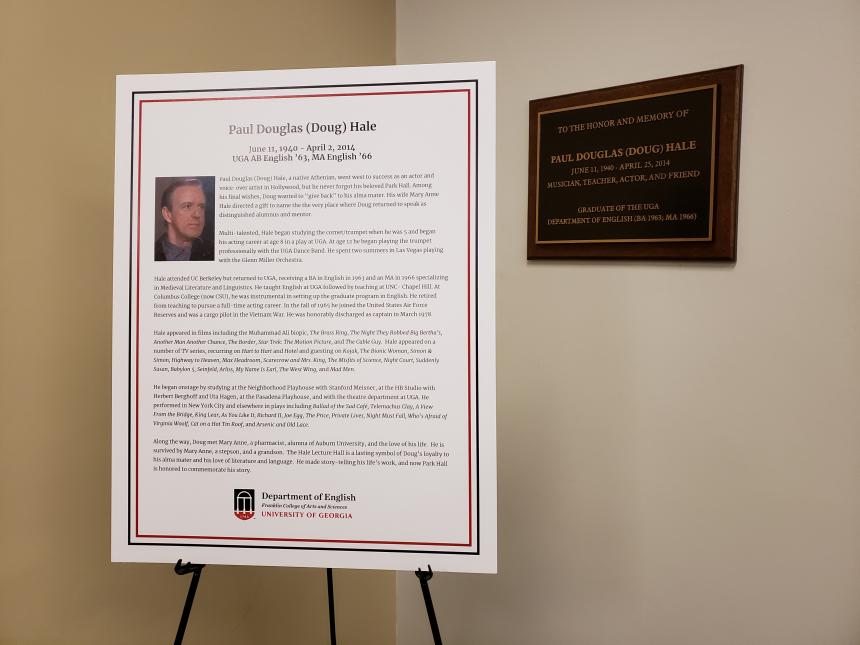 Along the way, Doug met Mary Anne, a pharmacist, alumna of Auburn University, and the love of his life. He is survived by Mary Anne, a stepson, and a grandson. The Hale Lecture Hall is a lasting symbol of Doug's loyalty to his alma mater and his love of literature and language. He made story-telling his life's work, and now Park Hall is honored to commemorate his story.
You may make a tax-deductible gift to The Paul Douglas Hale Learning Enhancement Fund in English by going on-line or by sending checks made payable to: The Paul Douglas Hale Learning Enhancement Fund in English, The Franklin College of Arts and Sciences, 124 Old College, University of Georgia, Athens, GA 30602.