Zack Anderson's (PhD student) chapbook The Outlaw, The Red Ghost, Half-Lives, A Photogram Exposed by the Dirt will be published this summer by The Magnificent Field. His poems "Terminal Mirage 11" and "a place is an archive of its own ruins" appeared in grama vol. 2. His poem "Eolian Transport" was published in the Echoverse Anthology.  
Emily Beckwith (PhD student) presented her paper, "Amy Levy's The Romance of a Shop, Virginia Woolf's Party Consciousness, and the Oblique, Feminine Perspective," at the British Women Writers Conference in March 2020.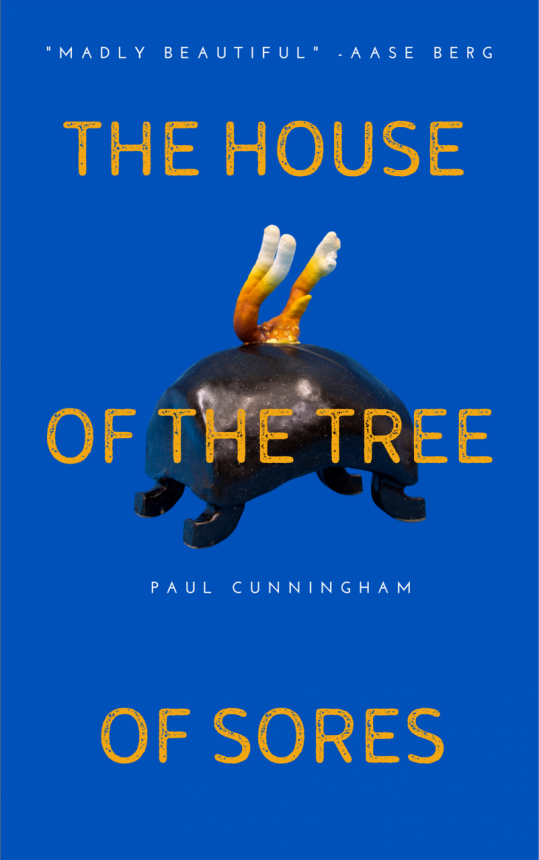 The UGA Center for Teaching and Learning announced Paul Cunningham (PhD candidate) as one of 2020's Outstanding Teaching Award winners. He was also nominated for an Excellence in Teaching Award. His first full-length collection of poetry, The House of the Tree of Sores, is forthcoming from Schism Press in fall 2020. In March, his work was featured in a Twin Peaks-themed print poetry anthology called These Poems Are Not What They Seem (APEP, 2020). Carrion Bloom Books will distribute his second print chapbook, The Inmost (2020). Author Maria DiBattista describes The Inmost as "powerful work and filled with soaring as well as abject images of love and connection." His book reviews were most recently featured in Harvard Review and Kenyon Review.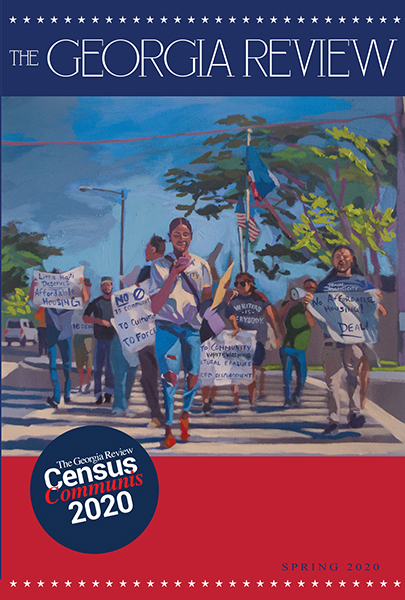 During the Spring 2020 semester Nathan Dixon (PhD student) was published in The Georgia Review, The Penn Review, Northern Virginia Review, Queen Mob's Teahouse, and Crab Orchard Review. He received a Wilson Center Graduate Student Research Award and the R. Baxter Miller Award. He was a finalist for both UGA's 3-Minute Thesis Competition and the Agnes Scott College Creative Writing Competition. His exhibit on St. Catherines Island will go on display in this summer at UGA's Special Collections Library. 
Graduating PhD candidate Dr. Danielle Gilman received the Robert H. West Award for outstanding graduate student in literary criticism. Earlier this term, Danielle co-chaired an interdisciplinary panel, "Mis-/Well-behaved Women: Setting and Subverting Social Standards," at the 51st Annual Convention of the Northeast Modern Language Association in Boston. 
"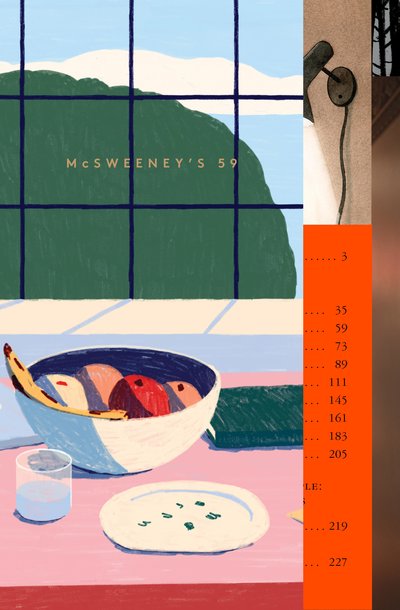 The End of the Party" by Dr. Kristen Gleason (Graduating PhD candidate) appears in the latest issue of McSweeney's. 
Savannah Jensen (PhD student) has been selected as one of two UGA students to attend the 2020 National Humanities Center PhD Student Summer Residency Program. This year's program theme is "Passionate Teaching in the Research Environment: How to Create Meaningful Online Learning Experiences." As a response to the COVID-19 pandemic, the program will focus on acquainting graduate students with best practices for teaching undergraduate students in a digital world. Graduate students will have access to mentors and will work to create materials for teaching portfolios in cross-disciplinary teams.  
Jacqueline Kari (PhD candidate) published "please | sure" (Birds of Lace, 2019), a chapbook of poems in the fall. She also launched the beta version of theannotatedsongs.com, her digital annotation of Mina Loy's "Songs to Joannes," and has received NEH funding (as part of the project "Mina Loy: Navigating the Avant-garde" with Dr. Susan Rosenbaum and others) and a Willson Center grant to continue its development.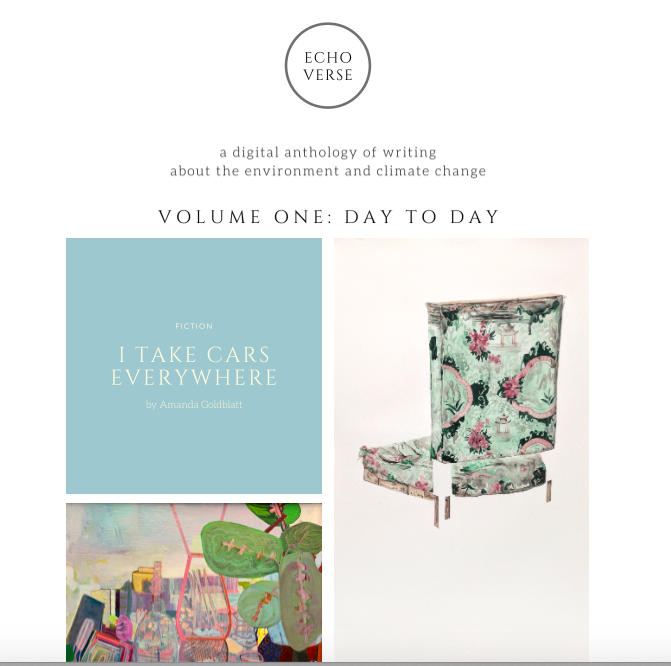 Christina Wood Martinez (PhD student) curated and launched echoverse, a new digital anthology of writing about the environment and climate change. The anthology features writing and visual art from 35 writers and artists, including UGA graduate students and faculty.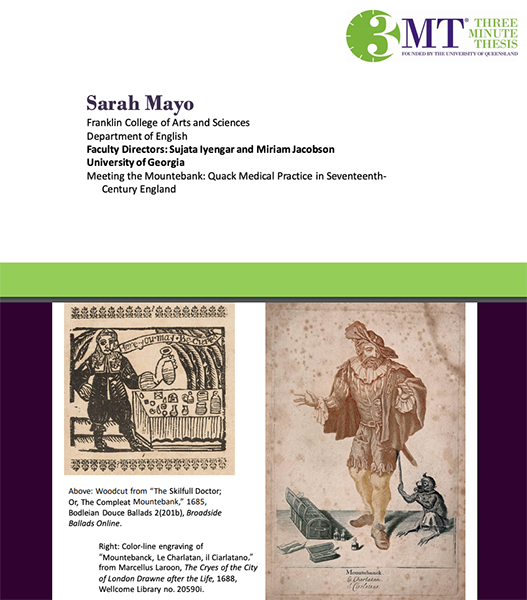 Graduating PhD candidate Dr. Sarah Mayo received the Grand Prize in the Three Minute Thesis Competition held by the UGA Graduate School. Dr. Mayo's talk was titled "Meeting the Mountebank: Quack Medical Practice in Seventeenth-Century England." Dr. Mayo was also selected as a Next Generation Plenary panelist at the next meeting of the Shakespeare Association of America, which will be held in Austin, Texas in 2021. 
Annelise Norman and Gabrielle Stecher, third-year PhD students, led a workshop entitled "Take a Chance on Transparency: Strategies for Designing Equitable Assignments" as part of the UGA CTL's 2020 Spring Teaching Symposium. The pair also presented papers at the annual Dickens Project's Winter Conference at Vanderbilt University. Annelise shared part of her ongoing project involving New Materialist readings of Victorian novels in "Making the Dolls' Dressmaker: Vital Material Culture in Our Mutual Friend," while Gabrielle proposed a panoramic reading of the historical novel's social politics in "Panoramic Private Histories and Thackeray's Piano." 
Morgan Richardson (PhD student) has been awarded a 2020 Innovative and Interdisciplinary Research Grant from the UGA Graduate School. Though originally intended to assist her archival research in New Delhi this summer, the grant will be repurposed to support her research during the next year of comprehensive reading and exams. Morgan was also awarded the Robert Park Essay Award for Best Essay for her paper entitled "Mercantile Imperialism: Antithetical Representations of the Sea in Charlotte Smith's Beachy Head." In February, she had the opportunity to present her work, "Malik Sajad's Munnu: Künstlerroman Interrupted," at the British Commonwealth and Postcolonial Studies Conference in Savannah, GA.