Welcome
The First Year Writing Program at UGA introduces 4,500-5,000 students a year to college-level academic writing. English 1101 is concerned with argumentative discourse, English 1102 with constructing academic arguments through literature. We also offer a wide range of special topics courses, online writing classes, and composition courses. 
The capstone project for both courses is an electronic portfolio of student work generated through Emma, the department's own Electronic Markup and Management Application. ePortfolios allow students to showcase their best work, to reflect upon their own writing practices, and to present their writing in a persuasive manner to a range of readers.
The UGA First Year Writing Program was a member of Cohort 2 of the Inter/National Coalition of Electronic Portfolio Research and in 2007 submitted a final report to that body. In 2010-2013, the FYC Program participated in Cohort 6 of the Inter/National Coalition of Electronic Portfolio Research; the research topic was Assessment.
Also, the program has a history of award-winning accolades such as the USG Regents Teaching Excellence Award for Departments and Programs 2012).
Council on Basic Writing Innovation (INNY) Award
At the annual 4C (Conference on College Composition and Communication) meeting, Robby Nadler, Kristen Miller (Head of the Division of Biology), and Christy Desmet received the Council on Basic Writing's Award for Innovation for UGA's Science Writing Project. Only one award is given each year nationally. A collaboration between the UGA Writing Center, Division of Biology, First-year Composition, and the Writing Intensive Program, the Project involved a study of how advanced humanities writers respond to biology lab reports in order to isolate science writing knowledge gaps. The study resulted in enhanced training for our Writing Center consultants and a science writing handbook for Biology 1107L, authored by Robby as Assistant Director of the Writing Center. This semester, he also piloted the university's first FYC class on science writing.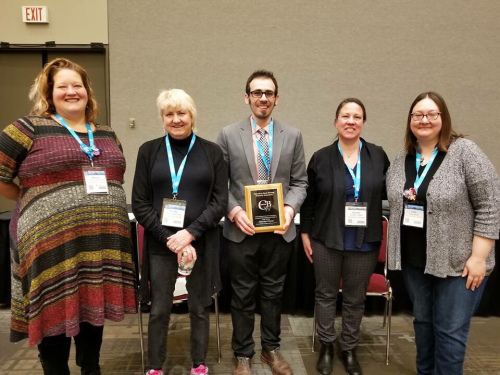 UGA Writing Center 

Students in FYW classes are encouraged to visit the Writing Center, which is open to all students at the university. Please see the UGA Writing Center Home Page for more information and times.
Technical Support
The First Year Writing Program uses technology to help students master written communication. Among these tools is Emma. Students in need of help with Emma or other related issues are encouraged to visit the FYW Digital Learning Labs in room 118 of Park Hall. The lab is generally open 8:00 - 5:00 M-F. A member of the Emma Support Staff will be available for your assistance during those times.
The FYW Digital Learning Lab also partners with the Writing Center to offer tutoring appointments in Park 118. Members of the lab staff are also experienced composition teachers, so it's a great place to get help with essays or portfolios for your composition courses. Tutoring appointments for all of the Writing Centers can be made on its scheduling site.