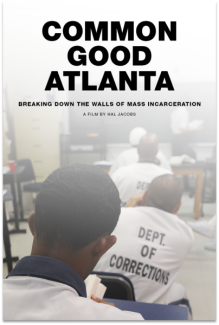 Georgia Museum of Art
Join us on Thursday, April 14, 7:00 - 8:30 pm at the Georgia Museum of Art for a screening of Common Good Atlanta: Breaking Down the Walls of Mass Incarceration.  It is a free event and open to the public.
The 1-hour film will be followed with a discussion led by a panel of Common Good Atlanta alumni, instructors, co-founder Bill Taft, and filmmaker Hal Jacobs. 
If you want an uplifting film about how one person can make a difference in the community, look no further. This film looks at the evolution and impact of a grassroots Georgia-based prison education program on both students and volunteer instructors.
In the words of one viewer: "I loved the documentary because it was beautiful and because it was powerful, but I also really appreciated how it does the delicate work of opening the door and pointing the way forward."
April 14, 7 p.m. | University of Georgia, Georgia Museum of Art | Free admission
This film is in partnership with the Georgia Museum of Art and is supported by the Willson Center for Humanities and Arts.