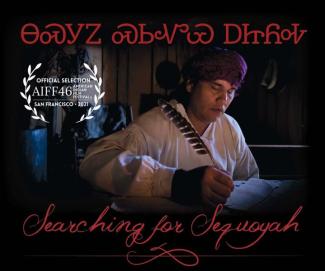 Online
Public Media for Central Pennsylvania (WPSU) and Pennsylvania State University are sponsoring a screening and panel discussion for Searching for Sequoyah, a documentary co-written and co-produced by Edison Chair in American Literature LeAnne Howe.  The screening will take place at 6 p.m. on the virtual theatre platform OVEE.  Viewers will need to make a free account before the screening.  You will also need to register for the event here.
The panel discussion will take place right after and will include Professor Howe (Choctaw Nation), co-writer and co-producer Joshua Nelson (Cherokee Nation), Penn State Associate Professor of History Julie Reed (Cherokee Nation), and will be moderated by  Tracy Peterson (Navajo [Diné] Nation), Director of Student Transitions and Pre-College Programs for Penn State College of Engineering and Faculty Advisor of the Penn State Indigenous People's Student Association.
While much is known about Sequoyah's Cherokee writing system or syllabary, very little is known about the man himself. How did this illiterate Cherokee invent a writing system that transformed the future of his people? From Tuskegee, Tennessee to Zaragoza, Mexico, Searching for Sequoyah takes viewers on a journey retracing his final quest to reunite his fellow Cherokees in Mexico, the mystery surrounding his death, and the legacy he left behind.