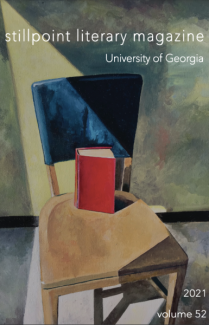 In front of the Main Library, 320 S Jackson St, Athens, GA 30602
Stillpoint Literary Magazine, University of Georgia's undergraduate-run literary magazine, will host a reading celebrating the launch of Stillpoint Issue 52 (which was printed during the Spring 2021 semester). The event will take place in front of the Main Library on Tuesday, December 7th (the last day of Fall classes) from 2-3pm.
Free copies of Issue 51 and Issue 52 will be available. There will also be packaged snacks and drinks provided to all attendees.
Anyone featured in Issue 51 or Issue 52 is welcome to read during the event!
For more information, please visit the Stillpoint website at: stillpointliterarymagazine.com. You can also contact the Stillpoint staff using the form on the website.
This event is sponsored by the Ruppersburg Stillpoint Endowment, the English Department, and the UGA Libraries.
NOTE: IN THE EVENT OF RAIN, THIS EVENT WILL BE RESCHEDULED.