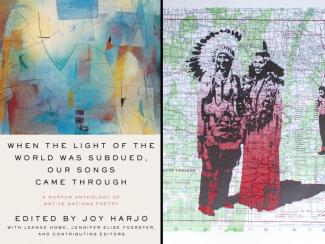 Georgia Museum of Art, 90 Carlton Street, Athens, Georgia 30602
The Creative Writing program in the Department of English, in collaboration with the Georgia Museum of Art, is proud to participate in the "Collective Impressions: Modern Native American Printmakers" exhibit. Six UGA graduate students, all poets and writers, recorded poems from the landmark Norton anthology, When The Light of the World Was Subdued Our Songs Came Through, 2021, edited by United States Poet Laureate Joy Harjo, University of Georgia Eidson Chair of American Literature LeAnne Howe, and writer and scholar Jennifer Foerster.
The exhibit opens on October 16th and will be open until January 30th, 2022.
The six student participants are:
Chelsea L Cobb is a writer from metro Atlanta. She is currently a PhD student studying English at the University of Georgia and a graduate teaching assistant where she has taught ENGL 1101 and ENGL 1102. Her area is in creative writing, particularly fiction and speculative narratives of race, religion, gender, and sexuality. She holds a Bachelor's from Georgia College and State University and a Master's of Theological Studies from Emory University.
Nathan Dixon is pursuing a PhD in English Literature and Creative writing at the University of Georgia.  His creative work has appeared in Tin House, The Georgia Review, Carolina Quarterly, Heavy Feather Review, Ruminate, Dreginald, and NAILED among many others.  His one act play "Thoughts & Prayers Inc." was chosen by National Book Award Winner Nikky Finney as winner of the Agnes Scott College Prize.  His critical/academic work has appeared in Mina Loy: Navigating the Avant-Garde, 3:AM, Transmotion, and Renaissance Papers, where he previously served as assistant editor.  He co-curates the YumFactory reading series in Athens, Georgia.
An English and Creative Writing PhD candidate at UGA and graduate of Eastern Michigan University's Creative Writing MA program, Nathan Gehoski pursues a cross-genre approach to trauma and its affect in prose. Heavily influenced by the work of Kathy Acker and theorists like Jacques Derrida, Michel Foucault and Gayatri Chakravorty Spivak, he struggles with ways to pressure or escape the confines of prescriptive or normalized representations within moments of human suffering. 
Aviva Kasowski is a poet and writer whose work has appeared in Ninth Letter web edition, The Bellingham Review, South Carolina Review, Spillway, and others.  She is a former Bread Loaf work-study scholar and was a poetry resident at Art Farm, Nebraska.  She holds an MFA from the University of California, Riverside, and is pursuing her PhD in English and Creative Writing at The University of Georgia in Athens. 
Like Sharon Stone and the zipper, Mike McClelland is originally from Meadville, Pennsylvania. He has lived on five different continents but now resides in Georgia with his husband, two sons, and a menagerie of rescue dogs. He is the author of Gay Zoo Day and his creative work has appeared in The New York Times, Boston Review, Vox, The Baffler, and a number of literary magazines and anthologies. He's a graduate of Allegheny College, The London School of Economics, and the MFA program at Georgia College, and is currently a PhD candidate in the University of Georgia's Creative Writing program.
Hannah V Warren is a doctoral student at the University of Georgia where she studies poetry and speculative narratives. Her writing and research interests focus on the grotesque, post/apocalypse narratives, and representations of alterity. Hannah's chapbook [re]construction of the necromancer won Sundress Publications' 2019 chapbook contest, and her prose and poetry have haunted or will soon appear in Passages North, The Pinch, Strange Horizons, THRUSH, and Fairy Tale Review, among others.