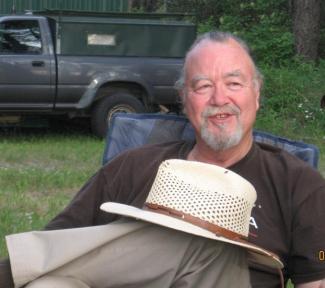 N/A
Writer Phillip Carroll Morgan (Choctaw/Chickasaw) will be the featured speaker for the 7th annual American Indian Returnings (AIR) lecture, which will be held a year from now in September 2022. The 2021 AIR lecture has been canceled.
Each year on the Autumnal Equinox, the AIR series celebrates the return of Natives to the southeast through the work of artists, writers, and scholars. Southeastern American Indian communities were removed from their homelands in the 1830s.
The AIR series is sponsored by Eidson Chair in American Literature LeAnne Howe and the Eidson Foundational Fund in the department of English, the Creative Writing Program, associate professor Channette Romero, and professor Jace Weaver.
Morgan is an award-winning author of three Chickasaw Press titles: Chickasaw Renaissance and Riding Out the Storm: 19th Century Chickasaw Governors and Their Intellectual Legacy, and co-author of Dynamic Chickasaw Women. Anompolichi: The Wordmaster is Morgan's first novel for White Dog Press. Dynamic Chickasaw Women won the Independent Publishers Book Awards' Gold Medal for Mid-West Regional non-fiction in 2012, and Riding Out the Storm won the Gold Medal in that category in 2014. Poetry by Morgan appears in The Fork-in-the-Road Indian Poetry Store, which won the Native Writers Circle of the Americas First Book Award for Poetry in 2002. He also co-authored Reasoning Together: The Native Critics Collective, a conversation between leading experts in Native American literature. He holds a master's degree and a doctorate in Native American literature from the University of Oklahoma.