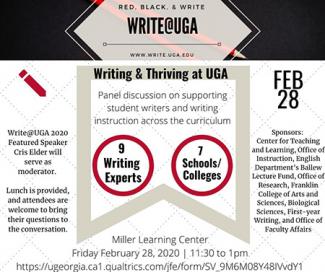 MLC Room 350
Click here to register for this event.
A panel discussion on supporting student writers and writing instruction across the curriculum Faculty from across campus will come together to discuss existing programs and initiatives designed to support student writing at every level, challenges and roadblocks we face as a large institution, and opportunities for developing more comprehensive support for writing in every field for all students and faculty. Lunch is provided, and attendees are welcome to bring their questions to the conversation.
This panel discussion will be moderated by Write@UGA featured speaker Dr. Cristyn Elder. Speaker: Dr. Cristyn Elder is Associate Professor of Rhetoric and Writing and Director of Writing Across the Curriculum at the University of New Mexico. She has a great deal of experience supporting students as writers in a wide variety of global contexts—from serving as a Peace Corps Master's Internationalist in Ukraine to working as an English Language Specialist in Tajikistan, Panama, and El Salvador—and she has published widely in leading writing studies journals, including WPA: Writing Program Administration, Composition Studies, Composition Forum, Across the Disciplines, and the Writing Center Journal. Dr. Elder is also a co-founder and editor of Present Tense: A Journal of Rhetoric in Society and a co-founder of WPA-GO (the Council of Writing Program Administrators Graduate Student Organization). She received UNM's 2018–2019 Outstanding Teacher of the Year Award, 2015–2016 Outstanding New Teacher of the Year Award, and 2015 Golden Louie for Outstanding Faculty Student-Service Provider. She is also co-recipient with Dr. Bethany Davila of the 2016 Award for Innovation from the Council on Basic Writing.
Write@UGA 2020 is generously sponsored by the Leighton M. Ballew Lecture Series in English, Center for Teaching and Learning, Office of Instruction, Franklin College of Arts and Sciences, Office of Research, Biological Sciences, First-year Writing Program, and Office of Faculty Affairs.