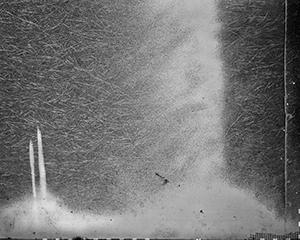 Lydon House Arts Center, 211 Hoyt St, Athens, GA 30601
Creative Writing Program faculty member Andrew Zawacki has paired twenty black and white, large format photographs with twenty short poems in his latest poetry volume, in an exhibit titled "Waterfall plot," a multimedia experience at the Lyndon House Arts Center. Visitors can experience an on-going poetry reading while viewing projected images of the accompanying photographs.  English Department Ph.D. student Paul Cunningham developed the projection.
The poems and photographs from "Waterfall Plot" appear in Zawacki's most recent poetry volume, UNSUN : f/11, from Coach House Books.