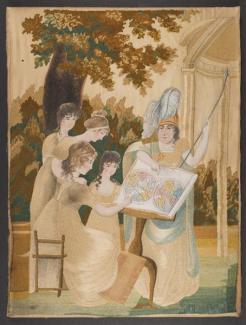 265 Park Hall
This talk looks at how handmade artifacts enabled connections with British colonial spaces in imaginative, material, and tactile ways. It examines objects created by women that made use of a mixture of global sources for their material composition and visual inspiration. What kind of alternative stories of empire are told through intercultural crafts? And what tales might unfold around handheld objects in British novels set in the eighteenth-century Atlantic world? My talk takes up these questions by looking at the 1808 novel The Woman of Colour and its treatment of small things, such as miniature portraits, jewelry, and needlework, to study how portable goods, especially those carried by women, underwrite its representation of empire, the circulation of goods, and the narrative meanings that adhere to movement across the Atlantic.
Dr. Chloe Wigston Smith is Senior Lecturer in the Department of English and Related Literature and the Centre for Eighteenth Century Studies at the University of York. Her first book, Women, Work, and Clothes in the Eighteenth-Century Novel, was published by Cambridge University Press in 2013. She is co-editor of the forthcoming collection from Bloomsbury, Material Literacy in Eighteenth-Century Britain: A Nation of Makers. In addition, she has published essays and articles on fashion illustration, servant dress, embroidered maps, and eighteenth-century trade, and has articles forthcoming in Tulsa Studies in Women's Literature and Eighteenth-Century Fiction's special issue on "Material Fictions." This fall she is a Mid-Career Fellow at the Paul Mellon Centre for British Art in London and in January 2019, she takes up the year-long Mid-Career Fellowship from the British Academy.
Dr. Wigston Smith was previously Associate Professor of English at UGA and founded the Colloquium in Eighteenth- and Nineteenth-Century British Literature. CENCL celebrates an anniversary this year and Dr. Wigston Smith returns to usher in our tenth year. Additionally, Dr. Wigston Smith's talk serves as the inaugural presentation in the Paul Douglas Hale Lecture Hall, formerly known as Park 265. 
A reception will follow in Park 261. This event is free and open. It has been sponsored by the Willson Center for Humanities and Arts, the Symposium on the Book, and the UGA English Department's Rodney Baine Lecture Fund.