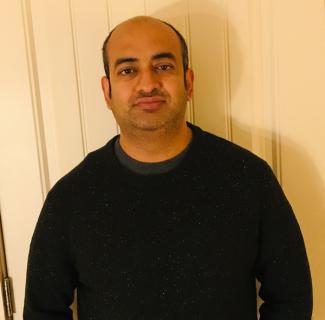 Park Hall Room 265
The Department of English is delighted to host Dr. Amit Baishya who will present from his new research that explores the intersections between postcolonial theory and animal theory.  His lecture is titled "Endangered (and Endangering) Species: Exploring the Animacy Hierarchy in Malik Sajad's Munnu". The Ballew Lecture Series is organized by the Department of English, University of Georgia.
Dr. Baishya teaches courses on postcolonial studies, cinema and cultural studies. His monograph Contemporary Literature from Northeast India: Deathworlds, Terror, and Survival (2018) is published from Routledge. His essays have appeared in Postcolonial Studies, Interventions, Himal South Asian, South Asian Review and several collected editions. He is also the co-editor (along with Prof. Yasmin Saikia, Hardt-Nickachos Chair in Peace Studies at the Arizona State University) of a collection of essays titled Northeast India: A Place of Relations (Cambridge University Press, March 2017). He is currently co-editing another book titled Postcolonial Animality. Baishya translates short stories and novels from Assamese, a Northeast Indian language, to English. His translation of Debendranath Acharya's Assamese novel, Jangam (The Movement, Vitasta Press), on the "forgotten long march" of Indians from Burma during WWII was released in May 2018. The Hindu, a national daily in India comments, "Jangam is an important work: the translation ensures that stories like this don't get lost." 
Abstract: The contrast between Kashmiris as hanguls (endangered Kashmiri deer) and the Indian occupiers as "human" provides us with a good entry point to investigate and interrogate the visual representation of the "animacy hierarchy" (Mel Chen)—the conceptual arrangement of human, animal and other forms of nonhumanness in orders of value and priority—in Malik Sajad's graphic memoir Munnu: A Boy from Kashmir (2015). The anthropomorphic representation of Kashmiris as hanguls enables Sajad to simultaneously query the relative valuation of human life vis-à-vis that of the animal, and the mutual degradation and endangered status of both human and animal in a zone of emergency. However, a closer look reveals that another animal—the stray dog—appears either directly or indirectly in Munnu's bestiary. This article unpacks the polyvalent symbolic and material valences of stray dogs as important narrative cogs in the triangulated animacy hierarchy (human-hangul-canine) in Munnu. While strays often function either as symbolic representations or as visual analogues to organized army brutality in the text, I argue that they also gesture towards other modalities of interspecies affiliation in the realm of quotidian life in zones of emergency.