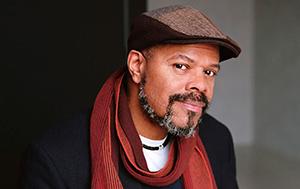 M. Smith Griffith Auditorium at the Georgia Museum of Art, 90 Carlton St, Athens, GA 30602
The University of Georgia Creative Writing Program is pleased to present writer John Keene for a reading at UGA on Tuesday, January 30th at 7 p.m.  This event will take place at the M. Smith Griffith Auditorium at the Georgia Museum of Art, 90 Carlton St., Athens, GA 30602, and is free and open to the public.
John Keene is the author of the novel Annotations (New Directions, 1995); the poetry collection Seismosis (1913 Press, 2006), a collaboration with artist Christopher Stackhouse; and the short fiction collection Counternarratives (New Directions, 2015), which received the inaugural 2017 Republic of Consciousness Prize for Small Presses (in the United Kingdom) as well as a 2016 American Book Award, and a 2016 Lannan Literary Award for fiction. Counternarratives was one of two Finalists for the 2016 William Saroyan International Prize for Fiction Writing. Keene's other published work includes GRIND (ITI Press, 2016), an art-text collaboration with photographer Nicholas Muellner; and the poetry chapbook Playland (Seven Kitchens Press, 2016).  He has published his fiction, poetry, essays, and translations in a wide array of journals, and his honors include a 2003 New Jersey State Council on the Arts Fellowship in Poetry, a 2005 Whiting Foundation Award in Fiction and Poetry and a 2008 Fellowship for Distinguished First Poetry Collection from the inaugural Pan-African Literary Forum.
Keene chairs the Department of African American and African Studies, and is Professor of English and African American Studies at Rutgers University-Newark. He also teaches in the Rutgers-Newark MFA in Creative Writing Program.