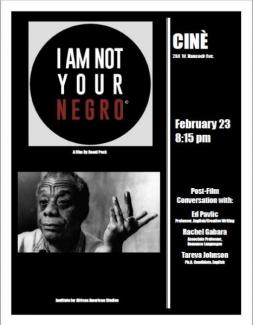 Athens Cine (254 Hancock Ave)
In 1979, James Baldwin wrote a letter to his literary agent describing his next project, Remember This House. The book was to be a revolutionary, personal account of the lives and successive assassinations of three of his close friends—Medgar Evers, Malcolm X and Martin Luther King, Jr. At the time of Baldwin's death in 1987, he left behind only thirty completed pages of his manuscript.
Now, in his incendiary new documentary, master filmmaker Raoul Peck envisions the book James Baldwin never finished. The result is I AM NOT YOUR NEGRO - a radical, up-to-the-minute examination of race in America, using Baldwin's original words and flood of rich archival material.
This special screening of I AM NOT YOUR NEGRO at Athens Cine (254 Hancock Ave) is sponsored by the Institute of African-American Studies and will be followed by a post-film conversation with Ed Pavlic, PhD candidate Tareva Johnson, and Rachel Gabara of Romance Languages.