By Nele Aline Langhof
Professor emerita Elizabeth Kraft served the University of Georgia English department for thirty-three years before retiring in August of 2020. In her career in education, she published and edited numerous texts and taught her way through the entire 18th-century curriculum. "I really did enjoy my career in the English department. It was perfect," she said. 
After earning her PhD from Emory University in 1985, Dr. Kraft went to work as an assistant professor at the University of South Carolina Upstate. Craving the opportunity to focus more on her research, however, she began to look to other institutions. Two years later, she decided what better place than the University of Georgia? In 1987, Dr. Kraft joined the UGA English department as an 18th-century specialist. Her passions have since expanded to include ethical theory, 18th-century fiction,18th-century Scotland, and Restoration comedy.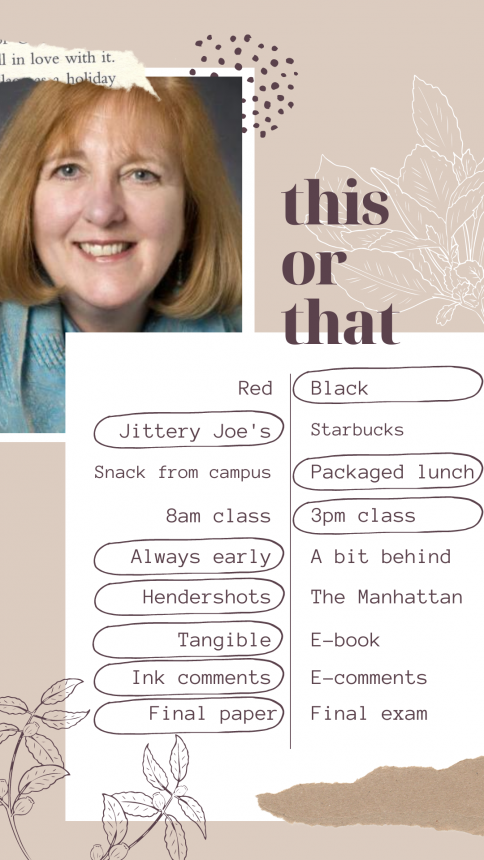 Early in her career, Dr. Kraft began to work with ethical theories concerning sexual politics of male and female writers, as well as the ethics of desire. In her 2008 book Women Novelists and the Ethics of Desire 1684-1814: In the Voice of Our Biblical Mothers, Dr. Kraft explores the subjectivity versus the objectivity of female writers. "My argument was that women writers did feel that women had subjectivity, and my book was really what came out of that interest in ethics," Dr. Kraft said. Her monograph Restoration Stage Comedies and Hollywood Remarriage Films: In Conversation with Stanley Cavell in which she discusses "the indebtedness of the twentieth-century films to the Restoration dramatic texts-and the philosophical richness of both canons as they explore the nature and significance of marriage as pursuit of moral perfectionism" was published in 2016. She calls that project her favorite: "It was so much fun to write. I love the finished product, and I hope that someday it'll make a difference to readers," she said. 
Dr. Kraft is a fan of both research-motivated education and education-motivated research as many of her projects, articles, essays, and books were inspired by the classroom. "I learn as much from them as they do from me," Dr. Kraft said. Her interest in the Jacobites, for example, developed in large part from an incredibly passionate student in one of her classes on 18th-century Scotland. "The students—they keep you up to date," Dr. Kraft noted. When teaching a class entitled "The Age of Johnson," Dr. Kraft discussed the eighteenth-century poet, critic, and essayist as a "cultural authority," one who people looked to for authoritative views on culture, society, literature, etc. It took her students only three classes to teacher her the more modern lingo: influencer. With everyone now on the same page, they could move forward. "Maybe I read 'influencer' a hundred times, and never really made the connection until the students said, 'This is what you're talking about.'" 
In retirement, Dr. Kraft has two editorial projects still in the works—Samuel Richardson's Sir Charles Grandison for Cambridge University, as well as Anna Barbauld's Literary Criticism for Oxford University Press's Complete Works of Anna Letitia Barbauld. She is also working on a monograph tentatively entitled Tears for Monimia: She-Tragedy and Literary Jacobitism Before Scott. Dr. Kraft has also been asked to edit a special issue of European Romantic Review on women in protest. This request came after the 2017 Women's March in Washington D.C. following the inauguration of President Donald Trump. "I'm actually kind of overcommitted as usual, but I like to work, so that's okay."
Nele Aline Langof is an English and journalism double major and the social media intern for the UGA English department.