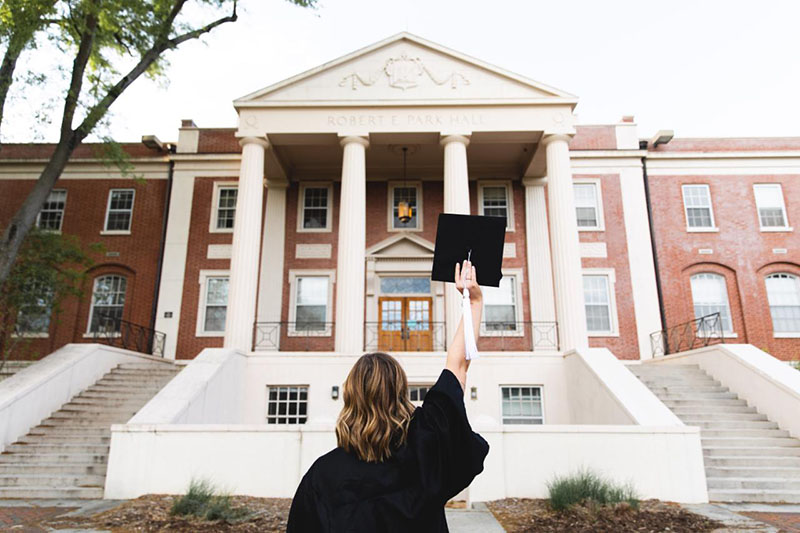 We should be in the Fine Arts Theater, celebrating. We should be attempting to corral faculty and line them up, in their regalia, and you in yours, to march into the theatre to celebrate all that you have accomplished these past four years. We should be acknowledging your insightful essays, your lovely poetry, your devastating short stories. We should be thanking donors and setting out flowers and finger food and begging for sunshine. 
This momentous and memorable occasion cannot take place in person, yet we—as the planning committee and the newsletter editors and the faculty and staff of the department—want to celebrate with this "virtual" commemoration. Because we cannot have a guest speaker, we have taken that honor on ourselves. 
Everyone will remember the year you graduated. That might not be much consolation now, but in the years ahead, your class will be set apart for having lived in this interesting age.  
The world is different now. We can never again be complacent about the simple act of touching. There is safety in the absence of others. I am sure you are worried about finding a job, furthering your education, building a home. We are scared and lonely, but we are scared and lonely together. Every person in the world is part of this crisis. For the first time, we are all connected. 
Human connection is complicated. You know this—many of you are living with your parents and siblings again for the first time in four years—but it is also the single most important factor in our happiness. Connection is what has kept us sane the last few months, even if we are physically alone. Every book you have ever read is, on some level, about human connection. "Only connect!" E. M. Forster writes in early-twentieth-century classic, Howards End. Forster feared technology would make us isolated and individualistic; that the abundance of relationships allowed by technology would make the connections shallow and easily broken. In this, however, we have proven him wrong.  
Zoom game nights and watch parties and dinners have ensured that our social lives are busier than ever, even while we are confined to our homes. Neighborhoods are coming together to take care of each other. New relationships are deepening and old relationships are reviving thanks to electronic and physical mail. We regularly watch live feeds of friends and students and strangers who read books to children, perform skits and monologues, teach guitar and cross-stitching. We are exchanging puzzles and books and mixtapes. 
As always, however, it is literature that enables us to survive. In 2013, Toni Morrison, one of literature's most important voice, tweeted "If there is a book that you want to read, but it hasn't been written yet, you must be the one to write it." We are all writing that book, with the essay we write for class, in the letters we send to make sure our favorite people are safe, through the stories we publish that allow us to connect with people whom we will never meet. 
As writers, and as scholars who have just spent years analyzing the human condition on the page, you are uniquely positioned to make sure this year is not forgotten. You have been cheated out of a graduation. Be mad about this. Be mad about the people who have died, the people who will suffer, both from COVID-19 and the resulting economic crisis. Put pen to paper and share your rage and your sorrow and your joy and your triumphs. 
"Only connect the prose and the passion," E. M. Forster writes, "and both will be exalted, and human love will be seen at its height. Live in fragments no longer." 
We will not physically be together on graduation day, but we are still connected in all the ways that matter. The bonds of the last four years will remain with us forever.
"I am part of all I have met," Alfred Lord Tennyson writes in "Ulysses." We in the English Department are proud to be part of who you are. 
Keep the habits of kindness we have cultivated in the last few months. 
Send us book recommendations. 
Make your mom a mixtape. 
We will not fragment. 
Remarks offered by Dr. Nancee Reeves
On behalf of the 2019-2020 Honors Day Organizing Committee: Dr. Esra Santesso (Associate Department Head), Dr. Nancee Reeves, Dr. Lindsey Harding, Mary Herman, and Dr. Roxanne Eberle
**
Photo shared by Emma Welborn, B.A. in English, Class of 2020